Automotive sector leaders might have succeeded in reaching the summit of Africa's highest peak, but they now need sponsors' help to make one last push to their £300,000 fund-raising target.
AM reported on Monday how the team made up of business leaders from JCT600, Marshall Motor Group, Partners& and Lawgistics, LKQ Euro Car Parts, Hella and Haymarket had completed the six-day mission, which saw them battle the effects of heat, extreme cold and altitude to climb a total of 5,985m.
But now Ben is calling on all would-be sponsors to recognise their efforts with one last fund-raising push.
The charity, which supports automotive sector employees and their dependents, said that over £200,000 has already been raised, but its £300,000 goal was still within sight.
Matt Wigginton, director of partnerships, engagement and income at Ben, said: "The current fundraising total is impressive, however we still have further to go to reach the peak of £300k, so we're now welcoming final donations."
Anyone willing to sponsor the Kilimanjaro challenge – part of Ben's delayed 2020 Industry Leader Challenge (ILC) delayed due to the COVID-19 pandemic – can do so by clicking here.
Earlier this week Marshall Marshall commercial development director Adrian Wallington, who completed the challenge alongside franchise director Clive McGregor, revealed his relief at completing the Kilimanjaro trek.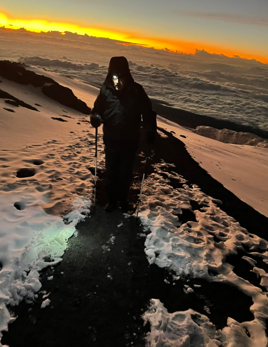 He said: "Taking to Twitter to share his thoughts, Marshall's Wallington said: "We are all now safely down with few hours rest before our flight home to see our families. It's been a tough and emotional seven days so please take a moment to donate."
Paying tribute to those that helped Ben's team of automotive leaders to the top of Kilimanjaro, Wallington added: "We only all made it to the summit because we are a team and the support of our incredible Tanzanian guide team."
JCT600 director of customer experience Andy Bateman, who teamed-up with Vauxhall Bradford dealership manager James Tordoff to complete the ILC, said: "So far Team JCT600 have raised just under £45k for Ben Automotive Industry Charity.
"Every member of the ILC team reached the summit and what makes it really special is that not one of us could have done it without the support of the group.
"Thank you guys for the support, the snacks, the friendship and for laughing at (some of) my jokes."
This year's ILC challenge was inspired by Sarah Sillars OBE, who took on Mount Kilimanjaro over 10 years ago, raising an incredible £38,000 for Ben.
Wigginton said: "We're still buzzing from having reached the summit of the highest free-standing mountain in the world. It was an awe-inspiring, yet incredibly tough and emotional experience which we did to raise life-saving funds so we can continue to support our automotive community when they climb their own mountains in life.
"We can't thank our industry leaders enough for taking part in this epic challenge. We are also incredibly grateful to everyone who has donated so far – thank you."
Anyone in need of support from Ben, or knows an individual who might require its assistance, can get in touch via its free and confidential helpline: 08081 311 333.
Alternatively, a webchat service is available at www.ben.org.uk and out of hours text support can be accessed by texting BEN to 58258.