Volkswagen will begin its efforts to recover from a COVID-19 coronavirus vehicle production lockdown with the April 20 resumption of operations at its manufacturing plants in Zwickau and Bratislava, Slovakia.
The VW brand said that the two plants would be the first car production locations outside China to re-start production, with the successive resumption of production at its plants in Germany, Portugal, Spain, Russia and the USA from April 27.
Production will then be resumed successively in South Africa, Argentina, Brazil and Mexico during May.
In a statement issued today (April 16), the German OEM said that operations would begin gradually with the help of a 100-point plan for "maximum health protection".
Ralf Brandstätter, the chief operating officer of the Volkswagen brand, said: "With the decisions by the federal and state governments in Germany and the loosening of restrictions in other European states, conditions have been established for the gradual resumption of production.
"Volkswagen has prepared intensively for these steps over the past three weeks. In addition to developing a comprehensive catalogue of measures for the protection of our employees' health, we have also forged ahead with the re-establishment of our supply chains."
Volkswagen said that, on this basis, short-time working would continue at its plants in Germany.
However, the number of employees affected by short-time working will be successively reduced in-line with the resumption of production, it said.
Bernd Osterloh, chairman of VW's Works Council, said: "We have never experienced a situation like this before. However, I know that our colleagues are fantastically well motivated to start work again.
"In the light of the pandemic, we need to adapt our routines. One answer is our new agreement on health protection.
"With about 100 measures, we are keeping the risk of infection at Volkswagen as low as possible.
"This will set a standard for the industry. But we need to be realistic: at the beginning, the new procedures will give rise to queries and reservations on the part of our colleagues.
"We have never developed, produced and sold vehicles under these conditions before. This is why I expect our managers to ensure that employees are thoroughly familiar with the new procedures.
"Taking the time to answer questions is more important now than daily production figures."
Volkswagen Group Components had already started to resume production step-by-step at its plants in Brunswick and Kassel from April 6, followed by the Components plants in Salzgitter, Chemnitz and Hanover, as well as the Polish plants, from April 14, to safeguard component supplies for vehicle production in China.
VW said that it had drawn on experience gained through a return to working routines at its plants in China in developing its plans for Europe, America and South Africa.
It said that a large number of "consistent health protection measures" were successfully implemented as it oversaw the re-opening of 32 of its 33 plants in China.
No cases of coronavirus have been reported among the employees there, it said.
Nissan plant's NHS aid
At Nissan's UK car production facility in Sunderland, volunteers have been using its final assembly area to sort and pack hundreds of thousands of protective face visors destined for frontline NHS workers.
More than 77,000 visors will leave the plant by the end of this week, with up to 100,000 being distributed each week, from next week, the carmaker said.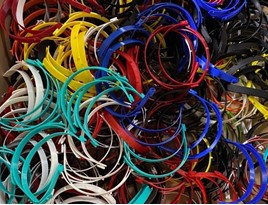 The project was inspired by four brothers, two of whom, Anthony and Chris Grilli, are engineers based at Nissan's Technical Centre in Cranfield, Bedfordshire.
Production was initially kicked off with the support of crowd funding and used banks of 3D printers at the Grillis' homes.
Anthony Grilli said: "We had the ability to support the national effort to produce more PPE for frontline health workers and we just had to help.
"We quickly mobilised to produce parts using our 3D printing capability at home and we're grateful to everyone that donated through our crowd funding site to help us get this going."
Nissan has provided funds for an injection moulding tool that increases the number of parts produced, which are now being sourced from companies in Lancashire, Coventry and Gateshead.
Injection moulding provides a faster way to produce the plastic parts needed and has ramped up the volume.