February 2020 saw something of a milestone for the UK's new car registrations: whereas Ford has been the best-selling marque in the UK since the late 1970s, and the supplier of the best-selling model for even longer, both titles went to VW this month.
After years of nibbling away at Ford's lead, VW propelled the Golf to the No.1 spot for the month (although both Ford as a brand and the Fiesta as a model retained their top spots YTD).
As the current Golf is on run-out, it seems VW was clearing the decks for the next generation, but it is still noteworthy.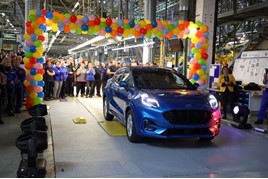 The ball is now in Ford's court to stay ahead for the rest of the year, especially with a new Golf imminent. That will partially depend on the success of the new Puma B-segment crossover.
Behind the leaders, Mercedes and BMW continue a battle for third place that has been going on for a couple of years now (won narrowly by Mercedes in 2018 and 2019). YTD, Mercedes is on 7.4% and BMW is on 7.3%, so 2020 looks like another close fight.
One percentage point further back, Vauxhall is in fifth with 6.3%, just 0.1% ahead of Audi.
On the one hand, the new Corsa should give Vauxhall a strong boost, given the geriatric Fiat Punto-based model it replaced. On the other, Audi market share has been artificially depressed for the last two years by its inability to homologate engines to the WLTP standard.
In 2020, market share is likely to recover: traditionally Audi was vying for leadership among German premium brands, rather than being a fair way behind its competitors.
Battle for 'Asian bragging rights'
Another percentage point behind those two, Toyota and Nissan are fighting for both seventh place and Asian bragging rights.
This battle will all depend on the new Juke. It is not going to sell in the numbers its predecessor managed at its peak, given the profusion of new competitors, but it should increase on 2019. Whether that is enough to offset the ageing Qashqai (due for replacement within 12 months) remains to be seen.
Among the other major brands (defined as those with more than 1.0% market share in either 2019 or YTD 2020), the standout performance has to be MG.
This is by virtue of the fact that it has actually become a major brand with a 1.2% market share YTD – an increase of 127% on the same period last year.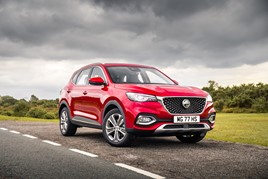 The new C-segment crossover HS has helped, but the main engine of growth has been the ZS B-segment crossover, which accounted for 63% of total YTD sales. In fact, MG overtook Dacia, which has fallen 41.3% YTD.
Dacia's sudden decline has been repeated across Europe and seems to be due to the relatively high CO2 figures of the Duster (145 g/km of CO2 for the 150PS petrol 4x4), which is giving the company a headache complying with the new EU limit of 95g/km of CO2.
Indeed, the new CO2 limits that came in to force at the start of the year are making it hard to disentangle which sales falls are caused by changes in demand and which are caused by regulatory issues.
For example, Hyundai fell by 23.4% YTD and Kia by a similar 19.6%, yet it seems unlikely UK consumers have suddenly fallen out of love with those brands. Hyundai in South Korea blamed a 13% global fall in February sales on the COVID-19 coronavirus affecting production, but that can't have affected UK sales, as anything sold in the UK in February would have been produced in Eastern Europe or shipped from South Korea long before the virus first appeared.
City cars slump
At a segment level, there have also been dramatic changes. City cars have fallen by 37.9% (see chart), an unusual drop for a major segment.
Paradoxically, this is also a result of the CO2 regulations. Although small and so relatively low in CO2, city cars have two drawbacks.
Firstly, the CO2 limits are an average – lighter cars must emit less than 95g and larger cars can emit more. City cars are light so have more stringent targets.
Secondly, city cars are cheap, which means they can't justify the cost of a diesel engine, let alone an electric drivetrain. Car makers have little interest in selling them – except Fiat which sells almost nothing else (81.1% of sales YTD).
At the other end of the market, the final nail in the coffin of large MPVs was hammered in by the Mercedes Vito, which became the top-selling (or perhaps the least-worst selling) vehicle of this type.
When a van with windows outsells purpose-designed cars, the game is up. Indeed, the MPV game is up across the market. In the B-segment, registrations of MPVs were down 85%, with the whole sub-segment selling a negligible 114 units YTD.
In the C-segment, things were a little better with sales of 4,375, but that is still less than 5% of total C-segment registrations. With four of the top five sellers being van-based, it is again hard to see many companies designing another bespoke C-segment MPV.
Talking of the C-segment, it has taken a record 40.7% market share YTD.
From the 1980s to the 2000s, the B- and C-segments both bounced around 25-30%, but the advent of Qashqai-sized crossovers made C-segment the default choice for car buyers.
It has also made the D-segment obsolete (just 1.4% YTD; a segment that took 20% in the 1980s). Today, almost no private buyer would choose a Mondeo over a Kuga. Car buying habits seem to be polarising.
Three segments (B, C and SUV) now account for 84.5% of total sales – yet another record.
Author: David Francis