Kia and Audi are among car manufacturers helping to propel the Ionity electric vehicle (EV) charging network to 7,000 units by 2025 thanks to a €700 million (£592m) funding boost.
The two lead investors joined BMW Group, Ford Motor Company, Mercedes-Benz and the wider Hyundai Motor Group and Volkswagen Group to provide the additional funding for Ionity's network of ultra-fast 350kW charging stations across Europe.
Ionity currently operates more than 400 ultra-fast charging stations featuring 1,500 charging points along European motorways in 24 countries.
As part of the network expansion, Ionity said that it will look to acquire more of its own properties and build and operate its own service stations.
Jason Jeong, president at Kia Europe, said: "As we look towards the phasing out of new internal combustion engine (ICE) vehicles over the next 10 years, it is essential that drivers have access to an expansive and reliable fast-charging infrastructure.
"Our further investment in Ionity will see a significant expansion of ultra-fast chargers across Europe that will support our vehicles' high voltage capabilities.
"As a result, more drivers than ever will be able to charge their vehicles quickly and easily for a seamless EV experience."
Kia plans to offer 11 new EVs globally by 2026, including seven dedicated electric vehicle (EV) models.
The EV6 crossover launched earlier this year is Kia's first dedicated BEV produced using the brand's all-new Electric-Global Modular Platform (E-GMP).
Fellow Ionity investor Audi, meanwhile, is planning a broad-based EV rollout with more than 20 all-electric models by 2025.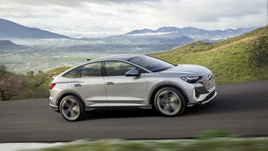 Starting in 2026, the brand will only launch new all-electric models.
Markus Duesmann, chairman of the board of management of Audi, said: "We are transitioning our product range to electric cars in all of our core segments. This is a major change, but I see it as an even greater opportunity.
"More than ever before, it isn't just the product that matters, but the entire ecosystem. With its focus on advancing and improving the charging network offering, Ionity's massive expansion will play a key role in making electric vehicles more attractive."
From December 2021, Audi will be offering a form of charging on the Ionity network known as 'Plug & Charge' (PnC), allowing users to charge an EV without an RFID (radio frequency identification) card or an app.
The authentication process takes place automatically at compatible charging stations via encrypted communication when the charging cable is connected to the vehicle, then the charging process starts.
Billing is handled automatically on the basis of a contract on file, said Audi.