Sales of light commercial vehicles grew by 5% last month, according to the SMMT, but year-to-date the market is still down by 2.2%.
Pick ups experienced the largest rise in August, up 21.4.%, while demand for large vans (2.5-3.5 tonne) saw a 14.6% increase to take over two-thirds (67.2%) of all van registrations.
Small and medium sized vans were less popular, with sales falling by 9.3% and 29.7% respectively.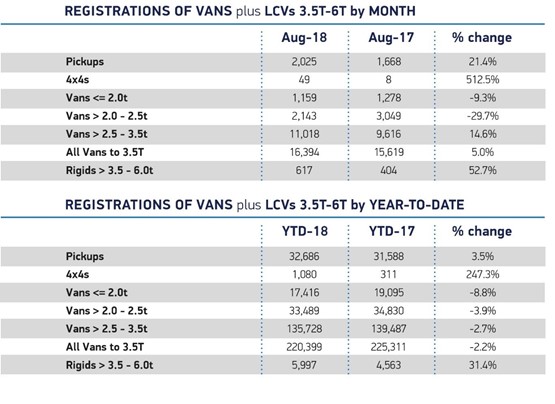 "It was encouraging to see that UK light commercial vehicle sales were up 5% in August, indicating that business confidence is returning to the market", said Sue Robinson, director of the National Franchised Dealers Association.
Car registrations grew more significantly, with a 23% boom in August, but year-to-date the van market has suffered less of a decline.
The Ford Transit Custom (pictured) remains the most popular van, shifting 2,436 units last month and more than 33,000 this year.
Ford also sells the most pick ups, with the Ranger achieving almost 10,000 registrations so far this year.
Just over 16,000 new LCVs were registered in the traditionally small month of August, with 220,399 light commercials joining the roads overall.
Mike Hawes, SMMT chief executive, said, "August is typically one of the quietest months for new LCV registrations, so the increase in demand for these high-tech, ultra-low and zero-emission vehicles is especially welcome news. While year-to-date figures show the market remains at a reasonably high level, weak business confidence and uncertainty means fluctuations in demand will likely continue throughout year."
Robinson added: "Factors such as road tax changes or the soon to be introduced Worldwide Harmonised Light Vehicle Test Procedure (WLTP) emission standards for cars is not due to affect commercial vehicles of this size until September 2019. It is anticipated that September vans sales will continue at the same level."