Unpredictable trading conditions prompted a drop in retail demand for 65% of car dealers, according to the latest sentiment survey from Modix.
Cox Automotive's monthly Market Insight report revealed that trading got increasingly tougher last month, with retailers telling the survey that the decline in demand came with the double whammy of continued concerns about retained margin – with 52% of dealers reporting a year-on-year decline.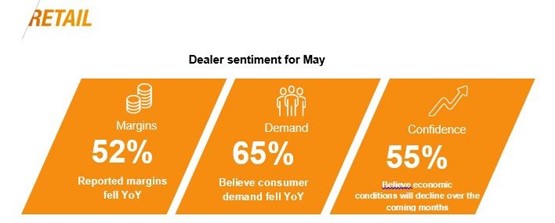 Philip Nothard, Cox's customer insight and Strategy director, said: "The good news for dealers in May was that stock availability improved significantly, however lower levels of retail demand, coupled with political uncertainty led many retailers to invest cautiously."
Nothard highlighted that, while May was "certainly the most challenging month of the year so far", the 2019 Cox Automotive and Grant Thornton Insight Report published last week had forecasted 7.795 million used car transactions by the end of 2019.
Nothard added: "This represents a small year-on-year fall of 2%, but we believe it still demonstrates a great deal of strength and opportunity in the used market."
"Our advice is that retailers use all the data available to them when making stocking decisions to give them the best chance of realising strong margins."
Cox's Insight Report described May as having been a challenging month in the wholesale arena as increased vehicle volumes met a softer retail market.
According to data from Manheim, overall average vehicle values held relatively steady month-on-month (down 0.8%), while the value of ex-fleet vehicles increased by 6.8%.
Nothard said that 2019 had been a market of two halves so far, with ready to retail vehicles in hot demand while lower grade cars struggled to attract bids.
"Increased wholesale volume in May has emphasised this divide even further, with fleet vehicles in good condition attracting significantly higher levels of interest in the hall," he said.

NextGear Capital, Cox's stock funding business, saw a fall in average vehicle price to £7,463 (down 3.8%).
Meanwhile, average holding days for vehicles on the business' stocking plan rose to 60.7, up four in April's figures.
The increase in the average value of Alternative Fuel Vehicles (AFVs) reflects increased consumer interest, and a general shortage of these vehicles entering the market, meanwhile.