BCA chief operating officer Stuart Pearson has said that buoyant 2018 used car values may have created 'unrealistic expectations' among used car dealers after another year-on-year decline at its auctions.
The average value of a used car sold at a BCA auction last month was £9,262, 3.2% down on the same month in 2018 and just 0.15% up on last month's £9,248 which came as part of a market realignment partly blamed on April's seasonal run of public holidays over the late Easter period.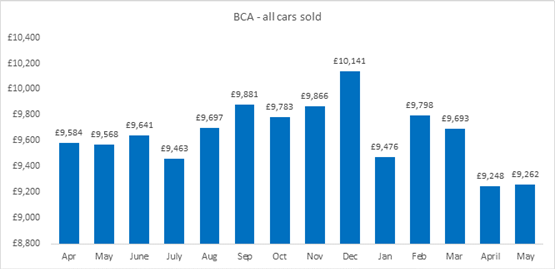 May delivered further two bank holidays and the half-term break to create further distractions, but year-on-year values did climb among fleet and lease, dealer part-exchange and nearly-new vehicles.
Pearson said: "The market has been moving through some typical pricing realignment during April and May and, whilst these seasonal adjustments are to be expected, the incredibly buoyant market experienced during 2018 may have created some unrealistic expectations.
"We continue to work closely with our customers to ensure that they are fully appraised of trading conditions, utilising our unique BCA Valuations pricing intelligence to reflect remarketing sale values in real-time."
Year-on-year table: All cars

BCA's monthly Pulse Report on the pricing activity at its auction sites revealed that fleet and lease values had averaged £11,370 in May, ahead by £407 (3.7%) compared to a year ago.
The retained value against original MRP (Manufacturers Retail Price) was down 1ppt at 42.4% when compared to 2018 while average age at time of sale has risen by one month to 39.9 months and the average mileage of 39,216 was down slightly compared to a year ago, it said.
Year-on-year table: Fleet & lease

Dealer part-exchange values continued to rise at BCA, with May 2019 showing a £159 increase year-on-year, equivalent to a 3% uplift and a marginal increase of April's average value.
The remarketing specialist said that an "improved quality of product on offer" in this sector had helped to retain values, with average age and mileage decreasing compared to the same month in 2018.
Year-on-year table: Dealer Part-Exchange

BCA reported that demand for nearly-new vehicles had continued into May, with values averaging £21,579 – up by £1,549 (7.6%) compared to a year ago.
Model mix has a significant effect in this low volume sector, with brand specific winners and losers, the Pulse Report said.
Year-on-year table: Nearly-New