Car buyers are more concerned about getting a fair deal than any other aspect of visiting a dealership, according to Motors.co.uk's Consumer Insight Panel survey.
The research, which polled the views of over 1,000 car buyers, found 58% cited getting a fair deal as their biggest concern, even greater than buying an unreliable car (52%), being hassled by sales staff (42%) or buying the wrong car for their needs (33%).
Despite these concerns, two-thirds (65%) cited that they were excited by the prospect o buying a new car.

"Despite most buyers admitting to being excited about purchasing a new or used car, our research shows just how important it is for sales staff to communicate with them in a clear and transparent manner to allay the concerns they have of getting a fair deal," said Dermot Kelleher, Motors.co.uk's head of marketing and business intelligence.
Used car buyers were more concerned about getting a fair deal (60%), than those buying new (55%) and 45-54 year olds (66%), 25-34 year olds (62%) and women buyers (62%) were the most concerned about getting a fair deal, compared with 55% of men.
The survey also identified similar levels of customers saying they were excited to be buying a new car (69%) to those choosing used (62%). Nervousness amongst buyers of new cars was just 29%, compared with 36% for used.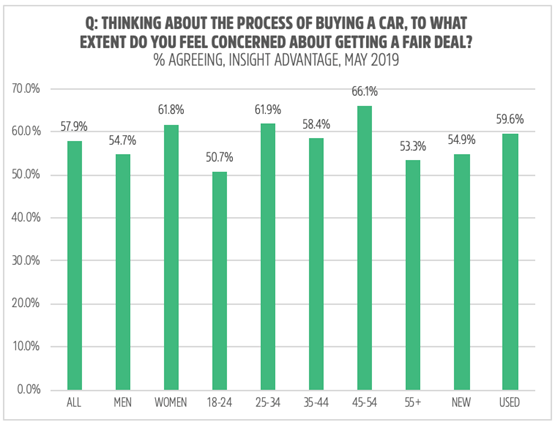 In terms of how dealerships can increase consumer confidence and propensity to buy, the insight panel identified solo and longer test drives as being key influencers for men; whilst positive ratings on review sites and quiet/comfortable places within the dealership to check other possible deals online as key factors for women.
"The survey shows how dealers who go the extra mile in terms offering flexibility and a welcoming environment can increase engagement levels and the likelihood of making a sale," said Kelleher.