With fewer than 100,000 registrations in August, there are not many conclusions that can be drawn about the car market from this month's figures.
In principle, any car company that wants to catch the eye could register a relatively small number of additional cars in August and take a greatly increased share of the market. However, as the country has little space for any news beyond the gyrations of Brexit, it would be a brave marketing director who would bet on getting much coverage right now.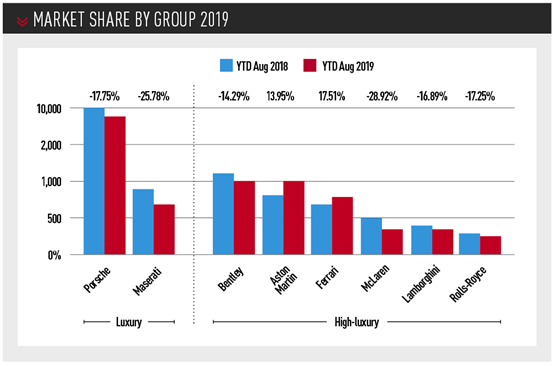 For what it is worth, the two companies that had stand-out performances in August were Audi and Tesla. Audi was up 19.2% for the month, which may suggest that the year-long bottleneck caused by problems homologating cars for WLTP is finally easing. The figures for Tesla are the hardest of all to decipher. The SMMT coyly includes them in "Other imports", but a separate source reveals that Tesla increased registrations more than 10-fold in August to 2,200 units, and doubled registrations YTD to 4,000 units. Clearly, a company that does not officially release registrations is not interested in gaming the sales charts – the reason for the phenomenal surge is the arrival of the Audi A4-rivalling Model 3. It is not possible to split out Tesla sales by model, but it is safe to assume that approximately 2,000 of their registrations last month were Model 3s. That made it the UK's best-selling compact executive saloon, with an August segment share of about 30%. As warning shots across the bows go, that is a pretty big one for the incumbent manufacturers.
As we are on the subject of premium brands, it is worth taking a look at what is happening even further upmarket. We do not usually spend much time on luxury brands, but, as we are talking about the August holiday season, it is an appropriate time to look at what the yacht-dwelling classes are up to.
The first question is what counts as a luxury car brand? The long answer could take the rest of this article, so we will stick to the short one. For our purposes, a luxury brand is one whose cars start at about £50,000, and a high-luxury brand only makes cars costing more than £100,000. Hence BMW makes some luxury cars, but it is actually a premium brand because most of its sales are of less expensive models.
So far this year, the market is not doing very well – it seems the global economic uncertainty has caused even the plutocrats to pull in their horns, poor loves. Registrations of luxury models have fallen particularly sharply (see table below left), but that may be partly WLTP-related, as Porsche is part of the Volkswagen Group and its models have been stuck in the queue for engine approvals.
Maserati, of course, has no such excuse. Back in 2014, Maserati forecast that it would sell 75,000 cars globally in 2018 – in fact, its global sales fell to 36,000. In the UK, registrations in 2018 were just 1,300 and may not even reach 1,000 in 2019. The plan for Maserati was to position it below Ferrari as a higher-volume, more affordable Italian alternative. In fact, Ferrari is outselling Maserati so far this year in the UK, despite the fact that Maserati has competitors in some relatively large segments.
Luxury SUVs (e.g. Range Rover), luxury saloons (e.g. S-Class) and the top end of the executive segment (e.g. M5), accounted for more than 30,000 sales year-to-date, while supercars accounted for about 3,000.
In the high-luxury class, sales are generally doing better, but are still falling faster than the overall market. Arguably, every car manufacturer apart from Ferrari appears to be facing issues.
Aston Martin has seen sales increase thanks to its well received new range, but lost £78.8m in the six months to June 2019. That is not only disappointing to enthusiasts – a shareholder who invested in the October 2018 flotation at £19 a share is now looking at a share price of less than £6. The future of the company now depends on the forthcoming DBX luxury SUV, due for launch in the final quarter of this year.
A couple of years ago, a luxury brand launching a big SUV would have seemed as easy as shooting fish in a barrel. However, Bentley seems determined to show how difficult in can be. Bentley said its poor sales performance (stagnant despite the Bentayga range, which was intended to double production) is due to WLTP issues, but the truth may be more complex.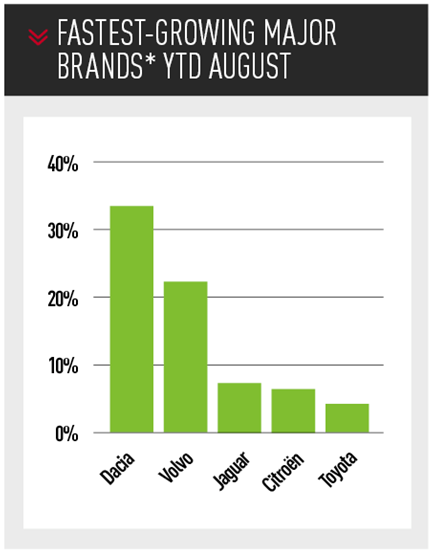 The Bentayga does not seem to be flying out of showrooms, with its styling the main bone of contention. When the Bentayga was first being considered, the Range Rover was in its tall, rather boxy, third generation (2002-2012). Designing a more upmarket SUV must have seemed quite a simple task at the time. However the Bentley that emerged only had its grille and lights to distinguish it – the rest of the bodyshell could have come from almost any manufacturer.
Rolls-Royce does not seem to be faring much better. The new Cullinan, brilliant piece of engineering though it is, seems to remind quite a few people of the Canyonero from The Simpsons. At least the Cullinan is not bland, and its unusual proportions may grow on us over time, but they are somewhat challenging on first acquaintance.
McLaren has also seen sales fall YTD, but there does not seem to be an underlying problem. McLaren's first quarter results showed increasing global revenues and stable overall sales. The company said it expected to achieve the same 4,800 global sales in 2019 as it achieved in 2018.
Finally, the sales figures for Lamborghini are a little mixed. 2019 will still be the marque's second-best year after 2018, but the Urus might have been expected to give a bit more of a boost. Still, Lamborghini had never sold more than 300 UK cars in a full year until 2018, which shows the company is now doing pretty well in this country. DAVID FRANCIS