FCA Group representation among the AM100's top retail groups may grow as a period of franchise consolidation follows the manufacturer's planned merger with PSA Group, it has been claimed.
While joint retail sites bringing together the resulting manufacturer group's 15 brands in any single multi-brand car retail locations were deemed unlikely by ICDP managing director, Steve Young, he expects clearly defined "winners and losers" to emerge from the new automotive giant.
If discussions between PSA Group and Fiat Chrysler Automobiles (FCA) bear fruit, the result will be the world's fourth-largest carmaker, with annual revenues of £145.9 billion, recurring operating profit of more than £9.4bn and combined vehicle sales of 8.7m.
>>Opinion: PSA and FCA merger strategy is a curate's egg<<
In the UK, the new group would have achieved 365,888 sales in 2018 (market share: 15.5%), almost double that of the South Korean power pairing of Kia and Hyundai's (185,689; market share: 7.8%).
The volume commanded by the new entity would likely give it added leverage when negotiating with franchisees.
Speaking to AM earlier this year, Arnaud Leclerc, the chief executive of FCA Group UK & Ireland, said: "Certain conversations have been difficult since I started.
"When you're delivering 15% market share, those conversations don't happen."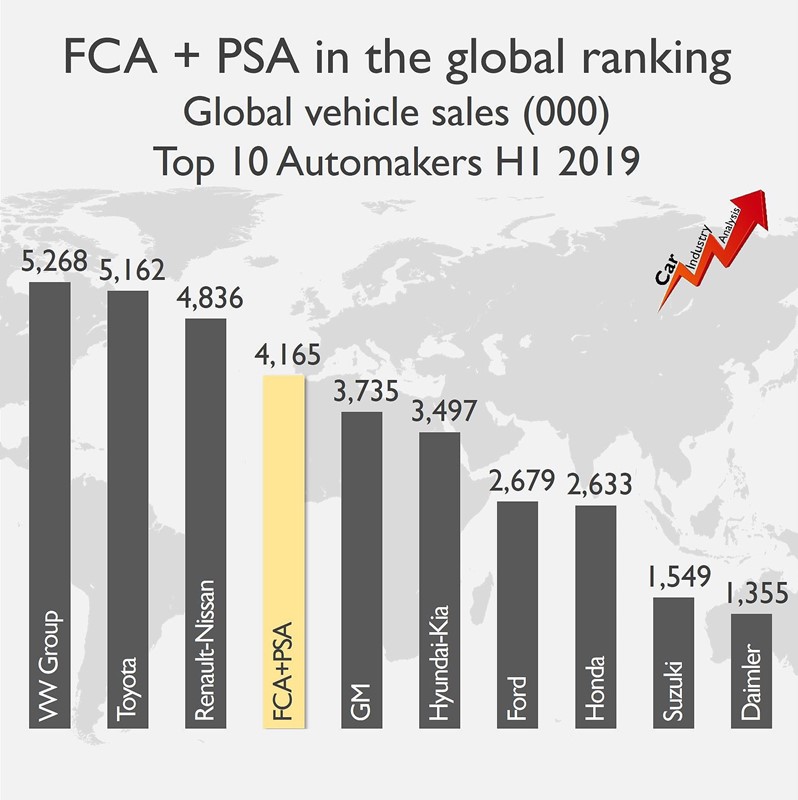 Young said the new PSA/FCA entity would almost certainly deliver "some consolidation of investors", adding: "Existing PSA dealer investors will be expected to take on territories which currently have weaker investors for FCA, and existing PSA initiatives in the parts sector will be extended into the FCA brands.
"Inevitably, this will bring winners and losers, but the resulting dealer body should be stronger."
In its statement issued on October 31, FCA and PSA announced its plan to create a single business under a Dutch parent company, listed on the Paris, Milan and New York stock markets.
Detailing their joint plans to complete a new automotive manufacturing group owned 50% by PSA shareholders and 50% by FCA shareholders, FCA and PSA said the deal could save about £3.17bn a year without the need for plant closures. It said 80% of the savings would be achieved after four years.
Carlos Tavares, the chief executive of PSA who would lead the new business, said all the brands currently operated by the two groups would be retained.
Speaking to French news outlet BFM Business, Tavares said: "I see that all these brands, without exception, have one thing in common – they have a fabulous history… So today, I don't see any need, if this deal is concluded, to remove brands, because they all have their history and they all have their strengths."
Retail restructure?
What remains to be seen is whether the same strict ratio of sites to sales will be applied in the franchised retail sector in an effort to drive profitability in the UK.
FCA Group's 211 UK retail sites handled 52,885 sales across the Abarth, Alfa Romeo, Fiat, Jeep and Maserati brands in 2018, resulting in 250 new car sales per site.
Vauxhall, which had a much higher sales per site figure of 602 – 195,137 car sales in 2018 were handled by a network of 324 sites – restructured its network under its new owners, PSA Group, in March 2018, as reported exclusively in AM at the time.
A month later, in April last year, Vauxhall UK managing director and chairman, Stephen Norman, confirmed to AM that all franchise contracts would be terminated as the brand began a complete refranchising programme.
The 2019 edition of the ICDP's European Car Distribution Handbook (ECDH) reported that the number of franchised car retail sites across Europe had declined by 16% in the past decade – with 52,000 dealerships remaining – but asserted that the reductions made by car manufacturers to date were "much less significant than required to increase network profitability significantly".
In his comments on the proposed FCA/PSA merger, Young suggested that the shared online retail know-how of the two manufacturers could be brought together to drive a new omnichannel retail strategy.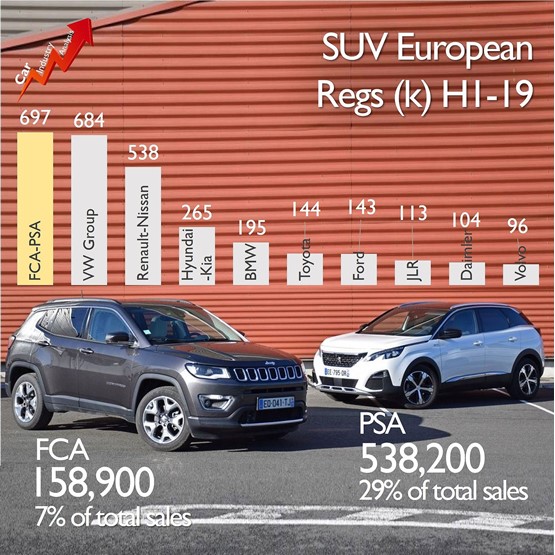 Peugeot launched its Order Online platform in August 2017 and FCA has experimented with online sales completed via Amazon on the Continent.
Young said: "Greater scale means that this is likely to be offered faster than would otherwise be the case."
Cost savings without closures
FCA's manufacturing plants in Italy are likely to be more vulnerable to potential cuts than retail networks in the event of the FCA/PSA merger, according to market analysts.
The Italian-American carmaker has 27 manufacturing facilities for vehicles and parts in Italy and overstaffing in underfunded factories running far below capacity is said to be a serious problem.
Despite Brexit-related ultimatums regarding the future of the UK's Ellesmere Port Vauxhall manufacturing facility under PSA ownership, any savings yielded by the FCA/PSA merger will be made without the need for plant closures, October's joint statement from the brands said.
It stated: "The significant value accretion resulting from the transaction is estimated to be approximately €3.7bn in annual run-rate synergies derived principally from a more efficient allocation of resources for large-scale investments in vehicle platforms, powertrain and technology and from the enhanced purchasing capability inherent in the combined group's new scale.
"These synergy estimates are not based on any plant closures."
As the statement spells out, one of the key areas for savings will be through FCA's ability to tap into PSA's wide range of existing vehicle platforms – including those for its emerging crop of hybrid and electric vehicles (EVs).
FCA's proposed £28.3bn merger with Renault – which broke down after the French carmaker's largest shareholder, the French government, allegedly stalled a potential deal back in June – would have brought similar benefits.
According to Jato Dynamics, electrified vehicles counted for 0.2% of PSA and 1.4% of FCA global sales for the year to the end of September, but PSA's insistence that it is not volume-restricted with its new Peugeot e-208 (see review on page 70) suggests it is ready to deliver EV volume.
PSA will introduce 15 new electrified vehicles in just two years, including the new DS Automobiles DS 3 E-Tense SUV, which was launched as AM went to press.
Access to these alternative fuel vehicle (AFV) platforms will allow FCA to ditch its strategy of buying Tesla credits in an attempt to meet the EU's strict CO2 emissions regulations for 2020.
Jato Dynamics analyst Felipe Munoz thinks the CMP platform that underpins the new 208 is just what Fiat and Alfa Romeo need. Alfa Romeo's first small hatchback, the Mito, and the Fiat Punto have both left FCA forecourts in recent times. "FCA could make use of the new 208/Corsa platform to re-enter the supermini segment with a new Punto," he said.
The combined operations of FCA/PSA would give it market dominance in the burgeoning SUV sector right away, however.
Together, their brands control 22% of the segment across Europe, according to Jato, outselling VW Group, which currently has 21.6% market share.
Young said PSA's influence could also bring about more consistent supplies of new product to FCA's UK retail network, "following the pattern applied to Vauxhall". He said this could mean "stress on the dealer network from excess inventory, pre-registrations and too much supply into daily rental and other similar channels should reduce".
Manning the merger
PSA's acquisition of Vauxhall from General Motors resulted in a restructure of its UK management operations, which brought about the sale of its Griffin House headquarters in Luton, and moved back-office jobs to the French manufacturer's Coventry base.
Similar changes could result from a merging of FCA and PSA.
The board of the new group would include six members from PSA and five from FCA, in effect giving the French company control.
The Dutch parent company will have FCA's John Elkann in his familiar role of chairman and Carlos Tavares as chief executive and member of the board.
Mike Manley, who took over as the chief executive of FCA following the death of Sergio Marchionne in August last year, has been suggested as the new business's leader in the Americas.