Social media monitoring looks set to help dealers' marketing teams to ramp up their electric car sales next decade.
Analysis of millions of UK consumers' engagement with brands and influencers on social media could support carmakers and their dealer networks in effectively targeting the people most likely to buy EVs soon.
Many consumers are engaged with electric cars due to their interest in new technology, or love of new cars, or desire for cost efficiency and fuel economy, according to research by London-based data consultancy Starcount, however the barriers for many remain concern about range, the cost of purchase, and the time taken to charge.
Starcount's analysis highlighted that consumers searches around EVs are related to these concerns, and not where they can buy from.
Automotive marketers have an opportunity to inspire confidence, alleviate concerns and identify the most likely consumers who'll buy EVs soon, Starcount's chief product officer Rowena Humby told dealers and carmakers at the recent CDK Global Connect event in London.
"As brands and retailers, we need to understand how we can gain competitive advantage, how can we communicate and overcome these consumer barriers, and how can we find the right customers and prospects to grow the brand," she said.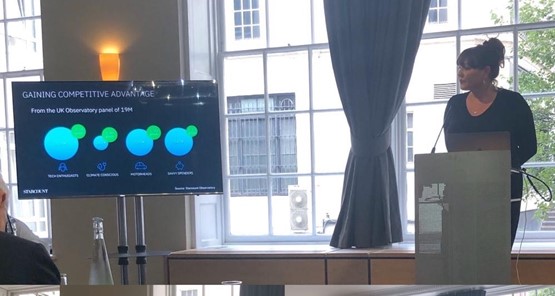 Starcount's social media panel numbers 19 million people in the UK and is a new way of getting survey data, Humby said, as it analyses from social followings why consumers do certain things and what their attitudes are.
It has identified four consumer groups, mindsets, that marketers could target for electric car sales in tailored ways: Tech enthusiasts, climate conscious, motorheads and savvy spenders.
In the last six months Starcount has noted a rise in the numbers of climate conscious and tech enthusiasts following electric car brands.
Overall, the biggest audience interested in EVs is the tech enthusiasts, but climate conscious is the second largest.
Each of the four mindsets is engaging with electric cars in different ways, so Humby said carmakers and dealers should be thinking about the features they would market to these specific audiences, tailoring messages to increase the likelihood that they'll gain interest in your brand.
"Consider do we talk to 'savvy spenders' about the distance, the travel, the journey, whereas climate conscious care about the architecture, how things are made, what sits behind the product itself."
Brands could target the groups accordingly, such as advertising on tech websites, travel blogs or money saving forums.
Using copy and images that resonate with that consumer group is really key, she said. Tech enthusiasts want to see interiors of cars and the apps that work with them, motorheads want to see experiences.
"Identify which customers in your database are ripe for targeting, which have one of the four mindsets that matter," said Humby.