A whole range of issues were discussed by some of the industry's biggest hitters, who were in no mood to pull their punches when it came to the challenges facing them as they go into 2020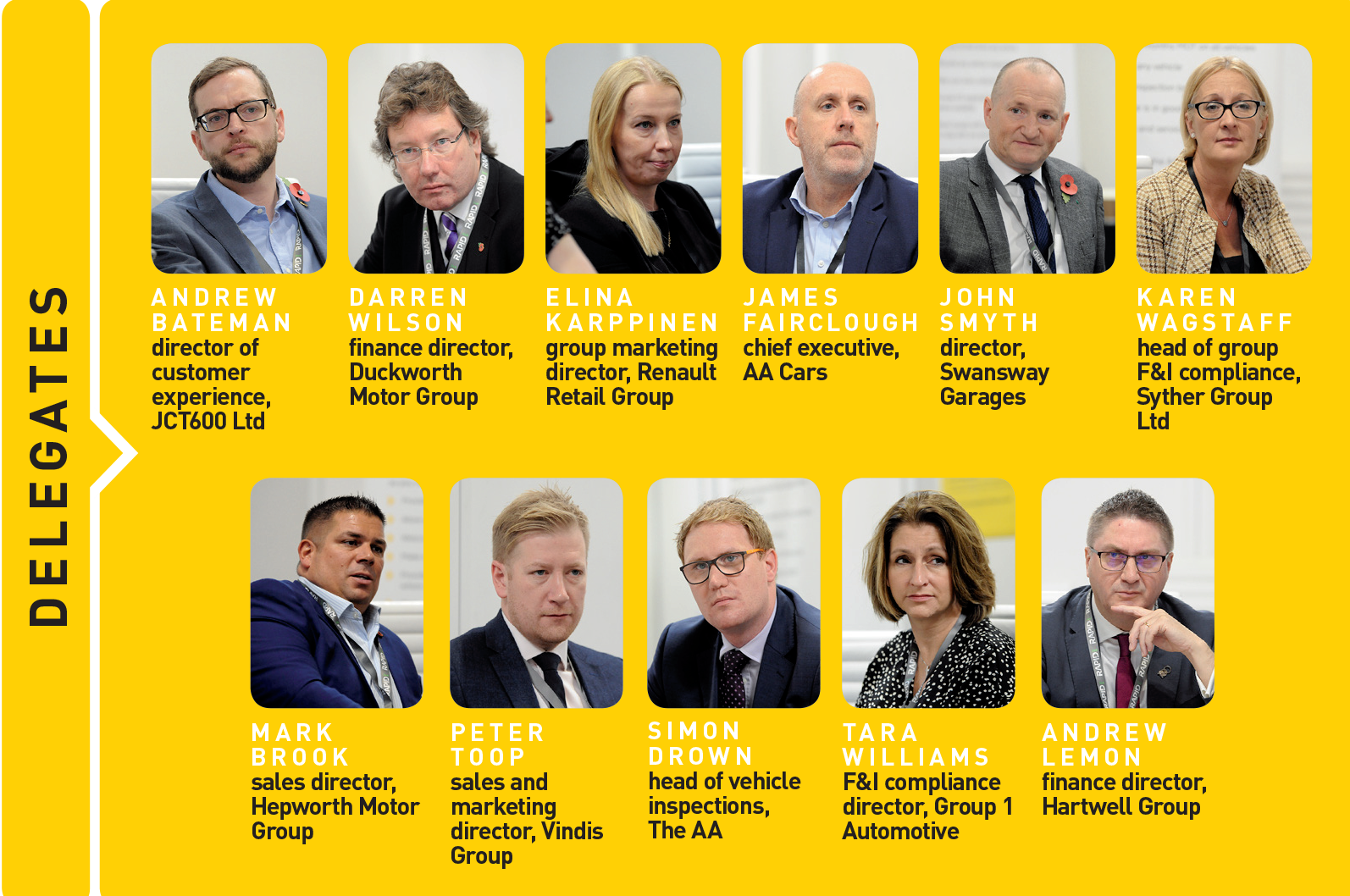 Transforming the car sales process from "the worst scenario you can think of" into something simpler for the consumer and easier for the retailer will deliver consumer satisfaction, efficiency and growth.
That was the overriding challenge posed by Andrew Bateman, director of customer experience at JCT600, as the agenda for the Automotive Management Live 2019 roundtable meeting navigated through digital best practice, opportunities in 2020, measures to drive efficiency, improving transparency and delighting customers.
But a battle against an out-of-date sales process dictated by manufacturer partners while trying to adapt to the needs of a better-informed customer who may be keen to embrace digital solutions for some or all of their automotive requirements means many retailers are facing a number of hurdles.
Karen Wagstaff, head of group F&I compliance at Sytner Group, insisted: "We're good at looking after our customers.
"The reality is that even with systems that aren't quite where they need to be, we still do a bloody good job."
But Bateman was keen to see his fellow roundtable delegates acknowledge that there remains a huge requirement for most car retail operations to meet the needs of customers familiar with a new type of stress-free sales process defined by the likes of Apple and Amazon.
Bateman said: "If you go, just as a normal human being, into a dealership and chat to someone about a car and then end up doing a test drive, that is the worst human scenario you can think of.
"Walk into an Apple store and you can play to your heart's content. Come to our place and we won't leave you alone – and if you want to drive the product then we'll sit with you while you drive it.
"Even if the sales person is brilliant, it's still weird.
"At JCT600 we offer test drives at home or test drives at work."
Customers are 'paralysed by choice'
Bateman said JCT600 saw its 2020 growth opportunity coming from improved productivity, adding any perceived growth would likely come from "the same customers and the same job", but working in a more savvy way to "get more from it".
He said innovating to simplify the retail process lays at the heart of this.
"It seems now everyone sells all they can sell, but still receive more enquiries than they know what to do with," he said.
"It takes three to five hours to buy a car in the showroom. I think customers are just paralysed by choice and they just put it off.
"The opportunity is there to make it easier for us and simpler for the customer and, really, I think all the agenda items being discussed here today come down to the same thing."
Bateman added his mystery shopper experiences of dealerships// had been "awful" but said that the industry owed it to its sales executives to give them a "fair crack" by simplifying the sales process.
"It's not like the salesperson is dragging their feet, it's not the FCA's fault or the manufacturers' fault…things just don't connect," he said.
"If a customer buys a car and they are completely satisfied then we have swum the Channel because we have somehow made that process enjoyable."
Tara Williams, F&I compliance director at Group 1 Automotive, conceded: "The more process you put in place, the less natural communication takes place."
And many around the table agreed that the process – or a customer's perception of it – was a hurdle to both trust and customer experience.
Williams said she felt the drive towards online was bred out of an inherent distrust of car retailers.
When consumers do enter the dealership it is now more commonly the case that they are coming "ready to buy", said Williams, but she added the sales process, the staff that have to implement it and the systems behind it are often at odds with the immediacy now expected of them.
Elina Karppinen, group marketing director at Renault Retail Group, stated that many retail staff are still trained to put customers through a pre-determined sales process "because that's what we've been doing for 20 years".
She added: "We then get mystery shopped by a manufacturer, which is imposing these 20-year-old principles, it's not right.
"We need to have freedom to let the consumer dictate the buying journey."
A flow from online to physical retail
Darren Wilson, finance director at Duckworth Motor Group, said that seminars at NADA had enlightened him to the need for a better flow from online to physical retail.
Wagstaff took up the point, stating: "If the sales person doesn't understand where in the digital journey the customer is, that customer will be very frustrated.
"The online retail system needs to be integrated with an option for the consumer to share their journey.
"That's the missing piece of the jigsaw."
The car retailers around the table found themselves at different stages of delivering online retail, but the creation of a bespoke system had suffered from the demands of manufacturer partners and the shortcomings of suppliers.
Peter Toop, sales and marketing director at Vindis Group, said that his business had now started to work with US-based digital solutions provider Roadster in an attempt to bring its digital and physical offers closer together and make it possible for customers to complete a finance offer at home.
But he said integrating new car data and providing that finance solution was proving to be the greatest challenge.
Wagstaff said integration with various finance lenders had also proved a challenge for the AM100's largest retail group.
"The problem is that all those lenders are at a different point and do they want to connect back to our processes?" she asked.
"Things don't always tally with what the dealer wants.
"Dealers are champing at the bit to build this kind of solution but from a lender point of view they may be focused more on their own solution."
Sytner Group and Duckworth Motor Group have both implemented a paperless sales process as part of their efforts to refine the customer journey.
Wilson said: "We are going down this route now, but our manufacturer partners are still saying that they need a physical signature on a piece of paper and if that's not in place when it's time for an audit they are going to fine us."
John Smyth, director at Swansway Garages, said his business was learning about selling cars with minimal customer contact through the group's two brokerages.
He said: "We have a GForces website and it's probably not robust enough. We've done another website and our conversion is twice as good because of the speed of the site.
"The whole point of digital is to get the customer to make an enquiry."
Williams said retailers must not rely too heavily on their online assets, no matter how advanced they are.
Highlighting the need for retailers to play an active role in delivering positive outcomes for customers, despite the shift towards digitised solutions, she said:
"You cannot make the assumption the customer's done the right thing and is going in the right direction."
Automotive Management Live 2020
AM Live 2020 takes place on Thursday November 12 at NEC, Birmingham