Rising unemployment could hamper retail business's ability to recover from the COVID-19 coronavirus lockdown as the prospect of longer-term disruption threatens to leave the UK economy "scarred".
Analysis of the current climate conducted by the Office for Budget Responsibility (OBR) revealed that the UK economy could shrink by 35% between April and June, while unemployment may hit 3.4 million – its highest rate since the early 90s.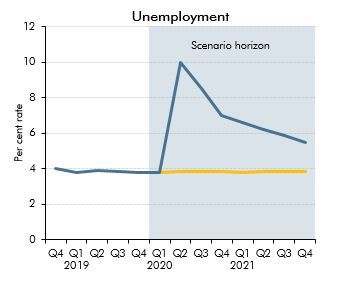 Such an impact could inhibit the ability of certain sectors to recover from the pandemic as consumers struggle to balance their finances and put off larger purchases.
The OBR said in its report that it had assumed that a decline in unemployment that would come after the easing of public health measures would hold up the rebound in GDP, with the initial recovery concentrated in the recall of furloughed workers.
Robert Chote, OBR chairman, said that for the sake of illustration the OBR had assumed an economic lockdown lasting three months which is partially lifted for the following three months to model its scenario, but added: "There are other scenarios that one could have chosen."
The OBR estimated that public sector borrowing would be £220 billion higher this year than at the time of the Budget, following Government's various fiscal measures to combat the impact of the COVID-19 coronavirus on the economy and household incomes.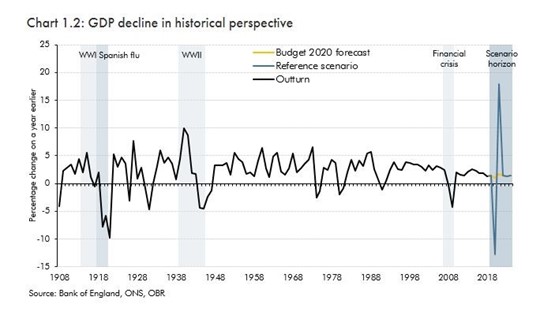 That would take the overall budget deficit to 14% of GDP, it's highest level since the second world war, it said.
Chote added: "That should be a temporary hit although the longer the economic lockdown lasts the greater danger there is that the future potential of the economy will be scarred by significant business failures and the difficulties the unemployed have getting back into the labour market."