UK franchised dealer networks need to grab all opportunities in the September plate-change campaign to patch the holes left in their budgets by lockdown. It looks set to be a tough campaign for the automotive sector.
An exclusive survey of more than 100 dealer leaders for AM, carried out by by JudgeService Yourpoll, found 56% report their September new car order take will be lower than normal. Almost a fifth of those predict their sales will be more than 10% lower than for the previous September.
Asked about their gut feel for the September new car market as a whole, half hope it will be at normal levels or even stronger than last September.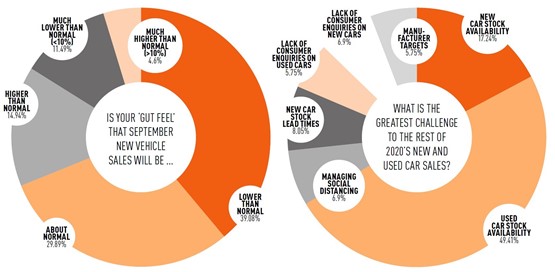 Almost all the dealer leaders surveyed report that their used car teams are doing brisk business currently, and 74% said their used car sales are higher than is normal at this time of year.
They believe the biggest risk to their top line this autumn will be inadequate availability of stock, not a lack of enquiries from consumers. The coronavirus pandemic forced shutdowns of numerous vehicle assembly plants globally in the first half of 2020, and some have resumed production with fewer shifts than previously.
Lower new car sales has led to a shortage in retail-ready, young-used cars for some retailers, who typically generate most of their stock through partexchanges, our research found. And in the weeks after car showrooms reopened from lockdown many of the motor auctions and leasing operations were running skeleton remarketing and logistics operations, which may have compounded the issue for some.
Overall, used car stock availability was seen as the biggest threat to prosperity in September for 49% of those polled, and new car availability or lead times for 25%.
Only one-in-10 dealers fears that a lack of consumer enquiries on new or used cars will harm their September performance.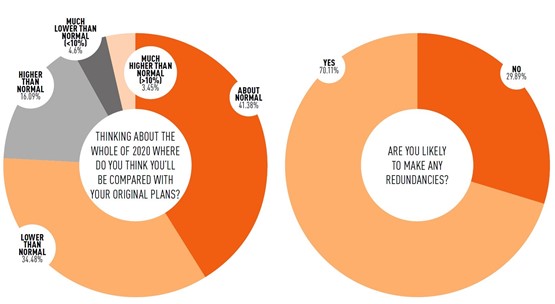 Looking further out, most dealers remain quite positive about the full year sales outcome. Some 20% expect their unit sales to exceed 2019, and 41% foresee a result on par with last year. In the coming months more AM research will examine their expectations for full year revenues and profits.
The UK Government's Coronavirus Job Retention Scheme (CJRS) has been used extensively by the automotive industry, and our research at the end of July found only 18% of dealers no longer had staff on furlough. The majority of the others by now have less than 10% of their workforce on furlough, as 'pent-up demand' and the tapering of the scheme has prompted them to bring people back to work.
More than 90% of those polled are satisfied with the financial support the Government has made available since March, such as the CJRS and kick-start loans, but a third are dissatisfied that there hasn't been specific support for the automotive sector, such as incentives to boost the car markets.
A fifth also feel dissatisfied with the advice Government has issued businesses during the pandemic.
Anticipating continuing difficult conditions, dealer leaders are making tough decisions regarding their long-term workforce, the research shows.
Some 70% expect to make redundancies, and the majority of those job cuts are either already in a consultation process or due to begin in September.
The scale of job cuts is quite diverse, but the majority are shedding less than 10% of the workforce. Nevertheless, a considerable 28% of those polled said they will sadly need to make almost one-in-five of their employees redundant.
Neil Addley, managing director of JudgeService Yourpoll, AM's survey partner, said: "After 30 years in the trade I'm not surprised at the
resilience of car and commercial vehicle dealers as we emerged from lockdown.
"We're an entrepreneurial bunch and, talking to clients early on, it was apparent there was exceptional effort being undertaken to plan for the reopening. Our research for clients indicated there would be 'pent up' demand. It's been great to see those sales materialise.
"While there will be job losses, I think these have been accelerated by, rather than caused by, COVID-19.
"The biggest surprise is the contrast between the national news and the reality we see in our industry on a daily basis. The survey results, along with a record number of post sales and 'lost sales' calls we are making on behalf of our clients present a totally different picture to that portrayed on the BBC."
Addley added that, although a state stimulus package would be welcomed by the automotive industry, in the meantime dealers with a focus on online marketing, great service and looking after colleagues and customers alike will secure a dividend.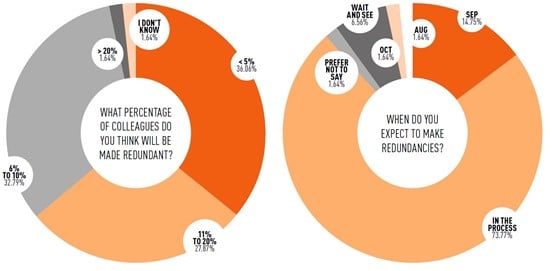 And used cars remain a great opportunity, Addley said. Dealers must consider that one positive of stock constraints is robust used car values, and suppliers are keen to assist – JudgeService has launched an online part-exchange survey to help dealer clients assess their trade-in processes.
The Society of Motor Manufacturers and Traders (SMMT) revealed that used car sales volumes declined by 1.2 million units (48.9%) in the second quarter of 2020 as the pandemic had a "devastating" impact.
Its figures showed the annual used car market was down 28.7% (2.89m units) at the half-year point.
The SMMT said that the pace of decline gradually eased throughout the quarter as dealers re-opened showrooms, but used car sales remained 17.5% down year-on-year in June as Welsh and Scottish retail sites remained closed.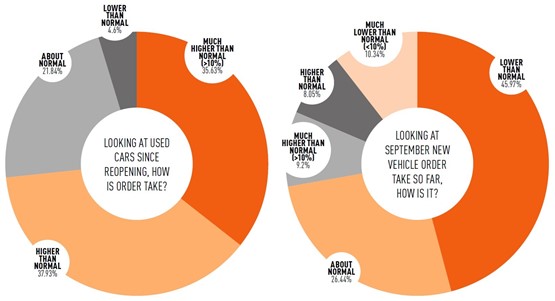 In response, Auto Trader commercial director Ian Plummer said the sector should also be encouraged by buoyant used car prices.
He added: "Unlike the financial crisis, where retailers slashing their prices to entice car buyers had a very negative impact on the financial health of the market, with COVID-19, retailers have held firm.
"With such high demand, coupled with challenges in the supply chain, it's absolutely the right decision, and, in fact, we've seen four months of consecutive growth in used car prices, with July recording the highest rate of growth since August 2018."
Jonathan Holland, managing director of remarketing specialist ADESA UK, said dealers must tap into all online sources for the right mix of stock they seek."Immediate access to desirable stock will be crucial over the coming months, especially with the major physical auction halls remaining closed to trade buyers," he added.