Chancellor of the Exchequer Rishi Sunak has outlined details of a new COVID-19 job support scheme to replace the furlough option offered by the current Coronavirus Job Retention Scheme (CJRS).
Speaking in the Houses of Parliament this lunchtime, Sunak revealed the scheme that will be offered to employers as an option to support the wages of employees who work at least 33% of their contracted hours while extending the terms of many Government funding support streams.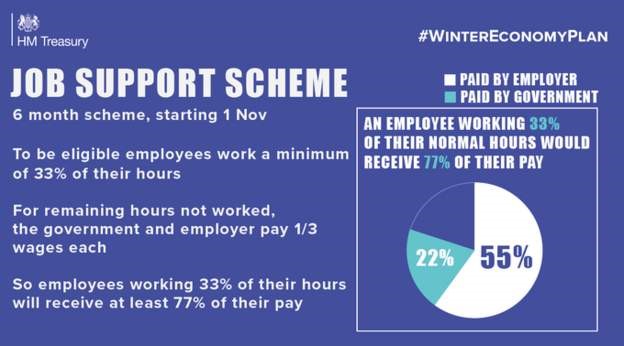 While the existing CJRS will end as planned in October, the new six-month Job Support Scheme will come into effect from November 1 will supplement an employees wages for a third of the remaining hours not worked – leaving them with 77% of their usual income.
Only large businesses that can prove they have been adversely affected by COVID-19 will be eligible for the Job Support Scheme, however, in a change to the blanket approach taken by the original furlough scheme.
Sunak said: "Running November to April, all small and medium sized businesses are eligible to apply, but larger businesses only when their turnover has fallen.
"Businesses are eligible even if they have not previously used the furlough scheme."
He added: "Employers retaining furloughed staff on shorter hours can claim both the Jobs Support Scheme and the Jobs Retention Bonus.
"This significantly increases the incentive to bring back people who were previously furloughed."
Extended loan terms
Changes to the terms of Government's COVID-19 business funding support schemes Bounce Back Loans, which have given over a million small businesses a £38 billion boost, mean that businesses will now benefit from extended repayment periods.
A "pay as you grow" model means that loans can be extended from six-to-10 years, nearly halving the average monthly repayment, while businesses who are struggling can now choose to make interest-only payments.
Additionally, businesses in difficulty can apply to suspend repayments altogether for up to six months.
There will also be a new loan scheme in January, the Chancellor revealed, while the deadlines for Government loans applications has now been extended to the end of the year.
VAT repayments
Nearly half a million businesses deferred more than £30 billion of VAT this year, according to the Chancellor.
Sunak will now allow businesses more time to repay those deferred sums, rather than expect repayments to be delivered in one lump sum in March.
"I'm allowing businesses to spread their VAT bill over 11 repayments, with no interest to pay," he said.
"This will benefit up to half a million businesses – on average, turning a one off £60,000 payment in March, into 11 payments of less than £6,000."
Pressure to act
Government has been under pressure to tackle the threat of rising unemployment as the current CRJS draws to an end with a further six months of coronavirus measures now in prospect as the UK-wide infection rate begins to climb once more.
The latest unemployment figures, covering a period from May to July is 4.1%, up from 3.9% in the previous quarter
The Office for Budgetary Responsiblity has forecasted that unemployment could peak at 13.2% in 2021, with four million people out of work.
Commenting on the Chancellor's plan, Stephen Haddrill, director general of the FLA, said: "It's good to see that the Chancellor has accepted our recommendation to extend CBILS, and we look forward to seeing what the successor scheme for 2021 will look like. We have already proposed a revised version of the Enterprise Finance Guarantee Scheme.
"What hasn't been addressed in today's announcement, and what continues to be a challenge for our independent lenders, is access to funding that can then be deployed under the guarantee schemes. Our members are ready and willing to support SMEs, but they can't do that without funds."
Nic Redfern, finance director at consumer finance website KnowYourMoney, said that Government had reaffirmed its commitment to help UK businesses through the pandemic by regularly extending, reforming and creating financial support schemes in Sunak's announcement today.
He said: "Until COVID-19 is brought under control, and fears of a second, third and even fourth spike dissipate, the private sector is going to have to get used to the Government's short-term thinking.
"This brings problems - most notably, many businesses will not invest or hire new people while such uncertainty remains - but trying to implement long-term economic policies right now would be extremely difficult.
"For now, business leaders must set about making their own longer-term plans for surviving the crisis and trust that, if needed, the Government will provide safety nets to support them."