November's registration figures made predictable – and grim – reading. The overall market was down by 27.3% for the month, and 30.7% for the year.
The Society of Motor Manufacturers and Traders (SMMT) is predicting a 2020 full year market of just 1.56 million, the worst figure since 1982.
However, before examining the grisly details of who has declined the most, it is worth looking at which parts of the market have performed the best.
Luxury saloons like the Mercedes-Benz S-Class have been in decline for many years, but are actually out-performing the market this year, with a decline of 'only' 13.4%. The reason is that luxury saloons are no longer like the S-Class – they are electric.
The best-selling luxury saloon year-to-date (YTD) is the Porsche Taycan which, implausibly, is outselling the S-Class, 7 Series and A8 combined.
It is not that business tycoons have suddenly become tree-hugging eco-warriors. It is that they are very fashion-conscious. First Tesla and then Porsche have made internal combustion engine (ICE) saloons look so last year, and no chief executive wants to be laughed at for turning up at the golf club in their six-cylinder diesel.
The only part of the market which has performed (fractionally) better than luxury saloons are executive SUVs (down 13.1%). It is no coincidence the best-selling model is the battery-electric Jaguar I-Pace, which is ahead of the Velar, Discovery, X5 etc.
The I-Pace (pictured) was actually a toe-in-the-water exercise for JLR. It is made by Magna in Austria, as JLR thought it was too much trouble to reconfigure Solihull or Browns Lane for EV manufacturing. It has turned out that the water is pretty nice: in November, the I-Pace was level with the Discovery Sport and second only to the Evoque in terms of JLR model sales. Unfortunately, Jaguar has still not jumped in with both feet – more than two years after its launch, we are still waiting for the next Jaguar EV.
The sudden shift in electric vehicle (EV) sales in these upmarket segments shows there really is a tipping point for EVs. Only three years ago, a Tesla was an intriguing oddity that implied there could be a strong future for electric luxury cars.
Today, the situation has almost reversed: the question is whether a nonelectric luxury saloon can survive for much longer.
The situation for large SUVs is more complex, as seriously heavy vehicles like the Range Rover would need huge battery packs, leading to a self-defeating weight spiral. However, for slightly smaller and lighter crossovers, the future is clear.
This is both a signal and a warning for more mainstream segments. As batteries get cheaper, more segments will experience a tipping point. The next one is probably compact executive saloons: already the Tesla 3 is in second place behind the BMW 3 Series, and the Polestar 2 has made a strong start. It will take much longer for the C-segment (Golf, Focus etc.), but it will happen at some point in the next four-seven years.
That raises the question of when it will come to the smallest cars, but the A segment (city cars) is experiencing a different tipping-point. Sales have fallen by 53.6% YTD, and market share is down to 4.1% - approximately half what it was 10 years ago.
As city cars are probably too low-priced to electrify, it is questionable whether this segment can survive in the medium term.
There have been a number of attempts to revolutionise it, from the Smart to the ingenious Toyota iQ, but no one has managed to combine clever design with a sufficiently low price.
This article was first published on December 18 in the January 2021 Issue of AM magazine, here.
Meanwhile, back in the present, the full-year league table for 2020 is now pretty much established, given the expected size of the December market this year.
Most manufacturers have not changed their relative positions in the past couple of months, with the exception of Audi. Having been steady at around 6.3% for most of 2020, Audi finally has free supply of new cars, and market share has increased to 6.7%, just behind Mercedes on 6.9% and BMW on 7.0%. Audi is unlikely to catch up in December, but it will be fighting for top spot among the premium brands in 2021.
While the premium brands are doing well, some of the worst performances have come from the would-be premium brands.
DS sales are about 10% of what they were when the first-generation DS3 was in demand, and market share is just 0.14%. While consumers can relate to the proposition of "Citroën does funky", the idea of "Citroën does premium" is harder to grasp.
Meanwhile, Alfa Romeo is on an even worse 0.12%, its worst performance in the UK since the 1960s. The Giulia saloon is of no interest to buyers of compact executive saloons and even the Stelvio crossover is rock-bottom of its segment.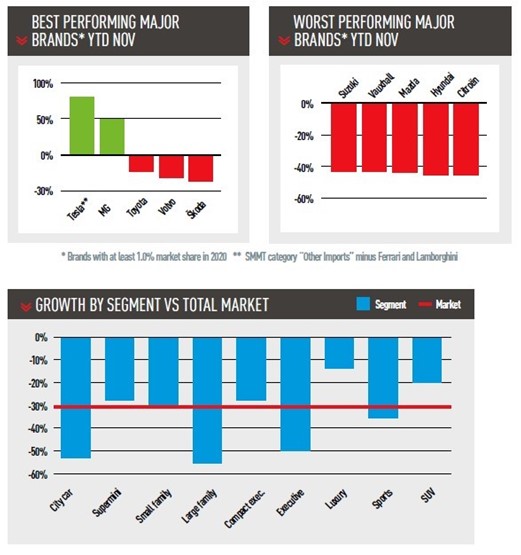 The worst performance of all has come from Subaru with a fall of 64.1% and a likely full year sales total of less than 1,000 units. Subaru was never really nearpremium, but it was very much "green wellies and Barbour jacket" in the days of the 1990s Legacy estate.
Unfortunately, it was also the hero car for slightly less salubrious types in the days of the Impreza 555, and Subaru never managed to synthesise a consistent image out of those contradictions.
As we approach the end of the year, we can only hope for better days ahead. However, at the time of writing, Honda has stopped Swindon production because of a parts shortage caused by problems at UK ports.
Only time will tell if that is a harbinger of more serious problems to come. Meanwhile, the SMMT is forecasting a recovery to only 2.0 million cars in 2021. That is an improvement on this dreadful year, but it is still 690,000 cars below the 2016 peak.
We can only hope that things start to pick up in the second half of next year, and 2022 is the start of a proper recovery.
David Francis