The SMMT has revised its 2021 new car registrations forecast down to below 1.9 million in anticipation of COVID-19 lockdown's impact on the key March numberplate change month.
Data published by the Society of Motor Manufacturers and Traders (SMMT) today (February 4) showed that trading restrictions imposed as part of COVID-19 'Lockdown 3' had resulted in the lowest January new car registrations in the UK since 1970 with a 39.5% year-on-year decline.
Car retailers leveraged their ability to continue trading via click and collect and click and deliver, where permitted, to help the sector deliver 90,249 registrations during the month as the pandemic continued to impact both private and fleet volumes.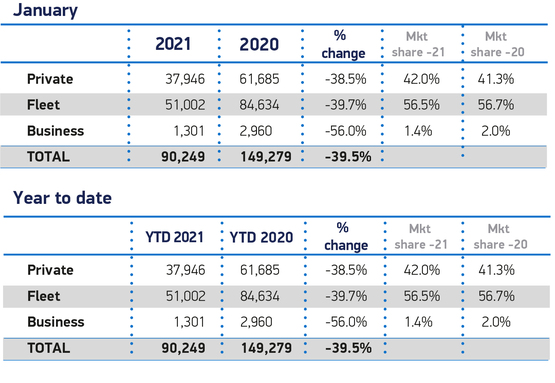 But demand was down by 38.5% among private buyers and 39.7%) among large fleets.
SMMT chief executive, Mike Hawes, said that the auto industry faces "a difficult start to 2021" following a £20.4 billion loss of revenue last year.
He added: "Every day that showrooms can safely open will matter, especially with the critical month of March looming."
Sue Robinson, chief executive of the National Franchised Dealers Association (NFDA), said tha there was a proportion of consumers "waiting for dealerships to reopen and holding off their vehicle purchases due to the current restrictions".
Robinson once again highlighted the relative safety of car showrooms, compared to other retail environments, in anticipation of an eventual re-opening. She said: "Showrooms have spacious areas and dealers can work by appointment ensuring the safety of customers and staff.
Revised registrations forecast
A growing expectation that COVID-19 lockdown restrictions will impact the key March numberplate change month for car retailers has led the SMMT to further revise down its 2021 registrations forecast.
The forecast has now been downgraded to below 1.9 million.
Despite still representing an increase of 15.7% compared to what the SMMT referred to as "2020's 'lost year'" it would remain well below the 2.3 million 10-year average new car market to 2019.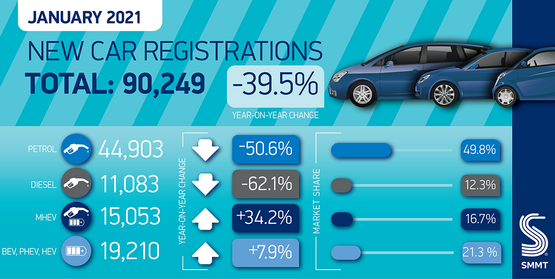 SMMT data showed that petrol and diesel car registrations declined by 62.1% and 50.6%, respectively, during January.
Battery electric vehicle (BEV) uptake grew by 2,206 units (54.4%) to take 6.9% of the market, as the number of available models almost doubled from 22 in January 2019 to 40 this year.
Combined, BEVs and plug-in hybrid vehicles (PHEVs) accounted for 13.7% of registrations.
SMMT analysis shows that 2020 recorded the largest ever fall in average car CO2 emissions, spurred on by increased uptake of BEV, PHEV and hybrid electric vehicles (HEVs) which accounted for almost one in six new car registrations.
But Hawes said that COVID-19 lockdown was a threat to continued emissions improvements in the UK.
In its registrations statement, the SMMT said that "opening dealerships as soon as it is safe to do so would help re-energise consumer confidence, supporting jobs and a green recovery".
And Hawes said: "The necessary lockdown will challenge society, the economy and our industry's ability to move quickly towards our ambitious environmental goals.
"Lifting the shutters will secure jobs, stimulate the essential demand that supports our manufacturing, and will enable us to forge ahead on the Road to Zero."
Industry comment
Commenting in response to the SMMT's January registrations announcement this morning, Michael Woodward, UK automotive lead at Deloitte, said that he still aniticipated "a recovery in the second half of the year once lockdown restrictions have eased".
Woodard said: "The extension of some major government and private sector income-support measures, such as the furlough scheme and payment holidays on loans, mortgages and credit cards, has boosted consumer confidence in personal finances.
"Increased personal savings, as a result of fewer opportunities to spend, also point to favourable conditions for renewed consumer activity which could unleash pent-up demand.
"Year-on-year sales results are typically a marker of performance but, with sales at record lows throughout 2020, growth is inevitable. Understanding the context of this will be key to gauging the health of the industry in 2021."
Karen Hilton, heycar's chief commercial officer, said that the car retail sector's efforts to drive sales had been stymied by continuing production delays, in some cases, meaning that customers were still facing frustrating waits of up to four months for certain new models..
She said: "There is a light at the end of the tunnel: Later this month the government will set out the process for ending lockdown which will allow us to finally welcome customers back to physical sites.
"But until supply issues are overcome, the new car market can expect a bumpy ride ahead."
Ian Plummer, commercial director at Auto Trader, said: "Production levels have been hit hindering supply levels and with showroom closures limiting selling options the industry has had a tough year.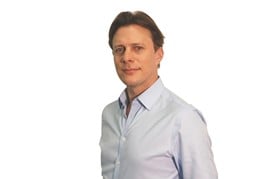 "That said, as we move into the new year there are encouraging signs that the market will pick up, as some very strong lead indicators are likely to flow through into sales in the weeks ahead."
Plummer added: "AFV sales continue to be positive, but still don't account for any meaningful levels of volumes. We would hope that the Government's new 'Build Back Greener' strategy encompasses continued financial incentives required to support a higher level of adoption.
"The plethora of new EVs now on the market gives consumers some excellent options but the high price tags hold many back from turning interest into purchase."