The UK's COVID-19 'Lockdown 3' trading restrictions mean that franchised car retailers are "suffering" more greatly than their European counterparts.
The Society of Motor Manufacturers and Traders (SMMT ) reported a week ago that trading restrictions imposed as part of COVID-19 'Lockdown 3' had resulted in the lowest January new car registrations in the UK since 1970 with a 39.5% year-on-year decline.
And data from the latest Cox Automotive Market Tracker said that, while used car sales were outpacing new, registrations were "suffering heavy losses compared to other European countries".
New car registrations fell 39.5% to 90,249 as reported by the SMMT resulting in the worse observed since 1970.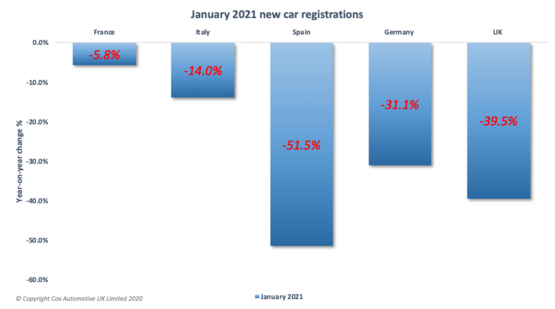 The European new car market experienced missed fortunes in January.
Spain's 51.1% was the region's worst performance, while France (down 5.8%) and Italy (down 14%) performed relatively strongly as Germany suffered a 31.5% decline.
Philip Nothard, Cox Automotive UK's customer insight and strategy director, said: "It's important to remember that the outbreak in 2020 impacted at different times across Europe and each country responded at various levels."
Last week AM reported that Dealerweb data indicated a 36% decline in orders for new cars and 45% drop in used.
Cox said that in its recent Market Survey, 70% of dealers cited the third lockdown had caused a reduction in new car orders of between 10% and 30%m as 17% said the decline had been up to 50%.
It said that 67% of used car retailers said sales were down by 10% to 30%, whilst 15% cited they had felt little or no impact.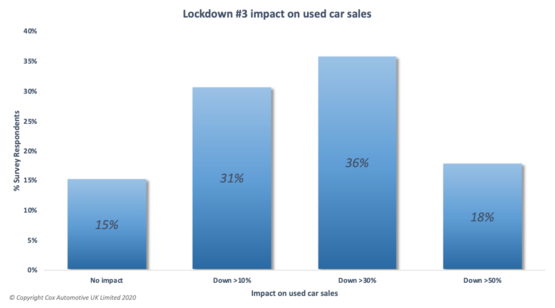 Cox's data tallied with that of Cap HPI which showed trade values had been easing as retailers become selective and hold back from increasing stock levels, meanwhile.
Nothard said:: "The sentiment from across the network is that there are 'pockets' of weakness in retail which could be caused by increasing financial pressure – two-thirds of dealers reported an increase in both days in stock and overage vehicles. The advice given is to hold firm where possible."
Auto Trader has previously urged used car retailers to 'hold firm' with any used car price changes as part of an effort to maintain values during the lockdown-induced lull in consumer demand.
Nothard reiterated that message today. He said: "Many dealers acquired stock in Q4 of 2020 to be well placed for a fast start in 2021, although unfortunately some of this stock is now ageing.
"What's clear is stocking the right car in terms of price point, model and good specification is key for the current trading conditions in 2021."
Cox's survey data indicated that car retailers were confident of a market recovery.
While the Bank of England expressed concerns that consumers may not be poised to spend the UK back to economic health last week, over half (55%) of car dealers surveyed by Cox said that they felt the economic conditions would improve over the coming months – with only 23% feeling it could worsen.