Electric vehicle (EV) sales outnumbered those of diesel cars across Europe as registrations declined by a further 18% year-on-year, Jato Dynamics has reported.
As the impact of a component shortage centred on semiconductors continued to play-out across the sector, EVs grew their market share to 21%.
But it was the affordable Dacia Sandero ended August as the region's top selling car, however, as overall sales across the 27 markets analysed by the automotive intelligence provider declined to 713,714 units.
The month-end total was not enough to offset the growth registered during Q2 with 8,095,419 units sold this year, compared with 7,192,839 between January and August 2020.
Jato's global analyst, Felipe Munoz, said: "The chip shortage has been a major setback for OEMs still grappling with the effects of the pandemic.
"Production issues and delays in the delivery of new cars have been damaging to sales, and the lack of availability at dealerships is forcing many consumers to either look for used cars or simply delay their purchase.
"In usual circumstances, consumers may expect to wait lots of months for a new Ferrari, but they are now experiencing the same delay for regular models."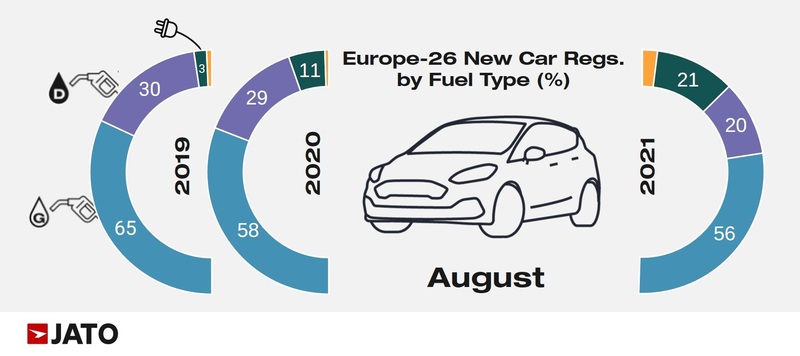 Jato's data showed that EVs are now Europe's only drivers of growth, outselling their diesel counterparts by 10,100 units.
Electric versions of the Fiat 500, Peugeot 208, Hyundai Kona, Vauxhall Corsa and Kia Niro all performed well alongside "outstanding results" for the Volkswagen ID.3 – Europe's top-selling EV during the month – according to Jato.
The 151,737 EVs registered last month marks a year-on-year increase of 61% and takes total volume since January to 1.32 million units.
Munoz said: "Although deals and incentives have played a significant part in boosting demand, we have seen a fundamental shift in buying habits as more appealing models have entered the market and consumers have become aware of the benefits attached to EVs."
Dacia's affordable Sandero hatchback was the most registered car in Europe during August, despite the EV growth, and is now fourth in the year-to-date best sellers rankings.

The Sandero outsold Volkswagen's Golf 8 – Europe best-seller year-to-date – as the German hatchback suffered a year-on-year monthly decrease of 38%.
Jato also highlighted the sales success of the new, fully-electric Fiat 500, which emerged from August as the market's sixth best seller – up 26% on last year.
The Hyundai Tucson also entered the top 10 for last month, with sales up 36%, as the BMW 3 Series topped the premium rankings.
Highlighting strong performances from new market entrants, Jato said: "Among the latest launches, the much-anticipated Tesla Model Y entered the top 10 of the EV rankings despite only hitting the market in August.
"Alongside this, the Ford Mustang Mach E also made the top ten; the Volkswagen ID.3 occupied the 15th position in the general rankings; Opel/Vauxhall registered 4,900 units of the new Mokka, and Volkswagen followed with 4,600 units of the ID.4. Citroen registered 4,600 units of the C4; the Cupra Formentor again performed well with more than 4,300 units, followed by the Renault Arkana which registered 4,341 units."