Fiat dealers have now had deliveries of the electric-powered successor to its popular city car, but the existing 500 isn't being ushered out the showroom door just yet.
Production and sales of the 14-year-old predecessor will carry on in parallel for at least this year, to ensure the new, larger, zero-emission car doesn't deny Fiat's network its share of customers for cheaper, petrol-engined runabouts.
With the new 500 available in convertible and hatchback guises, Fiat is the first brand to enable UK motorists to buy an open-top, electric car that will seat four (the Smart EQ Fortwo has no rear seats).
It's a little USP that Fiat will push hard to get the 500 Electric into shoppers' awareness, given that Brits buy more convertibles than any other European country, although four-in-five buyers will want a hard roof.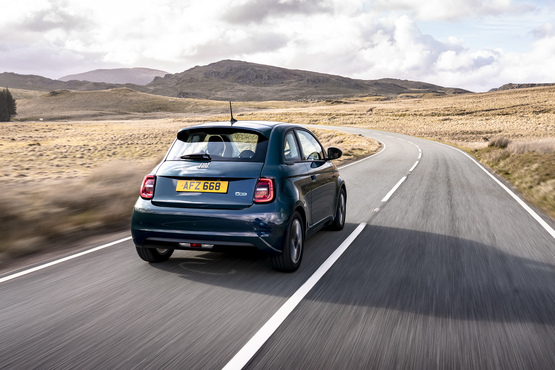 Built in Italy on Fiat's newest platform, the new 500 has an 87kW electric motor and a choice of two batteries, dependent on the trim selected.
The cheapest Action trim gets a 24kWh battery capable of up to 118 miles WLTP range.
The three other grades, Passion, Icon and La Prima, have a 42kWh battery delivering up to 199 mile range, and capable of rapid charging through its 85kW fast charge system – plugging into a fast charger can restore 80% of charge in 30 minutes, or top up 30 miles range in five minutes, Fiat says.
Buyers get a neat 500-branded wallbox charger for their home
The 500 mould has not been broken, but once parked alongside the ageing model this electric car stands out.
It has a dedicated 500 logo at the centre of the front badge for the first time, in place of the usual Fiat logo. New 500 takes design cues from the predecessor the classic 1957 original Cinquecento, with a front bumper mirroring the original and modular elliptical headlight clusters split into the bonnet, and a two-spoke steering wheel akin to the classic.
This car is six centimetres longer and wider than its predecessor, and a slightly larger wheelbase plus new interior provides much more comfort for occupants.
Its flat floor houses the lithium ion battery without compromising boot capacity, which is the same as the old 500 at 185 litres for the hatchback and 182 litres for the convertible.
In addition to its zero tailpipe emissions, Fiat 500 gives sales executives a host of talking points for when they're with customers. The seats are made from Seaqual yarn, made from recycled plastics, unless the buyer specifies an Icon model with optional artificial eco-leather.
Level 2 autonomous systems are available, including lane control, traffic sign recognition, intelligent adaptive cruise control and autonomous emergency braking.
EVs lack engine noise, of course, so after start-up, up to 12mph, this 500 warns pedestrians that it's moving nearby by gently playing Amarcord by Italian composer Nino Rota, or other melodies that the driver can download.
This car has three driving modes, which can be selected by the driver according to their mood and needs. In Normal, the car drives like any two-pedal automatic.
In Range mode, the driver can accelerate and decelerate using just the accelerator, as lifting off the throttle makes it slow including to a standstill, allowing it to recover energy into the battery. The final mode, Sherpa, can be used when range is getting low to eke out the maximum possible range, such as by reducing throttle response and switching off the air-con.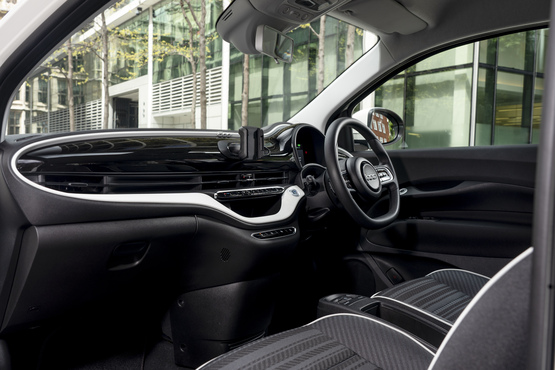 Its UConnect 5 infotainment system integrates with Apple CarPlay and Android Auto wirelessly, and works inside and outside the car, allowing the buyer to pre-condition the climate control or set the sat-nav in advance. It helps drivers to find an available charging station and use a single card for charging and payment, valid at 200,000 stations across Europe.
The Action trim, available as a hatchback only, gets 15-inch wheels, starter button, electric parking brake, rear sensors and a configurable seven-inch TFT colour screen in the instrument panel and 'smart audio' which turns the driver's smartphone into its infotainment system.
The extra kit on Passion models includes a seven-inch infotainment system, cruise control and LED daytime running lights.
Top-spec Icon trim adds a 10.25-inch 'cinerama' touchscreen display, 16-inch alloy wheels, hands-free entry thanks to a button-free 'pebble' smart key that can be carried in a pocket or bag and unlocks the doors when it comes close to the car, a dashboard painted the same colour as the bodywork and traffic sign recognition.
Plus there's a launch edition, La Prima, which comes loaded with all the kit that's optional on Icon, such as 360-degree parking aid, reversing camera, the level 2 autonomous driving systems and eco-leather seats with the Fiat 500 monogram.
For convertible versions, add £2,650.
The new 500 Electric will quietly generate plenty of noise for Fiat. Outwardly, it's still a chic, fun Cinquecento, but on the inside it is now a more practical, grownup, well-loaded car that's ideal for city and suburban daily drives. Given the prices being asked, it needs to be.
Q&A: ANDREA LO PRESTI, HEAD OF MARKETING, FIAT AND ABARTH UK
How important is this car for the brand?
It's beyond important. It's the car that embodies the Fiat values. We are the experts in small cars… we're taking this to market in a unique, bold way. We'll take our most successful car, which represents a quarter of our sales, and electrify it. It's electric, but, first and foremost, it's the new Cinquecento. There are high expectations – it's been a long wait since March last year's (global) unveil. We've nearly 1,000 firm private customer orders in the system since we opened the order books in March.
But the old ICE cars will outsell it?
After the existing 500 this will become our second biggest selling Fiat. We expect to sell one of the new ones for 2.5 of the old ones – full year sales around 8,000 to 10,000 of the full electric car next year. That would place the UK among the best performing markets in Europe.
What's the rationale behind keeping the old model in the market as well as the new one?
We've done research on the electric one in the UK, to gauge interest and so on. We see a level of substitution as current owners trade up, but we don't see this representing more than 10%-25% of people who would've bought a new 500 ICE car this year. So, we expect 70% conquest sales for 500e, primarily because the car will attract new buyers out of different cars and perhaps not so many people are ready to take the step from their old 500 right now. That's why the two cars will co-exist for a minimum of a year or more. To some extent that depends on demand. The ICE 500 also remains on sale because not every market in Europe is as developed as the UK for electric cars.
Presumably the convertible will be a small proportion of sales?
We see it taking 15%-20% of sales, which is a bit more than the current one. We've a lot of focus on the convertible BEV in our advertising now, because we're the only proper four-seater convertible. The UK is the top market in Europe for convertibles.
Are your dealers ready for EV sales?
We've put a massive effort into training with the network as well, because this is our first electric car. Dealers were equipped with charging points by the end of 2020, plus sustained sales training and technical training since 2019, with super-incentives.