The volume of used car sales on point-of-sale motor finance was 7% lower than in Augut 2020, in a further sign of the lower levels of stock available to used car dealers.
Data published by the Finance and Leasing Association shows the number of used cars sold on finance between June and August also fell by 8%, however in a rolling 12-month period used car finance volumes have grown 8% versus the 12 months to September 2020.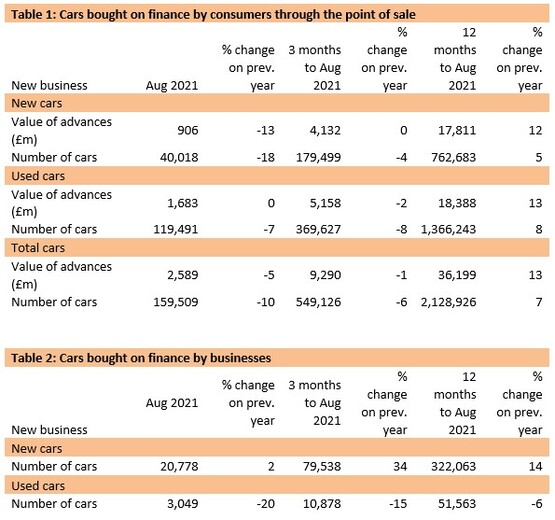 The value of advances by FLA members for used car purchases held flat in August at £1.68 billion.
The point of sale new car finance market suffered a fall in new business of 13% by value and 18% by volume in August.
In the eight months to August 2021, new business volumes in this market were 16% higher than in the same period in 2020. The percentage of private new car sales financed by FLA members in the twelve months to August 2021 was 93.3%, down from 93.7% in July.
Geraldine Kilkelly, director of research and chief economist at the FLA, said: "Supply issues in the new car market caused by the shortage of semi-conductors continue to hamper the recovery of the automotive industry following the pandemic.
"New business volumes in the consumer new car finance market fell for a second consecutive month in August and the near-term outlook is likely to be weaker than previously expected.
"By contrast, the consumer used car finance market remains relatively strong, with annual new business by value in August only 1% below its pre-pandemic peak."