2022 is off to a positive start, says the Society of Motor Manufacturers and Traders, which published data showing 115,087 new cars were registered in January, including 62,300 dealership sales to private buyers.
The result is 27.5% up on January 2021 when coronavirus lockdown restrictions were still keeping showrooms shut, but remains 22.9% lower than January 2020 due to chip shortages impacting on supply, the SMMT said.

Plug-in low emission vehicles accounted for 20.4% of the January new car market, with 14,433 battery electric vehicles (BEV) and 9,047 plug-in hybrid electric vehicles (PHEV) sold.
Hybrids, sometimes known as self-charging hybrids, accounted for another 13,492 sales.
Only 12% of January's new cars had diesel engines (6,008 units).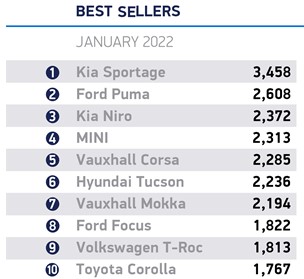 The SMMT said there are now more than 140 plug-in car models available to UK buyers, with almost 50 more scheduled for release in 2022, but cutting CO2 even further, however, will require more drivers to switch to electric and other zero emission technologies.
"One of the obstacles remains perceptions of a lack of charging infrastructure, which must be built ahead of demand – and that demand is increasing exponentially.
"Furthermore, as manufacturers strive to bring down the costs of these new technologies, government support through purchase incentives and reduced motoring taxes can help accelerate the take-up so that the road transport sector can meet society's net zero timeline," said a SMMT spokesman.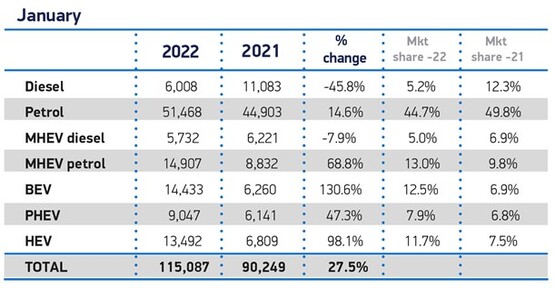 Mike Hawes, the SMMT's chief executive, said, "Given the lockdown-impacted January 2021, this month's figures were always going to be an improvement but it is still reassuring to see a strengthening market.
"Once again it is electrified vehicles that are driving the growth, despite the ongoing headwinds of chip shortages, rising inflation and the cost-of-living squeeze.
"2022 is off to a reasonable start, however, and with around 50 new electrified models due for release this year, customers will have an ever greater choice, which can only be good for our shared environmental ambitions."
The SMMT's latest forecast has downgraded its 2022 full market expectation to 1.9 million units from its forecast three months ago of 1.96m, as it expects the ongoing semiconductor shortage, increasing costs of living and rising interest rates are expected to dampen some demand.
A 2022 market of 1.897 million would still be down -17.9% on the pre-pandemic 2019, but the recovery is expected to continue into 2023, with the market projected to climb above two million units for the first time since 2019.
Deloitte's automotive director and head of electric vehicles Jamie Hamilton said it won't be until the second half of the year that the industry can gauge the baseline for UK car sales.
"The good news for manufacturers and dealers is that supply pressures caused by the semi-conductor shortage are starting to ease. Global markets – most notably the US and China – saw a rebound in car sales at the end of 2021, with reports of a similar story in automotive production in East Asia and Mexico," he said.
"The point at which supply issues are fully resolved, it's likely we'll see substantial pent-up demand released in the UK, which bodes well for the industry's prospects in 2022.
"Until then, rising prices, especially in the used car sector, have meant some manufacturers and dealers have been able to offset the impact of declining volumes on their bottom line."
Richard Peberdy, UK head of automotive at KPMG, said demand seems robust despite household budgets coming under increasing pressure.
"Carmakers also face their own cost challenges and the pressure to increase prices is building," he added.
"As more of us again begin to commute, albeit with many facing fewer miles and days on the road than pre-pandemic, it will be interesting to see what this means for the car market over the coming months.
"The continued boom in electric vehicle adoption will be a key part of this picture, including many companies assessing their fleet and company car schemes, in light of their ESG commitments."
January was marked by the launch of the new Kia Sportage, which tops the month's best-sellers chart.