The prospects of UK car manufacturing sector's future has been labelled "precarious" as pressure mounts to accelerate investment in zero-emissions electric vehicle (EV) production following 2022's 9.8% sector decline.
Society of Motor Manufacturers and Traders (SMMT) data showed that 775,014 units were built last year as global chip shortages constrained capacity, leaving volumes down 84,561 units on 2021 and 40.5% off the 1.3m cars made in pre-pandemic 2019 – equivalent to a loss of more than half a million cars.
It is the sector's lowest level of production since 1956.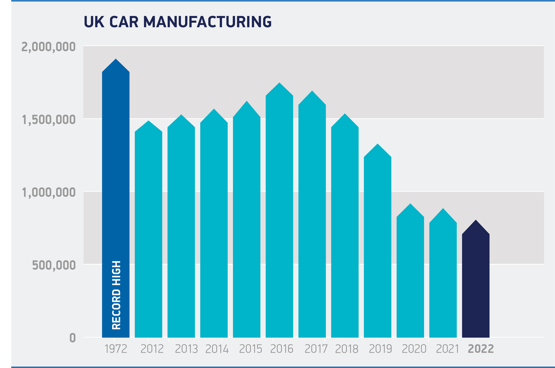 And despite a 4.5% increase in alternative fuel vehicle (AFV) production – 234,066 battery electric (BEV), plug-in hybrid (PHEV) and hybrid (HEV) electric vehicles – attention was drawn to the need for more investment to secure a slice of the automotive manufacturing's future.
"Much can be made about the good news of the supply constraints easing, but the long-term prospects of the industry remain precarious," said What Car? editorial director Jim Holder.
"The manufacturing figures arrive a week after one of the country's largest electric battery manufacturing projects closed due to a lack of funding. If the UK is serious about meeting its electric vehicle ambitions, and serious about remaining a manufacturing hub, urgent investment into electric vehicle battery manufacturing and the supply sector is needed.
"If the Britishvolt collapse taught anything, it's that the Government should be at the forefront in driving this investment."
Richard Peberdy, UK head of automotive at KPMG, said: "The market share growth achieved in the UK for electric vehicles is strong given the context, but the race for countries to be seen as world leaders in electric vehicle production is well underway.
"The UK's position globally for manufacturing electric vehicles and parts in much higher volume still depends on investment in battery manufacturing and related skills. At this time, it remains uncertain where that is coming from."
Importance of AFVs
Independent forecasts suggest an easing semiconductor shortages will help UK car and van output to rise 15% to 984,000 units in 2023 (842,200 cars and 141,800 vans) with a million vehicles built annually by 2025.
However, fresh SMMT analysis laid bare the increasingly important role of electrified vehicle production to those predictions.
Since 2017, the value of EV, PHEV and HEV exports has risen seven-fold, from £1.3bn to more than £10bn.
As a result, electrified vehicles represent 44.7% of the value of all UK car exports, up from a mere 4.1% in the same period.
The export value of EVs alone is up more than 1,500%, from £81.7m to £1.3bn.
But in 2022, publicly-announced automotive manufacturing sector investment was down from £4.9bn (2021) to £4.5bn, despite major new commitments to electrification in Crewe and Merseyside.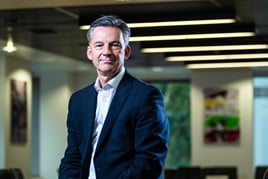 SMMT chief executive Mike Hawes said: "These figures reflect just how tough 2022 was for UK car manufacturing, though we still made more electric vehicles than ever before – high value, cutting edge models, in demand around the world.
"The potential for this sector to deliver economic growth by building more of these zero emission models is self-evident, however, we must make the right decisions now.
"This means shaping a strategy to drive rapid upscaling of UK battery production and the shift to electric vehicles based on the UK automotive sector's fundamental strengths – a highly skilled and flexible workforce, engineering excellence, technical innovation and productivity levels that are amongst the best in Europe."
Nissan on top
Nissan secured its position as the UK's largest vehicle producer in 2022, recording volumes up 16.5% in a year that saw the Sunderland-built Qashqai SUV become the first UK-built car to become the nation's best-selling car since the Ford Fiesta in 1998.
Elsewhere, the sector suffered the closure of Honda's Swindon plant, a 70% decline in production at Vauxhall's Ellesmere Port as it transitioned to become Stellantis' European centre for a zero-emissions van production, and an 8.1% decline in Jaguar Land Rover (JLR) volumes.
Bentley's volumes rose by 8.6%, meanwhile, as lower-volume brands including Aston Martin, Caterham, Lotus Cars, McLaren Automotive, Morgan and London Electric Vehicle Company (LEVC) combined to deliver a 4.9% uplift to 16,936 units.
In total, the SMMT said that the UK's specialist, luxury and performance car makers grew 6.6% to 32,575 units, worth an estimated total of £3.7 billion at factory gate prices.
Exports declined by 14% during 2022 as a whole.
While total annual output for the UK market grew 9.4%, the number of UK-produced cars headed to overseas markets declined 14%.
Despite this, nearly eight-in-10 cars (606,838 units) were built for overseas markets.