Nissan's Qashqai SUV has become the first British-built vehicle to top the UK's annual best-selling car rankings for 24 years.
The Japanese carmaker's family car clocked-up 42,704 registrations in 2022 to become the first British creation to top the Society of Motor Manufacturers and Traders (SMMT) rankings since Dagenham's new Ford Fiesta hatchback hit the roads in 1998.
Nissan's Qashqai was designed in Paddington, engineered in Cranfield and is built in Sunderland.
It beat the Vauxhall Corsa, Tesla Model Y, Ford Puma and Mini to the best-seller title in 2022.
A gold-wrapped version of the car was created to celebrate its success in a year that saw 157,619 Qashqai built in the UK during 2022, taking total production since 2007 to 3.8 million units.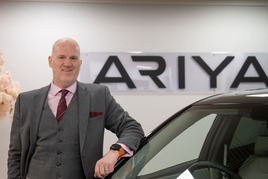 Andrew Humberstone, managing director of Nissan Motor GB described the Qashqai's UK best seller status as "a landmark moment for a landmark car", adding: "It's great to see how the latest generation Qashqai has struck a chord with car buyers here in the UK.
"We're absolutely thrilled to see this car's increasing success over the last 16 years, and it's a fitting tribute to the skills and talents of Nissan's excellent design, engineering, production and sales teams all around the UK."
Humberstone spoke of his high hopes for the third-generation Qashqai and its flagship Ariya electric vehicle (EV), for an OEM profile feature in AM.
The brand's success with the Qashqai will have come as an added bonus for an OEM leader who suggested he was happy with a market share of around 4%, with a new focus "very much value over volume".
"Our product portfolio is now all about electrification, with E-Power in Qashqai, also in X-Trail, and our new Ariya EV being launched," Humberstone said at the time.
"So, 75% of our product range will be electrified by 2023. We'll have a very young portfolio in a very short period, and it puts us in a really strong position to focus on value over volume and on being customer-centric."
In July Nissan revealed details of a controversial 'Ideal Network Plan' for its franchised retailers which would see its dealerships reduced from around 166 sites to 140.
At a manufacturing level, Nissan is currently embarking on a recruitment drive after it announced EV36Zero plan to combine EVs, renewable energy and battery production at a sustainable EV manufacturing hub in the north-east of England.
Alan Johnson, Vice President of Manufacturing for Nissan Motor Manufacturing (UK), added: "We've built three generations of the ground-breaking Qashqai in the north-east and it has become the mainstay of production here for 16 years.
"We're incredibly proud of its success and it's great to see that our passion for building it is shared by car buyers across the UK and Europe, who love its combination of practicality, exciting design, unique technology and electrified efficiency."
As well as its gold-wrapped Qashqai, Nissan created a celebratory video to mark its landmark car registrations achievement. View the video here: