A UK Bentley apprentice has had a trip to Germany to collect an award recognising him as an elite among Volkswagen Group's 19,000 apprentices globally.
Lewis Clarke was the only UK worker to join 48 other elite winners to receive awards from Volkswagen AG chairman Dr Herbert Diess at Volkswagen's Wolfsburg site.
Diess said at the event: "You are the 49 best apprentices from 20 countries in a group with more than 19,000 apprentices. That is a great achievement.
"We are very proud of you. You have completed your apprenticeship at a time when our industry is changing drastically.
"I would like you to play an active role in shaping this transformation. You need to argue, persuade and overcome resistance.
"Stand up for your future and the future of Volkswagen."
Clarke, a body and trim engineer at Bentley Motors' factory in Crewe, had already received the luxury car brand's WO Bentley Apprentice of the Year Award for 2019.
He had joined Bentley in 2014 on the junior engineer apprenticeship programme, and is also a STEM ambassador, a student mentor at Crewe UTC and part of the North West Young Apprentice Ambassador network.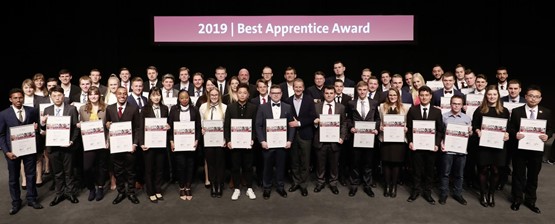 At Wolfsburg, Bernd Osterloh, president of Volkswagen's Global Group Works Council, said the best apprentices have taken the lead worldwide.
"Nowadays, in an era of upheavals, we need motivated employees like you more than ever before," he told them.
"The presentation of awards to our best apprentices throughout the world is also a success for our strong vocational training and the training system of the Volkswagen Group.
"Vocational training develops and shapes tomorrow's specialists. Every euro that we invest in training brings tenfold returns in other fields."