Stoneacre Motor Group has promoted David Teatum and Mark Zavagno onto its board of directors after driving past its £1 billion turnover growth target.
The Thorne-based AM100 retail group has promoted David Teatum into the post of F&I director, with full responsibility for F&I compliance, training, relationship management and performance.
Mark Zavagno, meanwhile, has been promoted into the role of digital operations director responsible for the web development team and online digital marketing channels from implementation to appointment.
Group managing director, Shaun Foweather, said: "David and Mark's appointment on September 1, 2020, was agreed to further strengthen the board and provide direct reporting in critical areas such as compliance, finance income and digital presence as the motor trade continues to evolve and sets new challenges in the emerging market.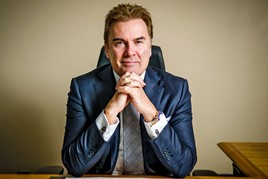 "Our industry leading attrition rates at management level and above allow us to continue our policy to only recruit from within.
"Through longevity of service David and Mark have gained valuable insights into the Stoneacre operations, their expertise has already assisted with the business growth to £1 billion revenues and we are delighted to welcome them as fellow directors."
A statement issued by Stoneacre said that the business had passed its £1bn revenue target with the August 1 acquisition of the Hodgsons businesses in Newcastle-upon-Tyne, Silverlink and Gateshead.
The acquisition added the group's first two Toyota franchises, to additional Mazda franchised sites and an additional Suzuki franchise to its existing portfolio.
Stoneacre now represents 28 manufacturer partners with 122 franchised outlets at 57 locations.
In April, at the height of the COVID-19 lockdown, Stoneacre's directors vowed to forego their salaries after taking the decision to furlough 3,000 employees, adding that they would not to take a wage until the business "returns to profitability".
This week the group said that its performance since the June 1 lifting of lockdown restrictions on car dealerships in England had been "well ahead of expectations".
It said: "Since returning to work after the COVID-19 lockdown was lifted, the Stoneacre team have responded with hard work and dedication.
"The financial performance has been well ahead of expectation and our loyal customers have returned in their droves.
"Initial performance during the important September plate change is encouraging and we are confident that our year end will be in line with expectations."
Earlier this week an investment of over £3m in Vertu Motors shares by Stoneacre founder and owner Richard Teatum sparked speculation that the two group's might be destined for a "tie-up".
ASE Global chairman, Mike Jones, took to LinkedIn to comment that the investment was a "shrewd investment in an undervalued asset".