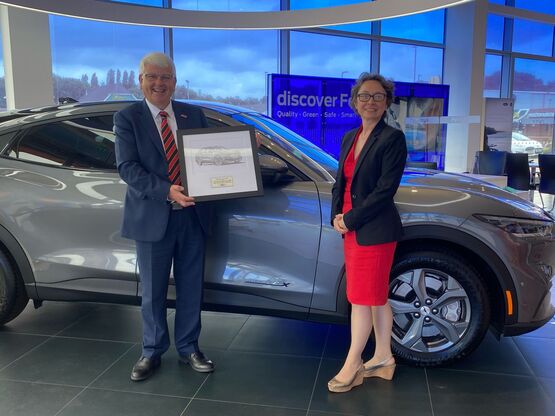 UK motor retail veteran Paul Rogers celebrated his imminent retirement with a visit from Ford of Britain managing director Lisa Brankin yesterday.
Rogers has served the past four years as chairman of the UK's Ford Dealer Council, while a regional director at AM100 motor retailer Perrys where he oversaw nine car and LCV outlets, two bodyshops and a vehicle rental operation.
He was previously managing director of GK Group, which was acquired by Perrys in 2015, and had gained significant senior management experience prior to that with Dixon Motor Group and Benfield Motor Group.
"Great to see Lisa Brankin as I retire tomorrow and receive this wonderful momento to celebrate my last four years as national Ford Dealer Council Chairman. My thanks go to Lise and her team and the fabulous FDC members for such great times," Rogers posted on LinkedIn.
Messages poured in to Rogers on LinkedIn from colleagues past and present.
All, including Jon Williams, vice president of sales at Ford of Europe, and Hendy Group chief executive Paul Hendy, sent their best wishes for his retirement, and many commented on his 'can do' approach and positive, inspirational attitude.
"You have done us proud Paul. We will miss you," added Nicola Gilda, group strategy and operations director at fellow Ford retailer Peoples.
Roelant De Waard, who was MD of Ford of Britain between 2006 and 2009 and went on to head Ford of Europe, stated: "Thank you for your many contributions to the joint success of Ford in the UK.... take care and all the best."