There's one week to go until Automotive Management Live at Birmingham NEC. Register now for free entry.
The free of charge motor industry exhibition Automotive Management Live takes place on Thursday (November 8) and promises to provide thought-provoking insights, digital best practice, advice on workforce-related issues plus exhibits from more than 70 major motor retail suppliers.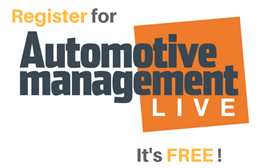 Enabling dealers to discover the latest developments in the market today and compare and contrast products under one roof in one day, Automotive Management Live takes place on November 8 at Birmingham's NEC.
Established four years ago, lead generation company Chameleon has worked with several manufacturers and numerous dealer groups and will launch its new events package at the show. The 'Chameleon Complete Package' provides dealers with extensive event support, and according to director Mike Beresford, dealers just need to dress the showroom, ensure staff are on hand and refreshments are available whilst Chameleon handles everything else.
Aftersales solutions provider EMaC, now in its third year of supporting the event, will be promoting its 'Drive Now, Pay Later' platform, launched in June. The flexible monthly instalment plan, up to 12 months, spreads the cost of vehicle related repair bills and accessories.
Launched earlier this year, EMaC's 'Self-Serve' facility, which enables dealer and OEM customers to buy a service plan online, will also be featured on the stand.
CDK Global, sponsor of the Future Dealerships Zone, will launch its Connected Workshop solution, which it believes incorporates everything a dealer needs to take their workshop digital and stay connected to their customers during their aftersales experience. It will also showcase its Autoline Drive DMS and its partnership with the enquiryMAX showroom solution.
Diamondbrite manufacturer Jewelultra will launch its new online training programme, designed to help dealers more successfully close sales of the Diamondbrite paint and fabric protection system.
It will also display its new alloy wheel protectors, which dealers can sell to customers to protect wheels from damage from hitting kerbs.
Many exhibitors will also be running competitions and will have freebies and goodie bags on their stands.
Pictures from AM Live 2017