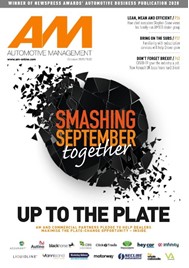 Our latest issue of AM magazine is here in digital format and packed with a special, positive campaign to help UK motor retail maximise the 70 plate-change month.
There are specific 'Smashing September Together' features, where the likes of Volkswagen's Patrick McGillycuddy, Ford's Lisa Branklin, and TrustFord's Stuart Foulds and Vertu Motors' Robert Forrester talk about the opportunities presented by the first plate-change since the COVID-19 lockdown.
There's also an interview with Drover about the emergence of new ways to sell cars, Mercedes-Benz Vans sales director Andrew Lawson talks about the challenge posed by a rapid uplift in home delivery services, and Stephen Snow explains why the AM100 dealer Snows Group is leaner than ever.
Renault's MD Vincent Tourette talks about the brand's strengths and what a no-deal Brexit might mean for its network.
Plus we review the new Land Rover Defender.
And in our spotlight on aftersales, we examine workflow efficiency and the need for franchised networks to capture older car customers for lucrative repairs and servicing.
Editor's letter
By the time you read this we'll be halfway through the September plate-change campaign. The '70' registration is a great opportunity for UK franchised networks. After the March '20' plate's introduction was soundly stuffed up by the COVID lockdown, now's the time for all in the industry to pull out all the stops. Let's regain the lost glories of 2020. Claw back those lost profits. Smash September Together.
This month is a special one for AM too. The coronavirus lockdown forced us to stop posting out this monthly magazine for the first time in its history. For the past four months we temporarily published it just in digital 'e-zine' form (go to https://www.am-online.com/digital-issue/ to read any past issues).
Well now we're back, in digital and print formats. So, if you enjoy turning paper pages, please go ahead, and if you find the identical e-zine here more convenient, that's great too.
with an issue packed with positivity, motivation, best practice and exclusive insights Just like our commercial partners in this issue and the dealers and carmakers we've interviewed, AM wants everyone to Smash September Together.
UK motor retail needs to regain its financial health and its confidence in the remainder of this year. Do your utmost.