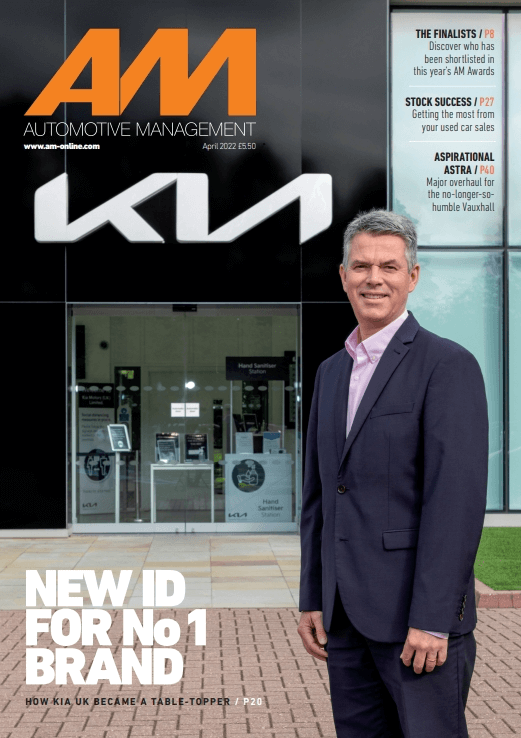 The April issue of AM magazine is here in digital format, bringing you insights into how dealers are adapting their stocking policies in the supply-constrained used car market, an exclusive interview with Kia UK's leaders and the full list of finalists for next month's AM Awards.
Kia's chief executive Paul Philpott and marketing director Sanka De Silva outline the brand's new CI and shift to more standalone showrooms and how it became the UK's market leader by volume in Q1 2022 as other carmakers struggled with supply constraints.
Manufacturer finance support for electric cars comes under the spotlight, and a deep dive into the findings of the IMI's Diversity Task Force highlights the need for rapid progress to attract a broader range of recruits and rebalance motor retail's workforce.
There's best practice advice for dealers on meeting the expectations of corporate customers from Paul Hollick, chairman of the Association of Fleet Professionals, and the list of finalists for the May 12 AM Awards is confirmed.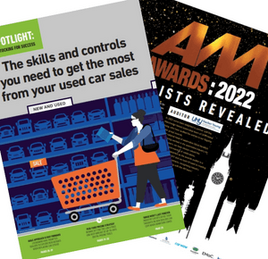 We review the new Vauxhall Astra, and Tracy Ellam at LSH Auto UK talks about how it is preparing its systems and processes for the new agency model contracts coming from its franchise partner Mercedes-Benz.
Editor's Letter
I saw a LinkedIn post recently from Suzuki GB boss Dale Wyatt where he pointed out that 'a rising tide lifts all ships'.
The record profits many dealer groups are reporting from 2021 deserve celebrations. But it was in an appreciating used car market where little could go wrong, while retained margins on new sales stayed strong due to demand exceeding supply. Many consumers and businesses, battered by coronavirus lockdowns, wanted to buy cars as a small reward.
"I fear that when the tide turns some others that have not adjusted the business model and strengthened the balance sheet may be in for a shock," Wyatt warned.
Now I'd be boasting to claim that 'great minds think alike' and put myself on the same level as the revered veteran Wyatt. Yet when we planned our Stocking For Success spotlight for this issue we knew it would be prudent to help prepare AM readers for that turning tide.
With the many headwinds emerging this year, motor retailers will need financial reserves, process reviews and firm resolve to keep the business ship-shape in the future.