The importance of gathering, cleansing and managing customer data has only increased with the digitalisation of motor retailing, however some dealers are still getting to grips with the way that technology and inter-connectivity can lessen their burden.
"The technology makes it easier. Rather than give people a load of data back that they have to manually input that can now be done by APIs and automated, so there are easier ways of making data work better now than ever before," Marketing Delivery's chief executive Jeremy Evans told the AM News Show podcast recently, when we met ahead of Automotive Management Live.
Evans said that dealers' digita skills have improved immensely in recent years however the constant evolution of digital marketing means there is always more to understand. He will be joined by Sandown Mercedes-Benz head of marketing and CRM Keith Jackman and Marketing Delivery's commercial director Charlotte Murray at a midday Digital Stream seminar to help inform and inspire AM Live's visitors.
"With some dealer involvement as well, we will be talking about the things that we've been seeing and understanding through the course of the year."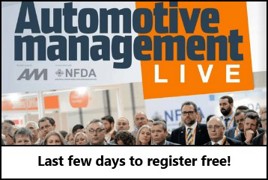 The presentation, How agency is impacting dealer marketing, will be examining some of the changes to marketing that are being driven by the agency model, and how that has impacted the way dealers go to market.
It will provide detailed tips on eCRM sales, aftersales, data cleansing, social media, lead management and customer retention.