Auto Trader's monthly Retail Price Index report has revealed that March's 2.3% growth in used car values represented the sector's slowest growth since August 2017.
The average sticker price of a second-hand car advertised via the online marketing portal rose to £12,843 in March, with the sector's slowing value growth now having delivered three consecutive months of gradual easing – declining from 3.1% in January.
Karolina Edwards-Smajda, Auto Trader's commercial product director, said: "There's no question that used car prices remain buoyant, but there is a clear trend emerging of an easing of price growth. At this stage it's hard to determine whether there is a direct correlation between wider industry challenges, but it is something we'll keep a close eye on."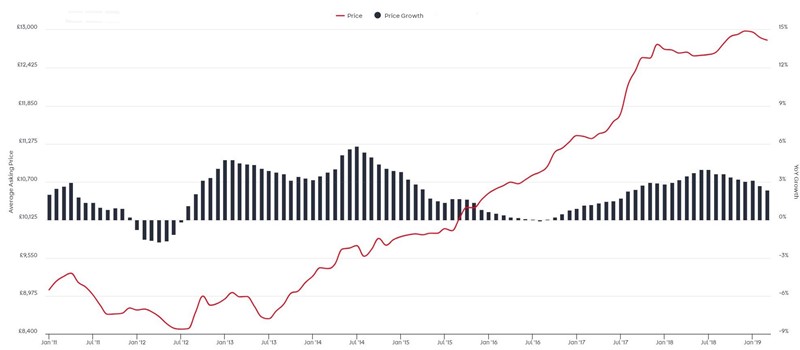 Auto Trader said in its monthly Retail Price Index Report that both second-hand diesel and petrol cars had been subject to the slowing value growth trend.
With an average sticker price of £14,306 in March, diesel price increases fell from a four year high of 2.9% in January to 2.2% last month.
Whilst Auto Trader said that this trend has been limited to Q1 for diesel, it noted that it has been "more protracted for petrol", with the rate of growth slowing consistently since December 2017 (7.4%).
March's average sticker price of £11,186 represents a year-on-year increase of just 2.4% – the fuel type's lowest since January 2017.
For three consecutive months the rate of price growth for pure electric vehicles (EVs) has steadily increased, reaching a significant 9.7% in March and an average price of £22,684, however.
Even SUVs and crossovers suffered from a decline in their rate of growth in March.
Larger vehicles – classed as SUVs, 4x4s or MPVs, have recorded 11 months of consecutive growth but the rate of that growth slipped to just 1% in March.
Edwards-Smajda said: "The performance in both electric and larger vehicles is further evidence of the opportunity they offer; every other metric highlights the growing appetite amongst car buyers, not to mention their dominance at recent car shows.
"At a time when retailers are facing ongoing turbulence within the market, it's vital their popularity is reflected on forecourts."
Auto Trader continued to report that consumers' online searches for diesel vehicles had continued to falter.
The struggling fuel type now accounts for just 42% of all fuel related searches on Auto Trader.
Petrol now accounts for more than half (51%) of all fuel related searches.
Auto Trader reported that, while the launch of London's new Ultra Low Emissions Zone (ULEZ) on April 8, had driven the popularity of alternatively fuelled vehicles (AFV) in the city, up to 11% of fuel searches, the attitude of the rest of the UK had yet to shift significantly.
Online searches for AFVs remained flat at 7% during March, it said.