The growth of used car prices slowed to just 0.1% in June, the lowest since Q3 2016 according to Auto Trader.
Its Retail Price Index indicates the average price of a used car now stands at £12,763.
Karolina Edwards-Smajda, director of Commercial Products at Auto Trader, said: "Used car prices are trending towards a neutral rate, and it would not be surprising if we started to see negative figures.
"This is likely to be driven by several factors impacting consumers; Brexit and the ongoing confusion – not helped by the change in Prime Minister – and the mixed messaging around alternatively fuelled vehicles."
When looking at this data on a more granular level, it's cars up to five years old which are responsible for slowing down overall growth.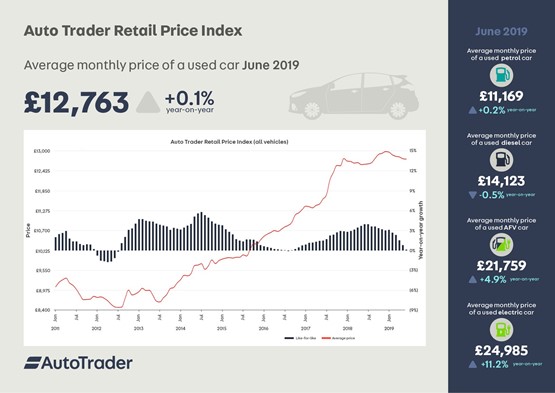 Cars up to five years of age have dropped to -0.4% price growth while those aged five years and older are balancing those figures, at 1.6%. Cars aged three to five years are particularly struggling at a decline of -0.6%. Auto Trader says is likely due to the increased number of cars in that age range; 2016 was a record year for the new car market causing significant overheating.
Fleet cars will too have impacted these numbers, and as they return to retailers now, there's higher supply and lower demand.
"It cannot be denied that over recent months we have continued to see price growth increase which is not sustainable. Right now, the demand isn't as strong as we have seen previously but supply is and as such, prices have adjusted accordingly," added Edwards-Smajda.
Diesel is also now in decline, at -0.5%, recording an average price of £14,123. Petrol remains in the black with 0.2% price growth and average prices remaining steady: £11,169.
However, used diesels are selling faster than their petrol equivalents, despite campaigns to shift buyers away from the fuel.
New data from Cap HPI revealed that diesel models are selling within 45 days while petrol models take 49 days, on average.
While the figures for internal combustion engine vehicles are crawling in growth, price growth for alternatively fuelled vehicles continue to grow apace with 4.9% year-on-year price growth and an average price of £21,759. Electric vehicles are driving the price growth at 11.2% and the average price continues to rise to unprecedented levels: £24,985 up from £23,771 last month.
The percentage of searches by fuel type is unchanged this month and continues to be dominated by petrol with 51%, diesels are at 41% and AFVs have 8% share of search.
The most searched for used car on Auto Trader this month is the BMW 3-Series, followed by the VW Golf, Mercedes E-Class, BWM 1-Series and Ford Focus.