Used car sales slowed in the UK's car supermarkets as franchised retailers' growing stock levels sped-up their stock turn during July, according to the latest data from Motors.co.uk.
The online marketplace's monthly Market View showed that car supermarkets' days in stock increased 14.8% to 31 days last month as their franchised dealer rivals experienced an average four-day reduction in days to sell – lowering the average vehicle's time in stock to 40 days.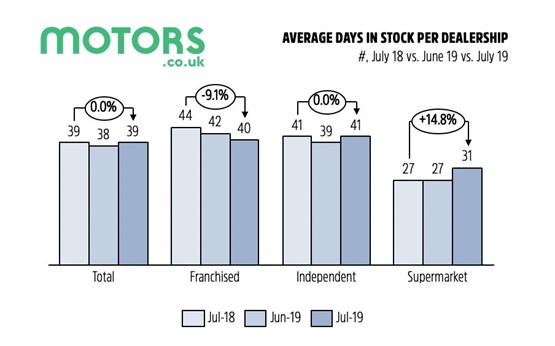 Motors.co.uk said that the change had come as stock levels decreased at car supermarket operations across the UK by 4.8% to 674 vehicles.
An increased competition for used car stock, recently highlighted by NAMA, could be to blame for the market shift as the sector experiences a seasonal summer slowdown on the way to what Cox Automotive has predicted will be a 7.8m transaction used car market in 2019.
Motors.co.uk's head of marketing and business intelligence, Dermot Kelleher, said: "Car supermarkets had a challenging July with lower stock levels resulting in cars spending an average of four days longer on forecourts.
"Their reduced stocking levels could be reflecting just how competitive it is for retailers to source ready to retail cars at a time when used margins are tight across the board."
While used car supermarkets continued to sell cars faster than other retailers and franchised dealers saw days in stock fall from 44 to 40 days year-on-year, independents remained unchanged at 41 days, according to Motors.co.uk's data.
It said that franchised dealers had managed to increase their average stocking levels marginally year-on-year from 60 to 62 cars over the course of July.
Similarly independent retailers increased stocking levels from 43 to 46.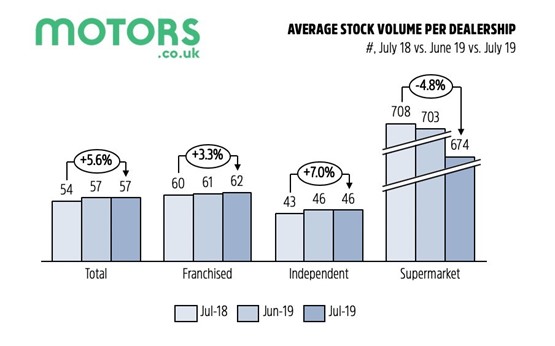 Kelleher said: "Both franchised and independent forecourts held up well in July seeing little year-on-year and month-on-month variance in stocking levels, with the former also seeing a welcome improvement in days to sell in what is always a challenging month for the retail market as the holiday season gets underway.
"Whilst used car sales appear to be holding up, despite market uncertainty, we are aware that many dealers are having to work harder to deliver similar year-on-year levels of sales to counter challenges in consumer demand."
Electric vehicles (EVs) were the fastest selling used cars averaging just 35 days in stock, down 45.7% on the 51 days they averaged in June 2018.
Following news of growing demand in the new car sector reported by the Society of Motor Manufacturers and Traders (SMMT) – a trend perhaps aided by Governments recent announcement that it would remove BIK tax from EVs in 2020/21 – EV days to sale have reduced every month since April when they averaged 41 days.
Petrol cars averaged 38 days in stock last month, meanwhile, the same as last year, while diesels improved slightly dropping from 40 to 39 days.
Hybrid cars averaged 42 days, compared with 41 days last year.
The fastest selling used car in July, according to Motors.co.uk, was the Vauxhall Astra, averaging 23 days in stock, followed by the Mercedes-Benz GLA and Hyundai Tucson which both took 25 days.