Signs that the used car market is starting to soften are becoming apparent and UK remarketing centres with demand and pricing predictions "becoming more difficult" at each sale, according to Aston Barclay.
The independent auction group reported today (November 16) that, although the price of late and low used cars, ex-fleet cars and younger part exchanges had all increased in October, there are signs in November that prices are starting to soften.
Average prices in the late and low 0-to-24-month and fleet sectors rose by £101 and £104 to record levels of £16,484 and £11,757 as part exchanges between 55 and 78 months rose by £711 to £7,682.
Looking at fuel types, a smaller number of hybrid and electric vehicles were sold in October as average prices reached a new record high of £14,660; a rise of £633 since Q3, but many failed to sell due to prices looking expensive compared with equivalent petrol and diesel models.
Aston Barclay said that it expects alternative fuel vehicle (AFV) prices to gradually fall on AFVs over the coming months.
But it also identified the underlying trend at the beginning of November as that of a softening market, with conversion rates and prices falling on the back of the COVID-19 Lockdown 2.
It said: "Q4 is already seeing the market return to some sort of normality but predicting demand and prices at each sale is becoming more difficult."
Martin Potter, Aston Barclay's managing director – customer, said: "Aston Barclay is recommending reserves are revisited sale by sale to stay in touch with the market and fleet vendors in particular will have to accept that assets are depreciating again."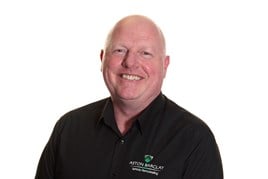 He added: "Many franchised dealers will be replacing sold stock during lockdown 2.0, something which didn't happen during lockdown 1.0, as only independents were buying cars."
Ahead of the announcement of Lockdown 2 in October, Potter suggested that increasing used car supplies could be set to deliver an easing of values.
In today's ststament, however, he said Aston Barclay's latest insight suggested that prices will remain healthy into 2021 as new car waiting times increase forcing ex-business and personal leasing contracts to be extended beyond the current lockdown.
He also indicated that the extension of the Government's Coronavirus Job Retention Scheme (CJRS) to the end of March, would also help to maintain buoyant used car values, adding: "Repossessions are also now not likely to reach the market until Q2 which will help keep overall used stock volumes under control and prices steady during the first half of the year."
Last week AM reported that Indicata had advised used car retailers to reprice and sell overage stock "immediately" in a bid to get on the front foot ahead of an anticipated easing of COVID-19 trading restrictions in the New Year.
The advice flew in the face of Auto Trader's call for calm as it re-stated its call for retailers to "hold firm" on any price cuts during the new lockdown.