The average retail price of a used car has grown for the 27th consecutive month, reaching £17,252 in June, up 41.5% on June 2019.
Growth is softening, however, with prices up by 23.7% year-on-year (YoY), in June, easing from the 28.4% YoY increase recorded in May, and the all-time high of 32.2% in April.
Auto Trader said the easing should not be seen as a decline in used car prices.
Richard Walker, Auto Trader's director of data and insights, said: "Although the huge growth in used car prices we've been tracking over the last few years may continue to soften over the coming months, there's certainly no indication in current data that prices are set to tumble.
"That's because the same market dynamics that helped fuel the record acceleration in growth are still at play, albeit to a far less dramatic extent. Despite the clear economic headwinds, we remain confident of continued consumer demand in the market, which coupled with ongoing supply challenges in both the new and used car market, prices will remain strong for the foreseeable future."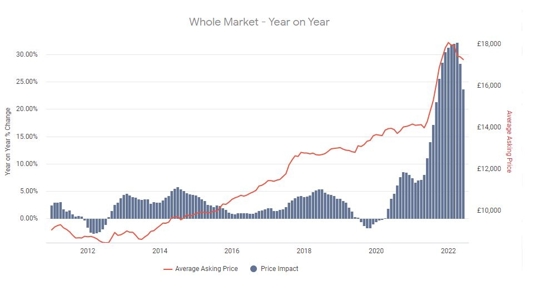 Data from Auto Trader's Retail price Index (RPI) shows average used car prices have increased £3,300 over the last two years, and a massive £4,500 in the last three.
The current apparent slowdown in YoY rates of price growth is the result of a number of factors, not least the fact that growth is now overlapping last year's already very strong levels – in June 21, prices were up a then record 11.1% YoY. Further contributing factors include a slight YoY softening in consumer demand.
Sue Robinson chief executive of the NFDA, added: "Demand for used cars from consumers remains solid. The supply of desirable good quality vehicles is still in short supply, which continues to keep vehicle values buoyant."
Data from eBay Motors shows dealers' average days to sell increased by nearly three full days, from 36.7 to 39.5 days, in June as the average advertised used car price on eBay Motors Group's platforms dropped 1.4% from £16,872 to £16,627, the fifth consecutive monthly fall.
Prices for used Suzuki SX4 models grew by the largest percentage in the last 12 months, up 82.1% YoY. The Seat Alhambra (+54.5%), Renault Scenic (+46.8%) and Ford Fusion (+44.3%) also delivered a strong performance. By contrast, there were six cars that dropped in value in the last 12 months. They were the Mitsubishi Shogun Sport (-20.8%), the Mini Roadster (-13.8%), the BMW 8 Series Gran Coupe (-6.8%) and Coupe (-5.1%), the Audi RS3 (-2.9%) and the Land Rover Discovery 3 (-2.8%).
Analysis points to used car stability
Although increasing inflation and the rising cost of living could yet prove to be a headwind, the latest Auto Trader analysis and consumer research point to ongoing stability in the used car market. While general consumer confidence is in decline, the current economic picture is quite different to previous periods of uncertainty, with current GDP growth, unemployment levels and interest rates all in a more stable position. Household savings are still in excess of the pre-COVID projection, according to the Bank of England, and broader retail sales remain robust.
Confidence among 'in market' consumers remains strong, Auto Trader research shows. It found that three quarters (75%) of those surveyed in June stated they intend to make a car purchase in the next six months, which is consistent with levels over the last year.
Separate research found at least 80% of consumers visiting the Auto Trader marketplace are at least as confident as they were last year in their ability to afford their next car – 41% said they were more confident, which is up on the 38% recorded in May.