AM is going green, one small step at a time. I've recently taken delivery of a new Mitsubishi Outlander PHEV to review over six months.
Mitsubishi's SUV has been dominant in the UK plug-in hybrid market since its arrival in 2014, but in late 2018 it was refreshed. It meant a few visible tweaks – new bumpers, wheels and LED headlamps - but the changes beneath the skin are more important. Along with a new 2.4-litre petrol engine, 14PS more powerful than before, the drive battery capacity increased by 15% to 13.8kWh, the drive battery output rose by 10% and the electric generator output has increased 10%. The outcome is a higher top speed in electric vehicle mode, up from 78mph to 84mph, and overtaking acceleration from 50mph to 62mph is 0.6 seconds quicker, according to Mitsubishi.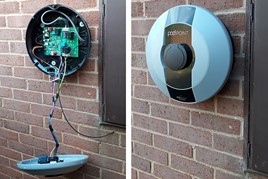 WLTP tests indicate the Outlander PHEV now has a maximum electric range of 28 miles. It makes the car a particularly suitable compromise between pure electric and combustion engine cars for workers who, like me, will spend several days each week based locally at an office yet need the flexibility to drive much farther without stress for meetings.
My standard daily commute is an 18-mile round trip; charging the car nightly means I can do the whole trip under electric power. So ahead of its arrival, I ordered a 7kW home charging unit from Pod Point, one of Mitsubishi's preferred suppliers. The OLEV Electric Vehicle Homecharge Scheme Grant provides £500 off the price of purchasing and installing a home charger. And the long-term benefit of being able to charge at least 1.6 times faster than when using a standard three-pin plug quickly outweighs the remaining cost.
I look forward to minimising my petrol station visits in the weeks ahead.