The fifth-generation Rav4 SUV is the latest Toyota vehicle to be delivered with what the manufacturer refers to as its 'self-charging hybrid' drivetrain – doing away with its predecessor's two-litre diesel and 2.5-litre petrol options.
Extensively updated, the new drivetrain claims to deliver both more dynamic appeal and greener credentials than previous models. The latter is to sate an appetite for alternative fuel vehicles (AFVs) among Rav4 owners – 85% of the SUV's buyers in Western Europe opted for hybrid drivetrains last year.
A 2.5-litre petrol engine and 88kW electric motor power the front wheels in the 215PS 2WD versions of the latest Rav4 (from £29,635), with the option of a second, 40kW motor delivering power to the rear wheels (4WD from £33,430) to provide added traction and drivability on the road and greater capability off-road, alongside a slight power boost to 219PS. The fourth-generation Rav4 Hybrid peaked at 198PS.
The new Rav4 sits on Toyota's new GA-K platform and, while it is 5mm shorter than the outgoing version (at 4,600mm), a 30mm longer wheelbase liberates added interior space, while there is also a 10mm lower roofline and 10mm of extra width.
Boot space has grown by 79 litres, to a family-friendly 580 litres, and there's cabin space to rival the best in class.
Re-shaping the Rav4 has also added character. Sharper headlights, a bluff front grille and a slim vent linking the two light clusters beneath the bonnet line create an edgy, aggressive front end. Aggressive angles abound, with hexagonal wheel arches and a thick, Volvo XC40-like, rear pillar both defining features.
Four trim levels are available: Icon (from £29,635), Design (from £31,190), Excel (from £33,610) and Dynamic (from £34,400).
Deliveries start in April and Toyota is launching with a 0% APR PCP, offering payments as low as £269 a month over 24 months/ 8,000 miles (with a 24% deposit).
The offer is backed by an average residual value of 57% at three years and 30,000 miles, according to Toyota, which projects that 84% of Rav4s will be sold through PCP.
The Design trim is expected to be the big seller, but Dynamic was the trim we saw most of on the international press launch in Barcelona.
Standard on all Rav4s are: rear parking sensors and a reversing camera; keyless entry and a push-button start; LED headlights and an eight-inch touchscreen infotainment system.
There's also a host of cutting-edge safety technologies. Pre-collision automatic braking with pedestrian detection, a lane departure warning system, adaptive cruise control and automatic high beam are fitted to all trim levels.
Sat-nav, a powered boot and front parking sensors make their debut in Design trim, while Excel adds full leather, a heated steering wheel and front seats, a blind-spot monitor and rear cross-traffic alert. Dynamic adds gloss black 18-inch alloy wheels and a contrasting gloss black roof.
The cabin is typically Toyota, although there are more tactile touches than expected.
A prominent infotainment screen stands proud of the dashboard, trimmed in chrome, as are the door pulls, which also feature the same grippy, rubber trim that circles the climate control dials.
A broad centre console adds to the cabin's premium appearance, but will eat into the knee space of taller drivers.
Toyota is making a concerted effort to deliver more driver appeal.
What Toyota calls its 'trace control' applies braking inputs at individual wheels to ensure the Rav4 tracks accurately through corners.
4WD Rav4's can also send as much as 80% of the drivetrain's torque to the rear tyres to boost traction and drivability.
The Rav4 functioned well in the little time it spent on gravel tracks during the launch event, although ground clearance would clearly be a limiting factor on more demanding routes.
On the road, it felt like a tightly controlled and accurate SUV, though quicker than anticipated. Toyota claims the 4WD version is the faster, hitting 62mph in 8.1 seconds (0.3 seconds ahead of the 2WD). The claimed top speed is 112mph.
Toyota has been working with hybrids since the arrival of the Prius and the format is feeling better than ever. Seamless inputs from the electric motors add torque and low-down urge to help the Rav4 feel muscular and keen.
Toyota claims 51.2mpg for the 2WD Rav4, with official figures yet to be released for the 4WD, while CO2 emissions of 102g/km with 17-inch wheels fitted (105g/km with 18s), will ensure the hybrid SUV proves a winner with tax-conscious company car owners.
Toyota claims the Rav4's class-leading BIK of 21% will save company car drivers £575-£2,161 a year over its rivals.
A full 22 years after Toyota delivered the Prius, its 'self-charging hybrid' formula may be starting to rile the plug-in purists, but it is hard to question the strides the brand has made in applying it to a range of vehicles to deliver ever-lower fuel consumption and emissions.
That the new Rav4 is more eye-catching, spacious and drivable than ever before means car retailers should have the opportunity to sell to a waiting audience of fleet and private customers alike.
Q&A: Andrew Cullis, director of product and marketing, Toyota GB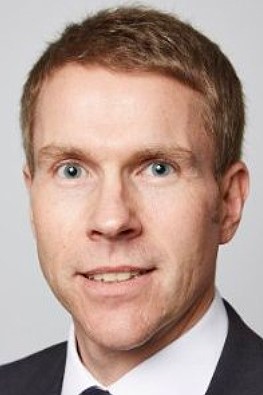 In line with Toyota's wider drivetrains policy, the new Rav4 will only be available as a hybrid in the UK. What percentage of Toyota product is new hybrid?
In 2015, the diesel mix for the Rav4 was 88%. By 2016, it was 36% diesel. Last year, 91% of Rav4 sales in the UK were hybrid, with just 4% taking the diesel option. That's why the decision was made to go for a purely hybrid line-up in the UK this time around.
There are four trim levels (Icon, Design, Excel, Dynamic) for the new Rav4. Where's the range's 'sweet spot'?
Icon grade will account for around 4% of sales, which is where it is now. The Design grade will be the biggest seller, with around 35% of the sales and a mix of front- and all-wheel-drive – the all-wheel-drive option accounting for 70% of the mix. We expect Excel and Dynamic trims to account for around 30% of the mix each. Overall, we project sales to reach 9,300 from April to the end of this year and 12,700 in the UK for a full year. Last year we sold around 7,600 Rav4s, which was down around 900 on the previous year, but we had actually run out by the middle-point of November.
The Rav4 officially goes on sale in the UK this month. How will that be managed with the Corolla also reaching dealerships on March 1?
Retailers received both cars early, in time for a hybrid-themed early test-drive event over the weekend of February 21 to 24. Dealerships will be dressed to communicate with customers very clearly about Toyota's hybrid vehicles. Frequently asked questions will be answered via graphics in the windows of showroom display vehicles and new iPad-based technology will also be launched at the event, which embraces augmented reality to give an insight into what lies beneath the bodywork of a Toyota hybrid. Customers can point an iPad at a car and it strips back the bodywork on screen to reveal annotated images of the car's internal workings.
After the hybrid-themed test drive event, how will the Rav4 be marketed to UK car buyers?
We know the Rav4 will be popular. After we ran out of the previous generation vehicle in November, the new one attracted 6,000 expressions of interest, but there will still be a huge marketing push. In total, during the fiscal year starting this month, we will spend
£6.5 million on Rav4 marketing. Rav4 and C-HR are really important vehicles for us. They really draw customers to the brand.