MG dealers have their second pure battery electric vehicle to retail, plus a plug-in hybrid, as the brand expects its new car sales in 2020 to exceed
20,000 units.
The MG ZS SUV B-segment electric car, launched mid-2019 and now the fourth biggest selling electric car in the UK, was be joined in November by the MG5
EV estate and in October by the MG HS plug-in hybrid.
"Electric is now, and MG is electric," said Daniel Gregorious, head of sales and marketing at MG Motor UK.
By the end of Q3, 27% of MG's new car sales in 2020 year have been plug-ins, and in 2021 he expects 51% to be plug-in models.
"The key to our success will be bringing affordable, high tech and electric cars to market, all wearing that iconic MG badge," said Gregorious.
Sold in China under the Roewe brand, and powered by a 115kW motor coupled to 52.2kWh batteries, the MG5 EV is capable of 214 miles maximum range (combined WLTP) and as much as 276 miles in purely city environments.
It will be priced from £24,495 (after the £3,000 plug-in car grant in taken into account) in Excite trim and it gives users a 0% benefit-in-kind (BIK) tax rate currently, or 1% in 2021-22 tax year.
MG expects half of the electric estate car's sales to be in the fleet and business market segments.
There is a higher specification Exclusive model which costs from £26,995 and adds artificial leather upholstery, heated front seats and door mirrors, climate control, keyless entry and start, sat-nav and automatic wipers.
Alongside a touchscreen and reversing camera, a rotary gear selector brings a premium-style touch to the cabin, and there are three driving modes – eco, sport and normal – which allow the driver to prioritise battery range or driving performance as they desire.
Charging with a Type 2 charger at home will take around 8.5 hours, said MG, and fast-chargers will provide 80% of charge within 50 minutes.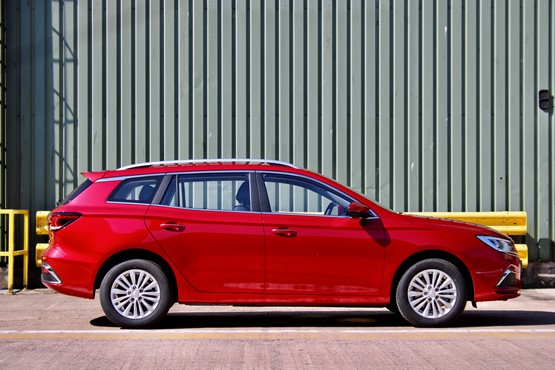 MG is promoting the aerodynamics, lower centre of gravity and driving dynamics of the C-segment electric estate car in comparison with a trendier electric SUV, in a bid to counter the UK's decline in mainstream estate car sales.
"With MG5 EV we're turned over a new leaf with Europe's first SW (sportwagon aka estate) EV. With a big boot, a big range and a small price tag, we believe the MG5 EV is a real breakthrough in terms of value-for-money, practical EVs in the UK."
He admitted this was a "test" of how well an electric estate car would be accepted by UK consumers.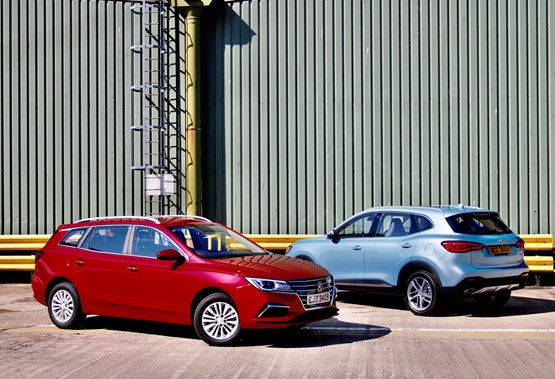 With batteries integrated within the chassis, boot space is not compromised. From less than 446 litres with the load cover in place, retract the boot cover and that rises to 578 litres, and drop the rear seats and buyers get 1,456 litres – about 24% larger than the Nissan Leaf.
This is part of the reason MG expects half of the sales of this car to be in the fleet and business markets, which will be unusual for MG whose buyers have been mostly retail customers until now.
Gregorious also highlighted that the much smaller Renault Zoe is the only pure EV that's cheaper than the MG5 EV. So, for family transport, MG has a huge advantage.
Gregorious concluded: "Many EVs now are based on an SUV bodystyle, but MG5 EV bucks that trend. With fewer compromises, we believe this bodystyle offers the optimum combination of maximum driving efficiency, internal space and driving dynamics. We expect to see more manufacturers follow our lead."
Q&A
DANIEL GREGORIOUS,
HEAD OF SALES AND MARKETING, MG MOTOR UK
What are MG's latest achievements?
In 2016, we passed the 4,000 annual sales mark for the first time and only topped 10,000 sales for the first time in 2019. In 2020, MG is the only mainstream brand in growth. We will exceed 20,000 sales. This tremendous sales volume improvement is underpinned by our 'momentumand growth' mid-term plan.
In 2019, we set out to treble our sales volume in just three years with the volume growth being driven by new dealer appointments and new model launches. The key to our success will be bringing affordable, hi-tech and electric cars to market. During 2020 we've continued to expand the size of our dealer network, bringing our cars closer to more and more British consumers. We've 112 dealers across the country, and by the end of the year we'll reach our 'momentum and growth' objective with 120 MG dealers.
What's helping you recruit dealers?
We've been very busy over the past two years refreshing our model range. Our longest-serving car is MG3, which received an extensive mid-cycle enhancement two years ago.
Since then, we've delivered a new C-segment SUV, MG HS, and refreshed our best-selling B-segment SUV, MG ZS petrol. In July 2019 we launched our first battery electric vehicle (BEV), MG ZS EV.
It's proven to be a big sales success in the UK. It was the first truly affordable family-friendly electric car with space for all the family, five-star EuroNCAP safety, high levels of technology, a seven year warranty and a low starting price.
ZS EV has helped MG to achieve the highest EV mix of any mainstream manufacturer. Only the two 100% electric brands, Tesla and Smart, can claim a higher mix. This year a third of our sales will be plug-in cars.
How will this car help MG dealers in 2021?
With the addition of the MG5 EV and the HS Plug-In SUV, MG now has three plug-in cars, all offering something different to buyers. We can be confident of being the go-to mainstream brand for electric cars with a model for everything and everyone. In 2021, we aim to achieve a 51% plug-in mix. More than half of our cars will be electrified.
The MG5 EV is a unique offering in the market, combining a practical family bodystyle and a full electric powertrain.