Supagard
Supagard Paint and Fabric Protection
Supagard has been the UK's market leader in professionally applied paint and fabric protection products for over 25 years and their reputation for quality is second to none.
All Supagard products undergo continuous and rigorous independent testing to maintain their technical superiority over other products and are among the most technologically advanced treatments available.
The company was formed in Glasgow in 1988 by Brian Quinn and John Orrick, who identified a gap in the market for quality paint and fabric protection, researched suitable suppliers and brought the first Supagard products to the attention of the motor industry - their first major success being with Nissan, who are still a valued customer today. That success has grown and grown, with over 20 manufacturers and hundreds of small, medium and large dealers and dealer groups now specifying the Supagard range as their products of choice.
Our competitive price structure and no-quibble 3 year guarantee provide retailers with a strong competitive advantage. A wide range of Aftercare packs also offer retailers increased turnover and profit potential and the opportunity to easily grow additional revenue from repeat sales of the Supagard Aftercare product range.
Field support is provided by a team of over 25 dedicated Area Managers who will work in conjunction with each retailer to develop sales and grow profitability by offering a comprehensive package of support and training to dealer staff at all levels along with follow up courses and intensive tuition, absolutely free of charge.
Product knowledge is the key to sales success as the customer is more informed today than ever before and you need to be able to answer their questions satisfactorily and give them great customer service, before they'll be tempted to buy your vehicle. The same applies to add-on products like paint protection – product knowledge and good sales techniques are just as important if you're going to maximise your returns.
Supagard training sessions will arm your sales staff with that product knowledge and much, much more.
The Supagard philosophy is simple – give our trade customers the best quality, value and service around and make it easy for them to sell our products and maximise their profits at the same time.
Contact us by telephone or via our website to find out more about how your business can profit in partnership with the UK's No.1 in paint and fabric protection.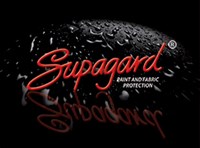 Address:
Supagard Limited 19-27 Gavinton Street Muirend Glasgow G44 3EF
Telephone:
0141 633 5933