TrustFord impressed the judges this year with its dedication to innovation, a laser focus on measurement, communication and continually investing in its colleagues across the 60-site group.
A 136% increase in its rental business and a 47% improvement in new car trading profit have been among the biggest highlights for the group over the past 12 months.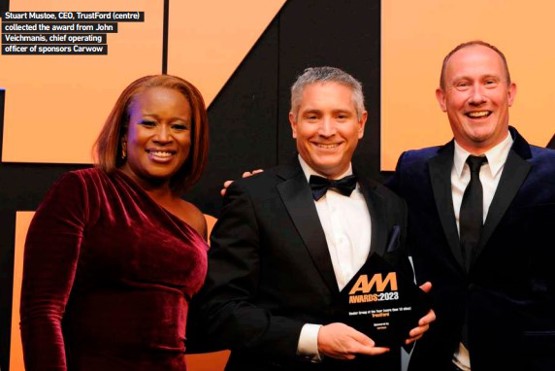 TrustFord has continued to invest and innovate across the business after identifying gaps in its recruitment, customer experience, systems, servicing and fleet operations strategy.
Core to the company's brand proposition is that "people buy from people" and the business was listed as part of the Best Workplaces for Wellbeing by Great Place to Work UK in February 2023. The company has worked to improve TrustFord's approach to diversity and inclusion (D&I) in taking a 'lead by example' approach.
Instead of appointing an individual to drive forward positive changes in the business on D&I, all board and leadership members take an active role including a new "Driving Inclusion" training programme with more than 70 sessions held so far.
TrustFord also launched its Driving4Leadership development programme in 2022 to develop 20 managers to each take the next step up as senior leaders across the business.
Another major initiative has been creating a separate Mobile Service Van operation with six hubs, increasing its fleet of vans from 60 to 112, the team growing from 98 to 198 and sales stepping up by 52% to deliver millions of pounds in new business in 2022.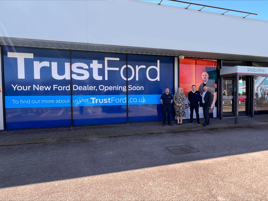 These mobile vans have helped to deliver bestin-class service levels to TrustFord's fleet customers, while also freeing up ramps to increase retail aftersales throughput.
TrustFord has also introduced robotic process automation (RPA) that incorporates 200-plus active bots using artificial intelligence (AI) and machine learning that can complete tasks such as MOT database checks, bots that check for manufacturer recall information and a supplier invoice bot that can improve payment processes.
AM's judges found that TrustFord's focus on strong, effective leadership and investment in its future success is combined with a true passion to embrace how the industry is changing.
This has created a business that is motivated to keep driving the standard in customer care.
Sponsor's comment

Carwow's John Veichmanis said: "Our valued partnerships with major UK dealer groups gives us a unique insight into their goals and the challenges they face. We're passionate about building even more collaborative relationships that help them achieve great results.
"As sponsor of the 2023 AM Dealer Group of the Year Award (10+ sites), we extend our congratulations to all those shortlisted for this highly sought-after award. Special mention goes to the winner, TrustFord, for successfully navigating the tumultuous sales and aftersales challenges that have characterised automotive retail especially in recent years.
"TrustFord's quality-focus, service innovation and exceptional customer experience have secured it this accolade, and we wish them every success as they bask in their well-earned glory!
"With our new and used car solutions, including our fast-growing stock sourcing platform, we're doing more than ever to help our retailer partners engage with more prospects, remove operational inefficiencies and drive profitable growth."
Our AM Awards 2023 sponsors