An unexpected explosion in the appetite for luxury car purchases after the pandemic hit the UK was a catalyst for significant growth at independent car retailer Auto100.
Now, as it celebrates its 20-year anniversary, the founder and managing director of the Sutton-in-Ashfield-based business, Christopher Smith, is eyeing an expansion into Oxfordshire and, potentially, Greater London as it looks to propel its showroom-free retail model to new heights.
"The growth that we have experienced over such a difficult period has come as a huge surprise," Smith tells AM.
"In March 2020 I remember leaving the office and wondering when I'd return. There was so much uncertainty. But our phone network and DMS was all cloud-based and we all got home, opened the laptop and found we could work remotely.
"When things started to flow again, we were ready. The phone was ringing and, as soon as you had answered one enquiry, it was ringing again.
"At our busiest, we sold 300 vehicles in a month. I've never seen anything like it. It was hectic. The pace of the market was frightening. It was then that we really took the decision to reduce our volumes and increase the value of the stock we're trading in."
In the period that followed Auto100 grew its average vehicle price from around £25,000 to more than £80,000 and inventory to £25 million-plus as part of a shift from premium vehicles to luxury, supercar and classic alternatives.
The impact on its annual financial results was marked.
In its financial year ending July 2019 the turnover was £40.1m. Just two years later, its latest results show a near 100% uplift to £80.3m during 2021/22.
Correspondingly, profit before tax rose from £300,776 to £2.23m during the same period, bolstered by the wider market's trend for stronger margins.
Auto100's average profit per unit more than doubled from £1,246 to £2,680 between 2018/19 and 2020/21, Smith tells AM.
Despite the economic turmoil engulfing the UK, Smith remains confident of Auto100's ability to continue its growth trajectory.
He says: "We know there's a recession around the corner and we are bolting down a bit and tidying ourselves up to weather what could be a difficult 18 months. But, given what we have seen in our part of the market over the past three years, I still think we'll break £100m in 2023."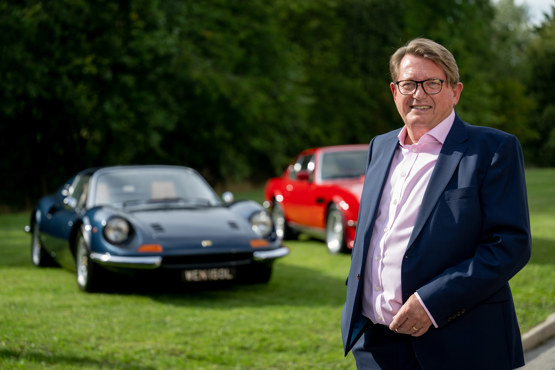 Smith says that Auto100 funding providers, including Black Horse, Lombard and Alphera, are keen to do more business with the independent retailer.
"They are getting blue chip customers from us," he says. "We very rarely get any issues with customers defaulting and they know, with interest rates what they are and inflation where it is, a rare classic car or supercar is a good investment funded on finance."
AM interviewed Smith ahead of the UK Government's 'mini budget' in which it planned to reduce the top rate of tax for those earning more than £150,000 from 45% to 40%.
An initiative that was reversed just a few days later.
Even without that tax cut, Smith was bullish about the fortunes of Auto100's relatively new target market.
"I've been through two recessions," he says. "Certainly, during the previous one people actually started to buy classic cars. Classic car values didn't drop, if anything, they went higher."
BUILDING INFRASTRUCTURE
Auto100's push into a more expensive market segment has not been a simple switch of stock profile.
A move to a new three-acre site housing an office building – forming a new headquarters – and a vast indoor storage facility featuring a new purpose-built imaging booth with a 360-degree vehicle turntable was central to the realisation of the new strategy.
The move into the facility – formerly the UK headquarters of hosiery firm Golden Lady – came in May last year.
"It has provided us with a facility where we're happy to invite our customers to collect cars costing six figures," says Smith. "We couldn't really do that before.
"The new site and the imagery and marketing that we do all contributes towards giving customers peace of mind that they are dealing with a professional operation."
A 4.7-star Trustpilot rating, from almost 1,000 reviews, also helps.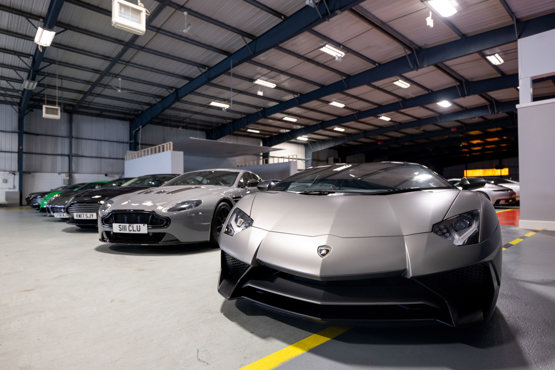 Auto100's recent focus on infrastructure means that material changes to its facilities and breadth of in-house capabilities have backed this assertion up.
One of two storage buildings that formed its previous base – just 100 yards away – is now a dedicated workshop, providing pre-delivery inspections, MOTs and some servicing.
Another nearby property was also acquired, becoming a dedicated SMART repair centre.
"We did the sums and realised that, if we brought all those services in-house, the move to this new site would pay for itself," says Smith.
Auto100 has also grown its workforce to 39 employees, including two videographers, five detailers and a sales team comprised of seven sales executives.
Smith, who started his automotive career at a Ford dealership not far from the group's base in Sutton-in-Ashfield before moving up through the ranks and eventually working as a trainer for BTC, says recruiting the right sales staff has not been straightforward.
Many have come from premium brand franchised dealerships, but Smith says: "It's a very different process here than what they were used to. We sell cars that are that little bit different, you're not selling out of a brochure anymore.
"Launch into the numbers too quickly and there won't be a sale.
"There's a real need to create a relationship, get to know the customers and communicate who we are and what we do."
What Auto100 now does in no small part comprises professionally presenting highend vehicles for sale.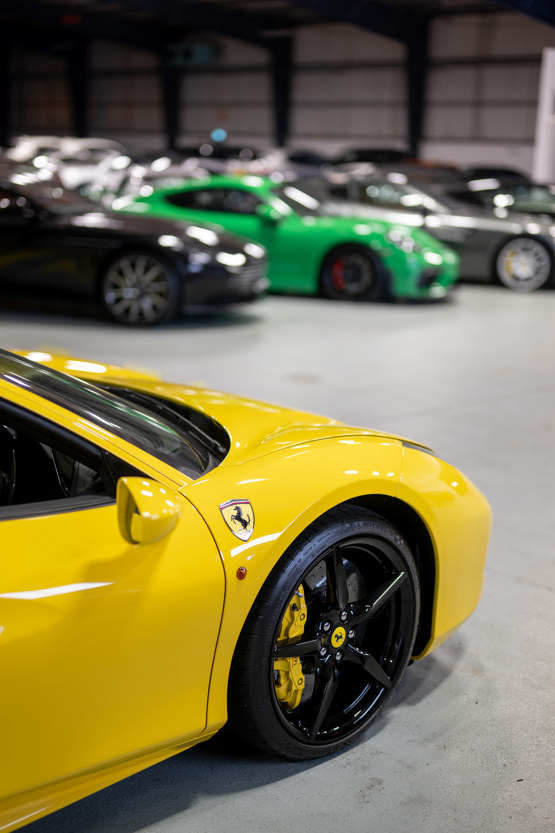 A partnership with valeting products supplier Angel Wax has been part of a transition to a higher level of vehicle preparation and ceramic coating now forms one of its key upsell items.
Meanwhile, a razor focus on presenting all the cars well has become a core component of the operation.
The process of getting cars "video-ready" – for adverts that feature a two-minute video with a professional voice-over, around 60 images and a full description – is not always a quick one, but it is getting more efficient, Smith tells AM.
"I'll not lie, the attention to detail we demand has caused me headaches," he says. "At one point I think we had £5m of stock in the facility that was not ready to retail because we knew they had to be presented right before we could go any further."
Now the process of getting a car retail-ready starts when it is collected from a seller.
Drivers log on to an app and submit dozens of images straight into Auto100's DMS to allow the preparation manager to spot any work that needs doing and get ready for the car's arrival.
When the car arrives, the main focus will regularly be paintwork, interior and wheels, Smith says, adding: "We've got that down to quite short time now."
With stock shortages across the used car sector since COVID-19 and the new car supply issues that followed, Smith says his team members have been open-minded about their stocking sources, with Motorway among the new go-to providers alongside auctions and a network of trusted independent traders.
As AM went to press Auto100 had a stock of 258 cars advertised on its website.
Among those at the top end of its price range were: a Ferrari SF90 Spider with just 175 miles on its odometer, priced at £544,980; a 2017 Lamborghini Aventador Superveloce Roadster at £399,980 and a £249,980 Aston Martin On Her Majesty's Secret Service DBS Superleggera special edition described as a "brute in a suit" by Auto100's professional video voice-over artist.
At the other end of the spectrum a line-up of sub-£30,000 cars included a trio of Maserati Ghiblis and an immaculate 1971 Triumph TR6 with just 1,700 miles on the clock.
CLICK AND COLLECT MODEL
Despite the epiphany delivered by the "hectic" post-lockdown 2020 trading period, Smith claims Auto100's business model had adopted a click-and-collect focus long ago. He recalls Auto Trader's initial offering of free web-based ads as an accompaniment to its printed editions as being the moment that his vision of a less cost-intensive business model was forged.
"I learned years ago that to get on in the industry you didn't need to spend thousands and thousands of pounds on a glass and chrome showroom in the middle of a city, paying all the massive retail rates and all that sort of thing," he says. "What you can do is actually have a storage facility."
Finance penetration stands at around 50%, but Smith says: "A lot of customers will send us the money for the car before they've seen it. I think that's because they have gotten a lot of confidence in what we've said to them and what they've seen."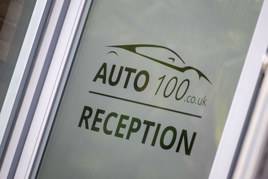 There is a clear drive towards getting customers to travel to Sutton-in-Ashfield. Smith says the business tried to limit the number of vehicle deliveries it does, stating: "No matter how hard we tried, there was an element of people that want to renegotiate once you got there. It is why I believe Cazoo will not survive."
Despite the click-and-collect emphasis, Smith says the next step in Auto100's growth plan is to establish a second retail site further south. The retailer is considering the Oxford area.
He says: "I have experience in selling cars in that region in the past and the extra scope for selling the kind of stock we now specialise in is clear.
"To replicate the set-up we have here would be a challenge, but a slimmed-down operation could be hugely successful for us, I'm sure.
"After the period we've just enjoyed it feels like the time is right to keep pushing for growth."