It may not seem like the best time for a small car manufacturer to flex its muscles, but according to its former UK head of brand, 2019 is the year that Dacia will start to "think 'big brand' and 'act big brand'".
Louise O'Sullivan, who was promoted to network operations director, Renault UK, in January, said: "With bigger volumes come bigger budgets and new Duster is really helping us to drive that."
Thinking and acting "big brand" may seem like a strange aspiration for Renault's Romanian budget partner to embrace after it ended 2018 with registrations down 3.9%, at 24,169 – Dacia's lowest UK total since 2014. But it is clear that O'Sullivan has been listening to the analysts and felt emboldened by suggestions that consumers made wary by Brexit will tighten their purse strings.
"We know what we are at Dacia," she told AM during a visit to the Maple Cross headquarters the brand shares with Renault UK, Nissan GB and RCI Financial Services, Renault's financial arm.
"We are a budget brand, we're the cheapest in the market and we very much see ourselves as competing with the used car market.
"I see us as being aligned to Aldi and Lidl and see Dacia very much as a Brexit brand. With the current uncertainty, people are maybe thinking that they should think more carefully about their next choice of car and we are well placed to take advantage of that."
Taking on used cars
O'Sullivan wants Dacia's franchised partners to fully exploit the opportunities presented by placing their used stock next to new cars from a range that starts at just £6,995 for the entry-level Sandero hatchback and offers its new Duster – launched in June, 2018 – for less than £10,000, with PCP deals featuring monthly repayments as low as £109.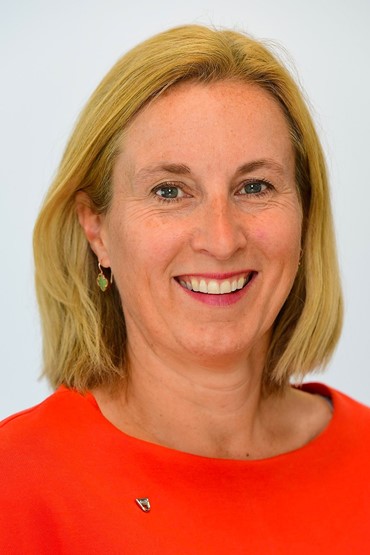 Recent changes to the Sandero's basic trim level, such as introducing DAB radio and air conditioning, but dispensing with alloy wheels, reinforce the desire to maintain its no-frills appeal.
About 50% of Dacia's customers previously bought a pre-owned car – with 85% still deemed as 'conquest' – and it encourages the display of used vehicles next to priced-up examples of its new vehicles on dealer forecourts.
O'Sullivan said: "Displaying cars in a way that directly shows their value against used alternatives was one thing that immediately stood out to me as best practice in the network and made sense.
"Dacia encourages a used car mentality. It's a cash approach, with a high proportion of customers who don't want to take out finance." The finance cash split is about 50:50.
Described by O'Sullivan as a "customer-driven, retail brand", Dacia's 2018 registrations total was split between 21,309 private sales and 2,860 fleet.
The average ages of its customers run from 45 for the Sandero family, to 54 for the Logan family and up to 59 (but falling) on the Duster.
How delivery delays helped with WLTP
O'Sullivan claimed that the UK's six-month delay in getting new Duster deliveries, compared with mainland Europe, had reduced the impact of WLTP by ensuring the new deliveries were compliant with the new regulations.
During September, the Duster's 1,142 registrations were down just 1.74% year-on-year, while the Sandero and Logan fell 69.9% (to 1,147 units) and 36.7% (to just 181) respectively.
"The Duster has doubled its market share from H1 to H2, which is what we saw in Europe. In all of Europe, Dacia is continuing to grow."
In March last year, Dacia celebrated breaking the five million registrations barrier in Europe since sales began in 2004.
It has also proved a hit with UK owners, finishing top in a YouGov survey of car brands, which asked "would you recommend the brand to a friend or colleague?" More than 120,000 Dacias have been sold in the UK since 2013.
Having stock in the UK is central to Dacia's desire to compete with instantly available used cars. To ensure dealers can provide vehicles quickly, without relying on retailers paying to keep a wide range in their showrooms and forecourts, Dacia streamlined its trim levels and established an online portal 18 months ago to provide a view of cars held in stock.
O'Sullivan said: "There were clear parameters of funding for our dealers and the portal allowed swift access to stock without placing strain on that.
"They can 'call off' a vehicle and when it's sold, we replace it. Available stock of the right mix and engine is vital."
On average, Dacia retailers are able to provide a new car within a week, said O'Sullivan.
Dacia's UK stock mix has been affected by anti-diesel consumer sentiment following the dieselgate emissions cheating scandal, however. Sales of the Duster went from 80% diesel to just 20% within nine months of the 2015 scandal, with the Sandero dropping to 5% diesel.
Sibling rivalry
Dacia is battling to emerge from the shadow of the Renault brand at shared sites across the UK.
Dacia encourages its retail network to appoint dedicated brand champions to drive sales, but O'Sullivan acknowledged that it is sometimes a challenge to commit a member of sales staff who may previously have been able to operate across both brands at the same site.
Dacia defies budget brand expectations that its network will be operated by many owner-drivers due to a close tie-in with Renault guaranteed by joint franchise agreements.
Just five Dacia dealerships in the 157-site network stand alone from their sister brand, and two of those have opened in the past year – WJ King's site at Dartford and John Banks Group's Cambridge franchise.
Stoneacre will open a new franchise in Burnley later this year.
The latest additions have been built to the 'Renault store' corporate identity (CI), which is now 70% complete across the network, said O'Sullivan, and gives Dacia greater prominence with new signage and totems.
Never the dealer survey's darling
For a brand with such a budget product range, even a modest investment in facilities can affect the attitude of the network.
In the National Franchised Dealers Association's Summer 2018 Dealer Attitude Survey, Dacia finished mid-table, in 14th. When dealers were asked to give the manufacturer an overall rating out of 10, scoring 5.9 (average: 5.7). A 4.7 (average: 5.6) average score across all questions placed it sixth from bottom.
The CI investment appeared to be a factor in retailers' discontent, with the brand scoring just 4.1 (average: 6) when asked if their manufacturer's dealer standards were "fair and reasonable"'. Only Jaguar, Citroën and Alfa Romeo fared worse.
When asked about their "current bonus and rebate rates on new car sales" dealers scored Dacia 3.1 (average: 5.3), meanwhile.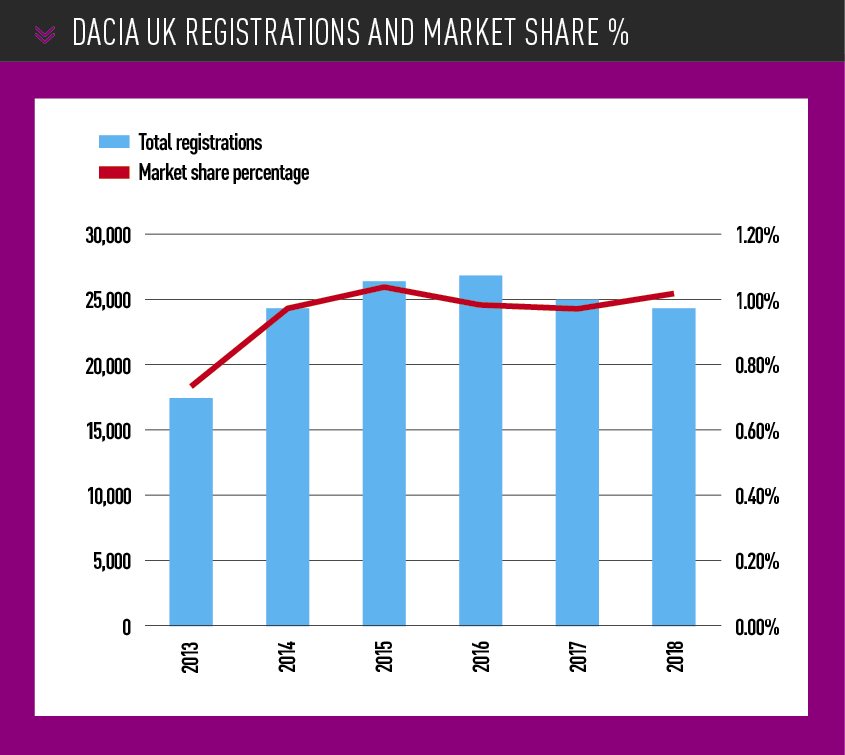 "I do take the NFDA survey seriously," said O'Sullivan. "But in terms of a bonus scheme, Dacia really doesn't have one and, as a result, we're never going to finish top."
O'Sullivan said this did not mean Dacia retailers were not profitable and said she had worked with Renault Group to ensure UK retailers made money.
Dacia dealers average 0.8% return-on-sale, with the best performer delivering 2.8%. It said it is working with the network to increase the average RoS, for example through things such as introducing simplified service packages starting from just £5 a month.
"We've broken the model specifically for the UK, to make things work and make our dealers profitable," said O'Sullivan.
"So is there a bonus scheme? No. But is there profitability? Absolutely."
O'Sullivan said Dacia retailers earn standard finance commission, adding that she "really pushed" RCI to achieve that.
Dacia's dealer conference in early January was focused very much on the "push for profitability", according to O'Sullivan, and she said the new Duster would boost dealer margins, adding £150 to the bottom line of each, on average, per sale.
Making a mark with marketing
Dacia UK's aim to "think 'big brand' and act 'big brand'" in 2019 will extend to more than just a new CI.
Marketing of its Buy Online platform has yet to start, but other activities are underway.
On Boxing Day, the brand launched its '#GoDuster' campaign with a television advert to the theme tune of the 1980s Ghostbusters movie franchise and it will also sponsor the TV channel, Dave, with 'ident' slots during advertising breaks.
Having been involved with Rugby League since 2016, as the official car partner of the Rugby Football League and title sponsors of the Dacia Magic Weekend and Dacia World Club Series, it added sponsorship of the England Rugby League national teams in June last year.
The five-year deal will see Dacia branding feature on the front of all the national teams' shirts, with the Rugby League World Cup heading to England in 2021.
"The sport aligns really well with the robust branding of Dacia and with the World Cup coming to England this is a really great opportunity for us," said O'Sullivan.
"It's part of a pattern. We've really been hiking up our marketing investment because we're expecting to grow volume.
"It's a big year for Dacia and its retailers."
Buying online
Dacia's soft launch of its Buy Online retail programme not only added "50 million new retail outlets across the UK" – but 36 sales in its first two months.
The new online retail platform registered 2,500 site visits before the start of a planned marketing push, with sales delivering 70% finance penetration – higher than the brand's network average – and service plan take-up of near 35%.
"We see online very much as another channel for our dealers. They receive a full margin and the full finance commission on each sale. That was one of the most important decisions we made in developing the platform," said O'Sullivan.
"I'm relying on them to deliver a high level of customer service, whether it's a home delivery or a showroom collection."
Dacia's Buy Online customers are offered a two-week delivery guarantee on their new car purchase, mirroring the fast delivery targets of its network.
O'Sullivan said cash deals are encouraged online – as they are in dealerships, where the brand covers franchisees' credit card charges – and do not share the restrictions on finance offered by other manufacturer platforms.
"What is interesting is that many online customers are still doing the whole dealer piece, going into the showroom to look at and test drive the car, before completing the process online," said O'Sullivan.
"We've had retailers actively referring customers to the online platform to complete their purchase because they know they've offered good customer service and will still benefit from the full financial benefit of making the sales."