Kia's 32,199 new car registrations in the first three months of 2022 made it the UK's best-selling car brand year-to-date – almost 8% ahead of Ford in second place.
While AM's David Francis observed that "Kia is not going to hold that spot for long" it's certainly served as a strong opening salvo in a year when the Korean brand intends to make up for lost time and finally crack 100,000 annual registrations in its largest European market.
With new-look showrooms opening in 2022, record order banks, a new version of the Sportage SUV now reaching showrooms and a new Niro range of hybrid, plug-in hybrid (PHEV) and fully electric models also arriving in July, it is unlikely consumer demand will be adversely impacted – even with the current headwinds.
Kia UK president and chief executive Paul Philpott tells AM he is "very confident" his retailer network will help it achieve a six-figure landmark in 2022.
Speaking in the week that marked his 15th year heading the brand, he said: "It's been the most challenging two years of my 15 with Kia, but I'm tremendously proud of everything this company and our dealer partners have achieved: trebling volume versus 2007 and having great potential to keep growing this business."
Philpott was able to celebrate his Kia anniversary in the knowledge that his franchised retail network had benefitted from record profitability in 2021. The average Kia retailer achieved a 2.7% return on sales.
He admits that puts the OEM in a good position when asking its 191 retailers to invest in a bold new corporate identity (CI).
Also, he claims, that now familiar profitability would be maintained as the brand continued to deliver volume and would eschew an agency model shift happening elsewhere in the sector.
GROWING VOLUMES
Commenting on Kia's ongoing volume growth after outpacing a market up 1% with a 28.8% rise in volumes to 90,817 – taking market share to 5.5%-plus – Philpott says: "We have had access to better supply than many of our competitors, but I think we've also got better demand than many of our competitors. And you need both.
"We learned a lot from what happened with demand when lockdown ended in 2020 so, when we went into lockdown again at the beginning of 2021, we just kept asking for more production from Korea and from our Slovakian car plant.
"When we came out of that lockdown on April 12 we'd taken a very bullish approach to stock on the ground, but also pipeline coming through."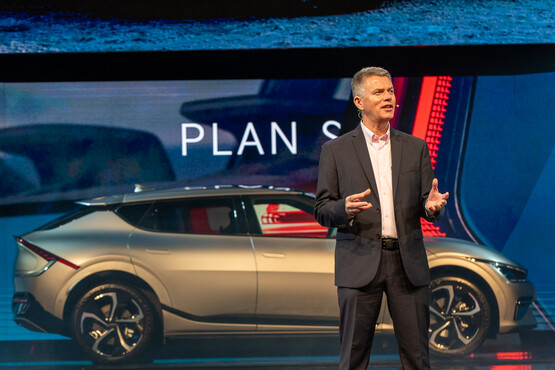 Emphasising the importance of the UK to Kia in Europe, Philpott adds: "We were the biggest selling market in Europe for Kia by some margin last year. Germany sold 65,000, we sold 91,000, and they were the second biggest. If we (in the UK) don't succeed, Europe has a really tough time.
"Thankfully, the pound was strong against both the euro and the won (South Korea's currency) and that helped us show we could turn scarce production into profitability."
Like many car brands, Kia found itself with its biggest order bank ever heading into 2022 by virtue of a combination of high demand and supply challenges.
Philpott is aiming to exceed his plan for 2022 of 95,000 new car registrations after seeing Kia's January sales alone beat his budget by 2,500 units.
Speaking to AM before the outbreak of war in Ukraine, Philpott says: "We've now set a stretch plan internally that this is the year when we can get to 100,000.
"It will require us to continue to work with the dealers on rapid stock turn and not having pockets of stock sitting anywhere that are going nowhere.
"We've got to make sure that every unit that we bring into the country is turned into a delivery, to sell a customer order as quickly as possible."
He adds: "I'm very confident but, of course, we don't know what external shocks might come along."
OUT OF THE RED, INTO THE BLACK
On the back of the most profitable year ever for its UK retailers, Kia UK is now rolling out its new CI.
In contrast to many brands embracing multi-brand showroom facilities, it's a move that comes hand-in-hand with a shift towards stand-alone showrooms, with Philpott stating that the ratio is set to grow from its current 70%.
There is to be no trimming of the network's current scale and, while Philpott told AM "everything's on the radar", he says that the brand has "no plans to enter into agency agreements".
"While other networks are restructuring and perhaps cutting the number of dealers, we see this as a bit of an opportunity for us," says Philpott, whose brand's biggest franchise partner is Arnold Clark, with nine locations.
"We're an ambitious brand, a growing brand, and we think this is a great opportunity for us to work with our partners to improve the quality of our dealerships, the positioning of some of our dealerships.
"I do not believe the franchised dealer model is broken in any way.
"If you've got a great brand that people want to buy into, fantastic products and then the local dealer provides an outstanding level of customer service, the three things together are the optimum way by which people can buy a new car.
"Look at Tesla, it now has 18 stores. If it could do everything online as effectively, it wouldn't need physical stores, but it has invested huge amounts of money in physical locations."

The new look for the brand's dealerships ditches a red and white colour scheme in favour of black and white, with the new Kia logo at its heart, and introduces the extensive use of wood for interior walls and furnishings.
Already showcased in Korea, the new style will reach the UK at the brand's own retail site in Bolton and Vertu Motors' Macklin Motors site in Edinburgh first, with work expected to be finished imminently.
Phase one of the CI roll-out will see the new look introduced at 40-to-50 UK retail sites this year ahead of a targeted 2024completion date, Philpott says.
As well as aligning with the brand's electrification plans, it also introduces elements that help facilitate an omnichannel customer journey.
One area of the showroom will be defined as the display zone, while another – demarcated by wooden flooring, wooden walls and in some cases wooden wraparound ceilings – is a customer experience area featuring a number of screens which give access to the GForces-powered Showcase system.
Showcase is a GForces product capable of displaying Kia's entire product range.
"If the average showroom has got eight cars in it, well, we've got 10 different models in our line-up, so it's just not possible to show everything in any of our showrooms," says Philpott.
"This enables the customer to really engage with the whole product range. And, if they've built a car online through kia.com, they can then save that and call it up in the showroom environment as well."
NEW GLOBAL STRATEGY
At Kia's global investor day virtual event at the start of March, Ho Sung Song, the president and CEO of Kia Corporation, revealed that the brand was targeting a 27% rise in global vehicle sales – to four million units – by 2030.
Starting with 160,000 electric vehicle (EV) sales this year, it aims to sell 807,000 zero-emission vehicles in 2026 and 1.2 million in 2030 – a 36% increase from the 2030 EV target announced during the investor day staged in 2021.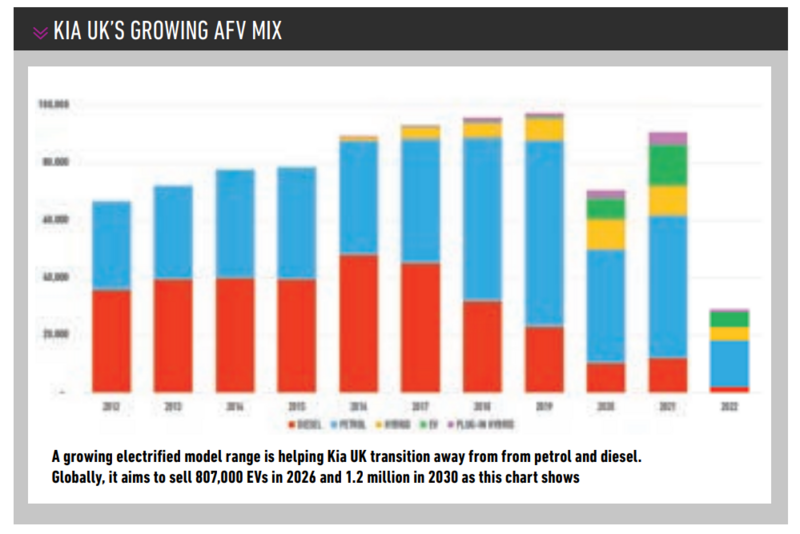 By 2027, Kia has said it will offer 14 EV models globally, with the new EV9 large SUV set to feature 'over the air' and 'on demand' services that will allow customers to selectively purchase software functions.
Its launch will herald the arrival of 'AutoMode', Kia's new autonomous driving technology.
For now, the new Sportage and Niro – set to arrive in the UK in July – are at the forefront of Kia retailers' minds.
Kia UK's full 2022 quota of 4,500 EV6 models is already sold.
New Kia UK marketing director Sanka De Silva highlighted the importance of the Volkswagen Tiguan and Nissan Qashqai-rivalling Sportage SUV at its UK launch.
"At 30% of the sales mix, it's part of our success now and part of our growth aspirations in the future," says De Silva, who took over from David Hilbert when the latter became marketing director for Europe.
The fourth generation of Kia's popular SUV delivered 197,626 registrations between 2016 and 2021, well in excess of double the 95,326 achieved by the third-generation model on sale from 2010 to 2016.
The latest generation has a tough act to follow, but Kia is spreading its net as wide as possible with an (almost) full array of drivetrain options.
New Sportage is available in petrol, turbodiesel, 48-volt mild hybrid, hybrid and – from Q2 – PHEV guise.
De Silva says: "We wanted to give customers choice.
"It's a great position for our dealers to be in. A customer walking in saying 'I'm undecided' can be assured that there is a drivetrain option that will suit their needs."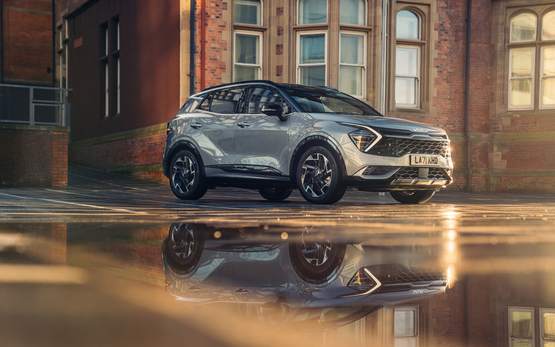 Kia's new Sportage is another model which has increased the price of the brand's average model offering.
Prices start at £26,745 in a UK line-up featuring '2', GT-Line, 3, 4 and the flagship GT-Line S edition trim levels, eventually topping out with the flagship £43,795 PHEV derivative.
Philpott tells AM the longest lead time the brand currently has is on the new Sorento, with a 12-month order bank for the most popular top spec version.
"The average selling price of a top spec Sorento is £45,000," he says. "When I joined Kia, the top spec Sorento was £15,000.
"That's a quite interesting perspective as to how far our brand has moved in 15 years, but also how desirable our products are.
"The important thing is that Kia is still seen through its products to deliver great value. That's important to us as our brand strengthens and becomes more, if you like, premium mainstream."
Kia's shift towards EVs with its model launches has resulted in the launch of a new version of its popular aftersales service plans.
Philpott acknowledged that EVs present less frequent servicing requirements – every other year – meaning fewer contact points with its retailers.
The result is a new Kia eCare package for EV customers which brings them back into dealerships in years two, four, and six.
Philpott says: "It's an ownership care package that provides annual, vehicle health checks (in years one, three and five), including a battery health report.
"Any software updates are completed, rotation of the tyres – which is important in maintaining vehicle operation – brake cleaning, and that's added as an annual customer offer.
"It's something we think is really important to keep EV customers coming back to dealerships, but also keeping that EV in tip-top working condition."
POSITIVE ATTITUDES
Kia's ambitious EV-led product strategy, its continued drive for growth and a determination to stick with a familiar franchised model that is delivering profitability for its retailers continues to curry favour.
The brand finished second only to Lexus in the National Franchised Dealers Association (NFDA) latest bi-annual Dealer Attitude Survey, covering winter 2021/22, scoring 9.2-out-of-10 (summer 2021: 9.6).
It topped the rankings when dealers were asked how satisfied they were with the brand's alternative fuel vehicle (AFV) offering, scoring 9.6 (summer 2021: 9.7), however.
For current profitability, Kia ranked behind only Lexus and its sister brand Toyota, scoring 9.2 (summer 2021: 9.2), while it was pipped to the top by Lexus in terms of projected future profit return with a score of 9.2 (summer 2021: 9.2).
Dealers scored Kia lowest for its continued volume growth aspirations, scoring it 8.5 (summer 2021: 8.9), to rank below Lexus (9.4), Audi (8.9) and Mercedes-Benz (8.7).
Philpott says the spirit of partnership and dealers' faith that their views are listened to are central to the strong results year-after-year.
But "profitability or perceived future profitability" are also central, he admits.
Supply issues appear to be the main potential hurdle to overcome as consumer demand for Kia products remains strong.
STRONGEST YEAR
For Philpott, it is clear he is buoyed by the fact that his 15th year with Kia has been its strongest ever – in terms of registrations and profitability – despite coming on the back of 2020's significant COVID-19 headwinds.
He says: "It was February 2007 when I joined something of a broken business in the UK that was losing money and losing dealers and losing employees.
"We were pretty low down in NFDA rankings at the time and one of the things that I said back then is that we have to have a true partnership with our dealers, where they make money, and we make money and that hasn't changed.
"Since then, we've taken a very consistent, very fair approach, constantly communicating with the dealers, having a level playing field, always listening to their issues and responding, not necessarily rolling over – pushing back where we need to – but listening and responding and having a real focus on long-term profitability for the network. I still believe that is fundamental to our success."