New dealer appointments and an expanded model range are expected to underpin DS Automobiles' 2022 drive to sell twice as many new cars as it did in 2021.
In a year free of COVID lockdowns, albeit still with industry-wide semiconductor supply constraints, the DS brand is set to attract new customers and continue its steps towards total electrification, says UK managing director Jules Tilstone.
DS is also in the early stages of developing a new agency-style contract for its retailers, which it wants in place from June 2023.
Tilstone shared little insight into how that would change the dealer network's responsibilities and rewards and said there's still much to be worked out.
Nine European working groups, including representatives from the network, are looking at key areas of the business, for example digital marketing or finance, to consider how an optimal approach can be developed through an agency agreement.
There are many questions to answer for each area this year, before proposals will be tabled with the European Dealer Councils and then the agreements are finalised.
"The key point is this common purpose – we are trying to build a model that gives the best customer experience we can possibly give. If we don't come up with a mutually beneficial business model we're not going to have the best retail talent and we won't fulfil our objectives," he says.
Progress updates will be shared with franchisees every quarter, and Tilstone is having regular meetings with individual dealers to listen to their concerns. He said most are open-minded, positive, yet cautious, given the amount of detail still to be determined.
AFFORDABLE PREMIUM
He believes that, ultimately, it will take out some cost for the manufacturer that can help make hybrids and electric vehicles (EVs) more affordable, and it will simplify new car communications, offers and purchasing for the customer, who will know they've paid the same wherever they are in the country.
In 2021, DS swung from being the best (6.3 out of 10) of all Stellantis brands for value of the franchise in the summer NFDA Dealer Attitude Survey to being the worst (4.1).
Yet Tilstone claims morale is okay, due to rising sales of higher trim cars.
"I think that's a good indicator of where we're attracting the right audience to DS now who can afford to pay for our product and who want to specify high trim levels, which is fundamental to the future of our position in the premium market," he says.
Franchisees are excited by the next launches which grow DS to a four-car range.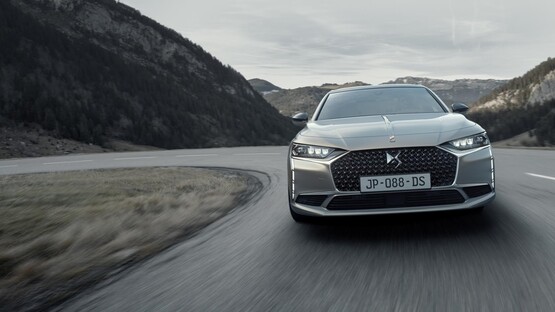 The DS4 hatchback, a rival to the BMW 1 Series and Audi A3, is entering the UK market this month and it will secure much of the sales increase.
Some 300 pre-orders had already been placed by the end of February. And the DS9, which entered showrooms in February, will take the fight to the Jaguar XF and Lexus ES in the mid-size premium segment.
Tilstone is also excited that DS will, by the end of 2022, offer buyers plug-in hybrid (DS4, DS7 and DS9), pure electric (DS3 Crossback) and petrol engines. There are still diesels (DS4 and DS7), but in low numbers.
PLANS FOR ELECTRIC-ONLY
From 2024, DS will only build cars with full electric powertrains and from 2025 it will no longer sell internal combustion engine (ICE) new cars.
Tilstone forecasts 51% of new DS cars sold in 2022 to be low emission vehicles (producing less than 100g/km CO2), up from 42% in 2021. He maintains that sales volume "is not of huge importance to us" provided the level is right for the dealer network to make an appropriate return on their investment.
What is important is that sales do increase – and do so profitably.
The DS network averaged breakeven in 2021 (versus loss-making in 2019), with the top 75% making 1% return on sales, and the top quartile achieving 4.5%.
By the end of 2022 the DS network should total 35 dealerships, and 45 by the end of 2023, up from 26 in 2021, when the network actually shrank as unviable DS Salons were terminated.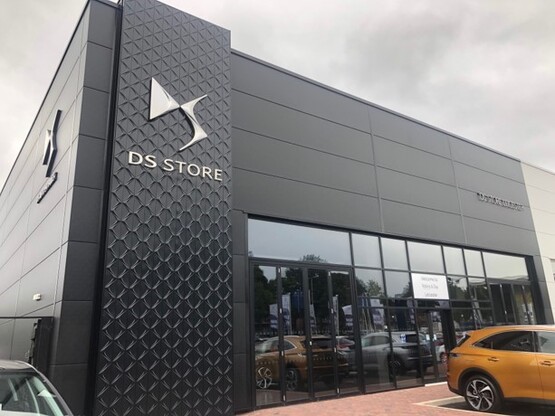 The focus is now on DS Stores – full showrooms rather than the boutique-style DS Salons – with seven new ones set to open by the summer.
Much of the DS network shares a location or rooftop with another brand from Stellantis; taking the former FCA Group under Stellantis' wing has opened doors with some Fiat/Jeep/Alfa franchisees.
The DS Stores, alongside digital marketing and events, are crucial for making more potential buyers aware of DS cars, says Tilstone.
The carmaker's research shows that by now 79% of premium car customers recognise the DS brand in 'assisted awareness' exercises, where DS is put in a list of other premium competitors.
It has come far from its origins as fancier versions of Citroëns, it seems. "Our ongoing challenge is to make sure they know us because of our stores and because of our latest product. Of course, DS hasn't just arrived, and we need to evolve that view. I think that's reflected in the customers we have coming to the brand."
One in two DS buyers has already had a premium brand car. Tilstone said buyers of DS models are typically from three pools: people in German brand cars who're looking for something different; people in the niche premium brands, such as Lexus and Land Rover, who're putting DS into their competitor set when considering their next car; and people with a Stellantis brand car, such as a Peugeot, Vauxhall or a previous DS, who are now able to afford a premium car.
"We've the right audience coming in and discovering DS, with the right budgets, looking at the right level of cars, for us to succeed in the growth we anticipate."
TOOLS OF CONQUEST
Given some of the very long lead-times being quoted by German brands for new car orders, DS has an opportunity to conquest sales and deliver cars within three or four months, he said.
DS doesn't have the vast marketing budget of Audi or BMW to attract UK buyers, so it needs to get cars in front of people and it wants the positive word-of-mouth of existing customers.
DS drivers can register for the 'Only You Privilege' club, which gives them and their friends access to exclusive events and experiences plus discounts with partner brands.
The DS Valet service provides collection and return of the car at service time, and delivers national aftersales coverage from a relatively small
dealer network.
The 'Test Drive From Your Drive' initiative that was trialled last October, which brings a demonstrator to a prospective buyer's chosen location for 24 hours, will be rolled out nationally in 2022.
There's much to do in the months ahead, but Tilstone is bullish of the outcomes for both the OEM and its dealers.
"It's a joint approach.," he says. "We're all in this."