With seven new car launches in 12 months, at first glance Genesis Motor Europe's entry to the UK market appears to be an all-out assault on the premium sector.
UK managing director Andrew Pilkington told AM that Hyundai's online-only up-market offering is determined to pursue a "crawl, walk, run approach" which gauges public response to determine the rate of growth, however – insisting it has no volume targets.
Its Korean parent company will no doubt be expecting a return-on-investment from the brand that expanded into Europe in June, having sold 130,000 vehicles in its existing markets (US, Canada, Russia, the Middle East and Australia) in 2020.
But Pilkington insists that establishing the brand and making potential customers aware of its unique direct sales offering was the priority… for now.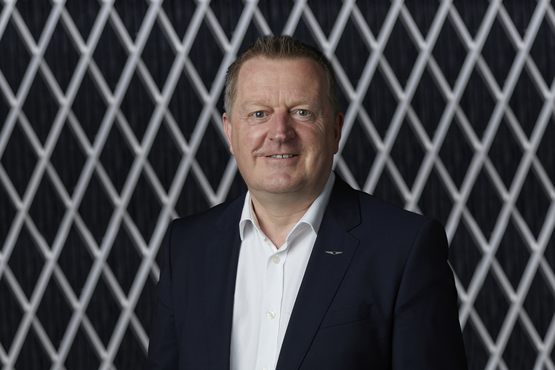 "Let's be honest, nobody knows about Genesis," Pilkington told AM. "Our challenge right now – and it's an exciting one – is taking the brand to market and getting customers to understand our proposition and the 'Genesis Promise'.
"We don't need to push cars into the marketplace because that's not part of the strategy.
"If we were working in a traditional sense we'd be saying at this stage 'we want x percentage of that market share' but, honestly, that has not been in our vernacular at all."
DIRECT SALES' ULTIMATE REALISATION
Pilkington joined Genesis from a post as managing director of Polestar UK in June last year at the same time as David Parkin, who left a service quality manager role at Jaguar Land Rover (JLR) to become head of aftersales.
In an interview with AM at the launch of the first two Genesis models into the UK market, the G80 Saloon and GV80 SUV (see page 66), Pilkington described his new employer as "the ultimate realisation of the direct sales concept".
Unlike Polestar, which partnered with Endeavour Automotive and Lookers to open its first Polestar Space high street stores, Genesis will operate its Genesis Studios and aftersales proposition completely independently.
Pilkington says: "I learned such a huge amount in recruiting the team for Polestar UK and, just as we brought it to market and were about to launch, Genesis came to me and said 'this is our model and we'd like you to lead it in the UK'.
"When you have created something it's like watching your babies growing up, but this was an offer that I could not turn down. What we have here, with Genesis, is so unique. We are looking after the customer from end-to-end, taking full control of that with no agents, no dealers. It's down to us, which is really exciting.
"The big vision is there; the big question is how do you deliver that? That's the challenge and what's truly exciting."

Genesis' first UK outlet – staffed by salaried pressure-free Genesis personal assistants (GPAs) – has already opened at Westfield shopping centre, in London's Shepherd's Bush, and aftersales will be handled at the Genesis Operating Centre (GOC) at Hayford Park, Upper Hayford, Oxfordshire.
A GPA is appointed at the time of a car sale and is intended to be a customer's single point of contact throughout the ownership of their car, liaising over the sale and ongoing aftersales enquiries.
As part of every Genesis car's Five-Year Care Plan – including home delivery, warranty, servicing, roadside assistance, a like-for-like courtesy car, mapping and over-the-air software – customers' vehicles will be picked-up and taken to the GOC on a covered lorry for servicing.
UNDER-PROMISE, OVER-DELIVER
Pilkington insists that Genesis sales and aftersales services could be delivered nationally from day one.
The brand's promise of home test drives and – once a customer has bought their new car – as many GPA-conducted handover and familiarisation appointments as are required, will only be offered in the south-east initially, Pilkington concedes.
"At this moment we're adopting a crawl, walk, run process," he says. "What I mean by that is that at launch we're going to have test drive offer in the southeast – effectively East Anglia all the way round to Southampton – and the we're going to extend that during the coming months
"It will be very transparent in all the marketing communication.
"Part of the strategy around this is making sure that we don't over-promise and under-deliver and that we under-promise and over-deliver.
"That's about us being humble, not biting off more than we can chew and making sure that we deliver.
"But to add to that we're embarking on an events programme which is being formulated right now.
"At the start this is in the south-east. We're at the Goodwood Festival of Speed and, in September, we've further events and those are then going to proliferate out.
"I'd rather be transparent and honest with a customer and say 'look, test drive will come to you, but it is going to take a little bit longer'."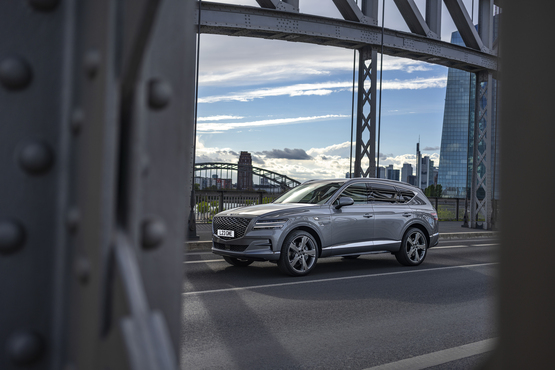 Pilkington says that a mix of stock G80s and GV80s is already available for UK customers to buy.
Lead times on customer-specified models will be between four and five months, he says.
To handle sales, Genesis currently has 30 GPAs on its books, recruited from hospitality – rather than sales – roles.
Eight of the GPAs are regional operatives working from home, with the latest recruits based in Norwich and Ipswich.
As an organisation, Genesis Motor UK employs a further 13 people who will be based at a 3,000 square-foot head office, along with a 10-strong headcount fulfilling its aftersales function.
Pilkington says he wants his team to be close to customers, saying those in office-based roles will be encouraged to visit both Genesis Studios and GOCs on a weekly basis.
Plans for the expansion of the Genesis Studio network will be dictated by customer demand, Pilkington claims, while the "black box" GOC aftersales model can be "easily replicated" in locations across the UK. The black box referred to is an unbranded industrial building, as opposed to a glitzy dealership site designed for customer visits.
The brand also has a plan to deliver mobile servicing to those who want in as part of a bid to accelerate the scope of its aftersales provision.
PRODUCT-LED PUSH
There's no need for an acceleration of the brand's planned product launch strategy.
Its G80 and GV80 SUV will be followed by the launch of a G80 electric vehicle (EV), the more compact G70, G70 Shooting Brake and GV70 SUV models and two further new EVs in the next 12 months.
The incoming G80 EV claims a zero-emission range of 265 miles on a single charge and the ability to charge from 10% to 80% battery capacity in just 20 minutes.
All models are available on personal contract purchase (PCP) or personal contract hire (PCH) provided by Genesis Finance and will be offered as part of a Genesis Flexibility subscription offering, which has a minimum term of six months.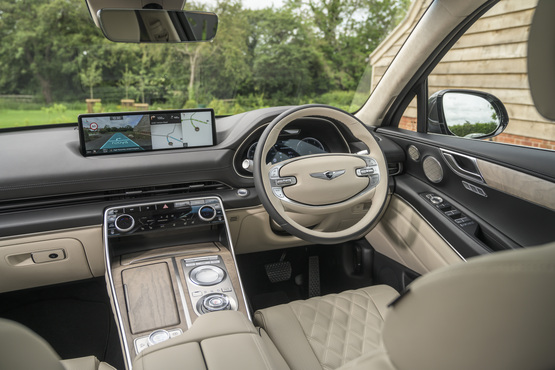 In a US interview Genesis marketing chief Jeri Yoshizu told Forbes magazine: "We're in product-launch fantasy right now for a marketer. We're in that place where the products and our brand cachet will pretty much set the tone for years to come."
At the launch stage, however, Genesis has had to go without an EV in Europe and its launch cars' high emissions may deter some prospective customers.
It invokes memories of Infiniti, which launched with left-hand drive petrol cars in a UK right-hand drive car market then dominated by diesels.
After a decade battling to grow sales Infiniti quit the UK in 2020.
Asked whether the brand would have liked to launch in its new European market with an EV offering from day one, Pilkington says: "Our opportunity is much wider than a single model with an electric drivetrain.
"We have to have a strategy around EV. Today we're launching the brand with petrol and diesel, but very quickly we'll be launching with G80 EV and then two other EV models within the first 12 months.
"That gives us the opportunity to launch the brand, present the brand and then very quickly grow the brand.
"People still demand more choice than simply electric. There are issues with real-world range anxiety.
"What we can say is that when you are ready, we will be ready."
From launch, Genesis expects the bulk of its sales to be in retail, with its launch models featuring turbocharged petrol and diesel engines with CO2 emissions ill-suited to a low benefit-in-kind (BIK) tax rate.
Pilkington says that the bundled nature of its customer-centric offering – only insurance is not included, but a white-labelled offering will be offered online – may appeal to company car user-choosers, but he says: "We're not targeting that part of the market."
The Genesis team is working on a used car portal for its online retail website but, at the time of the AM interview, no residual values had been set to determine the cars' future value or the monthly payments of its finance offerings.
"We've been working very closely with Cap," says Pilkington. "The people we've been working with have said that, for a new brand to the market, residuals are very strong and part of that is that the customer is buying directly from Genesis, we're genuinely service over sales and they see that by looking after the customer we will generate demand."
BUILT FOR THE FUTURE
Despite Genesis' claim that sales volumes and market share aren't a concern, the introduction of a new brand to the UK requires large investment and generating demand will be the early priority of Pilkington and his team.
But his excitement at launching a new brand, in a unique way, is matched by a confidence that Genesis offers something that some premium sector customers have been waiting for and, more importantly, a growing number will increasingly turn to.
"We're setting up the business today for the future," he says. "Customers want a stress-free purchase experience, they want to buy online, some will buycompletely online.
"Some will go into a studio and have a test drive. They want people that are genuinely interested in them and their needs, and that's where we turn to our GPAs.
"There are lots of good products out there today, but it's about the experience and that's what's missing today.
"Take a look at what's happening over the next 10 years, we'll see a huge transition to people buying online and that's why we're saying here's the business model launching today, but it's a model that's fit for the next 10 years."
Pilkington adds: "No one invited another premium car brand to the UK. If we weren't audacious in our approach, we'd just be doing what everybody else has done.
"Our research suggests that's not what the customer wants. We're building a product around the customer.
"Just doing what everyone's done in the past is not going to serve us in the future."