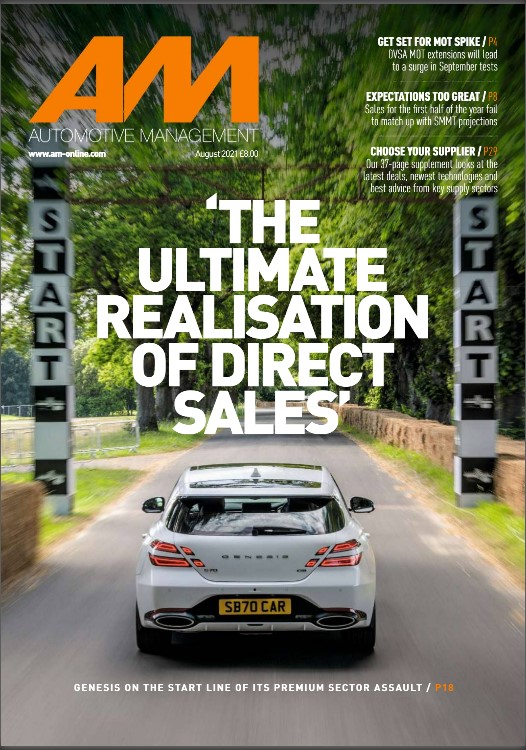 "50% of the MOTs that would normally have been due in March are now due in September."
In the new 72-page issue of AM magazine, available here free in digital form, eDynamix executive Steve Ure highlights the opportunity for franchised dealers this September to keep their workshops full to the brim, and TrustFord aftersales director Stuart Cresswell is one of the AM100 dealers trying to figure out how to capture it.
Meanwhile Andrew PiIkington, managing director of the newest brand to enter the UK market, Genesis, reveals how its direct sales approach will work and slowly build new car sales before expanding its launch range in 2022 by adopting "a crawl, walk, run process".
We examine what impact the COVID-19 pandemic will have on the car-buying customer journey in the longer term, plus our annual Choose Your Supplier special report is back, giving you insights into the main players in motor retail's major supplier sectors from auctions and remarketing to video and warranty.
Plus there are reviews of the Genesis GV80 and Cupra Formentor, and JCT600's property director Mark Taylor reveals how he approaches difficult investment decisions linked with EV infrastructure.
Editor's Letter
There's plenty to feel good about this summer. Sports fans are being let inside stadiums again, theatre shows are back on, and dealerships still report demand for cars is outstripping supply.
The feelgood factors will surely enhance motor retail's opportunities to do business in the weeks and months ahead. Many consumers have already committed themselves to not taking a foreign holiday while the pandemic still makes forward planning a challenge, so tempt them to treat themselves in other ways, such as with a change of car.
While OEM's new vehicle production issues may hold UK car sales back from a September record, there's huge opportunity in the aftersales market that month that needs preparing for now so that you can claw in workshop profits.
The next issue of AM magazine will reach you in September, with a bumper edition which will include the AM Awards* coverage. Until then, keep abreast of motor retail's news and intel at AM-online.
*Don't forget the 2021 AM Awards gala dinner at Birmingham ICC takes place on September 8. Book your tables now