Genesis Motor UK's home test drives and promise of multiple handovers to facilitate vehicle familiarisation is only being offered to customers in the South East – for now.
In an interview with AM at last week's launch of the Hyundai premium car brand's G80 saloon and GV80 SUV launch models, UK managing director Andrew Pilkington admitted that pre- and post-purchase familiarisation in other parts of the UK would not be available ahead of its wider expansion.
"Currently we are making sure that we have a footprint to deliver a successful launch in the South East," said Pilkington, who joined Genesis from Geely-owned electric vehicle (EV) brand Polestar last year.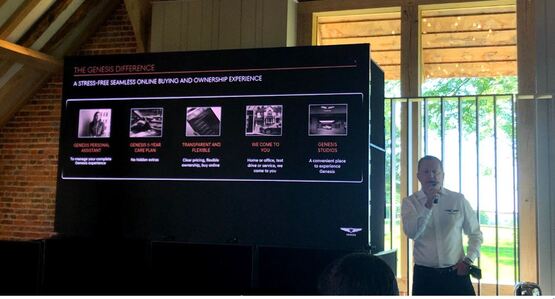 "If a customer lives in Aberdeen they can go online and order a car and that will be delivered to them.
"At this moment in time we are adopting a walk, not run approach, so the home test drives offer is for the South East."
Offering an online-only direct sales model, which dispenses with franchised retail partners for sales and aftersales, Genesis Motor Europe currently has a single physical location in the UK, at Westfield London.
The Genesis Studio is staffed by Genesis Personal Assistants (GPA) which are employed on a commission-free basis.
GPA's will be appointed to a customer at the time of purchase and remain a direct point of contact throughout their ownership experience.
Genesis includes home delivery, warranty, servicing, roadside assistance, courtesy car, mapping and over-the-air software updates in its vehicles' pricing as part of the brand's Five-Year Care Plan.
As part of a unique retail model, Pilkington also said Genesis will also carry out as many follow-up home handover appointments as a customer likes or needs – each delivered at a customer's home following the vehicle's delivery on a covered trailer – to understand their vehicle.
The brand's aftersales service is delivered via a Genesis Operating Centre in Heyford, Oxfordshire.
Customers are left with a like-for-like courtesy car replacement when their car is serviced, with delivery and collection of the vehicle from their home address.
Pilkington told AM that Genesis had no UK sales targets or expectations and could "replicate the Genesis Operating Centre" model across the UK as it gauged customer traction and expanded geographically, bolstering the scope of its aftersales proposition further with a mobile aftersales service.
Currently, the brand has 30 GPAs, with the bulk based in London.
The most recent regional GPA appointment was made in Norwich, however, and Pilkington said that home test drives could be facilitated as far afield as "East Anglia to Southampton".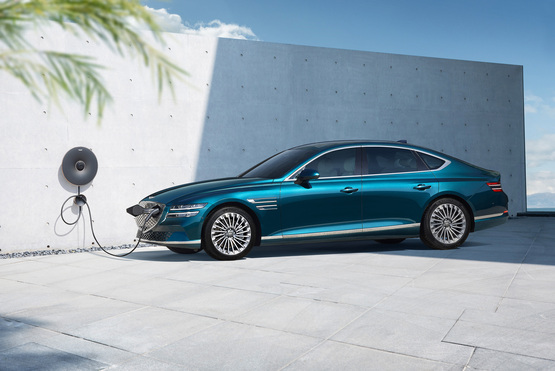 Genesis Motor Europe is planning to launch a total of seven new car models in the space of 12 months – three of which will be electric vehicles (EV).
Pilkington told AM that the brand's direct retail model was the full realisation of a plan to sell cars online.
"No one invited another premium car brand to the UK", said Pilkington. "If we weren't audacious in our approach, we'd just be doing what everybody else has done.
"Our research suggests that's not what the customer wants. We're building a product around the customer.
"Just doing what everyone's done in the past is not going to serve us in the future."
Genesis Motor Europe launched in China last month and already counts the US, Canada, Russia, the Middle East and Australia among its existing markets.
Last year the brand sold over 130,000 cars globally.