Opening a new office and brand store in central London – with the capital's property prices and associated costs – is a serious declaration of intent for an automotive retailer to make.
MG Motor UK has made that statement on Marylebone Road and we met Daniel Gregorious, appointed sales and marketing director for the brand earlier this year, to discuss its plans.
Gregorious is enthusiastic and engaging, and is looking forward to helping to expand a brand with a rich heritage in the UK and, since 2007, the might of Chinese corporation SAIC Motor behind it.
The launch of two all-new SUV models in the past three years helped MG registrations to finish 2017 almost 6% higher than the year before, in a market that was down 5.6% overall. For the 10 months to the end of October 2018, the brand was a blistering 112.75% ahead of the same period in 2017.
That leap has been aided by the launch of the B-segment ZS SUV crossover late last year, a car that is expected to help double MG's sales this year – the target is 8,882, rising to 10,000 in 2019, with 15,000 the aim for 2020.
MG's new impetus – as evidenced by its moving of the sales and marketing departments to the new London offices – will require more dealers, acknowledged Gregorious. However, the expansion of the network promised by his predecessor, Matthew Cheyne, who said the network would be at 90 sites by the end of 2016, failed to materialise – the network has remained at 76 since the middle of that year.
Gregorious said: "Our network is in evolution. When we first came into the market with TF, we had a particular type of dealer – sports car specialists and former MG Rover dealers came on board. As the range expanded with MG6 and then MG3, we acquired a different sort of dealer, a lot of dealers who were perhaps used car dealers or dealers who were looking for a franchise to bolt on to something else.
"Now we're evolving again with the full range of three cars. We're now looking at perhaps the next level, next tier of dealers, who have a lot of experience in selling new cars, a lot of franchised dealership experience, some who want a bolt-on. There are also some who look at MG as a standalone business."
Gregorious said the number is stable, but the type of dealership has changed.
Looking for new dealers
"We're still in recruitment mode. We're looking to get to 120 dealers in the next 18 months or so, from 76, so obviously a lot of recruitment – and also a lot of evolution – has to happen. That's our big challenge."
The challenge will also be to find the right dealers – dealers that further expand the current mix across the country.
"We're looking for dealers with industry-standard processes, with a bit of innovation, people who are keen to try and explore new ways of going to market – because clearly, as a challenger brand, we've got a chance to do things a little bit differently.
"We're looking for dealers with experience, so some of the people who have approached us and we've approached are regional groups, which are really exciting. Some of those are excellent at representing other brands and maybe have numerous sites with other brands."
Gregorious said owner drivers still have a very important place in the industry and in MG's network.
"We've got some really good owner driver businesses, family-run businesses, smaller markets, rural areas, where customers are really loyal to the local brand of that dealership and we see that as being an important part of our network, too."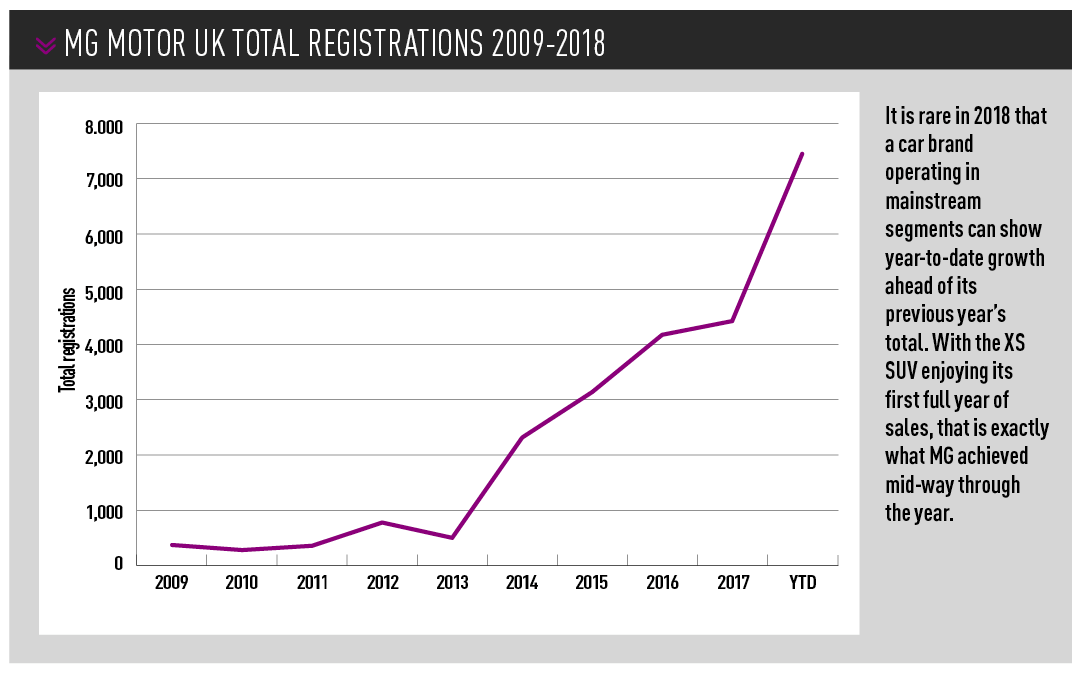 To augment the rural areas that are currently something of a heartland to MG, Gregorious has set his sights on some of the nation's biggest cities.
"Longbridge is still a very important place for MG and we've got a dealer in Dudley, but apart from that, Birmingham is pretty open, so we're speaking to some really good regional groups in and around the city. Manchester, an area that we need to franchise better than we do at the moment. Liverpool, Leeds – there are plenty of big open points for us and we're keen to speak to people in those areas."
Despite MG having a presence in London's Piccadilly – which gets good footfall, thanks to its location at the heart of the West End – the brand covets a full showroom in the capital itself. The new offices are an indication of how important London is to MG.
"What it says to people is that SAIC and MG Motor are really serious about the UK market. We want to be in the heart of the UK market in London.
"We also need to find some more dealerships within the M25. We have one at the moment and they're doing a good job for us in Epsom, but we're looking particularly to recruit in the M25."
Gregorious said dealers who do take on an MG franchise won't regret their decision, as there's money to be made selling the company's models.
"Profits are good at the moment. We don't have a composite, because we are, in a lot of cases, bolted on. Composites can be quite difficult to get the right level of cost going into the brand. Because it's a franchise, sometimes dealers put very little cost and the profit looks fantastic. Others will put too much cost and the profit will look low.
"But what we are seeing now is a much higher throughput of cars, so with the volume doubling this year from a network that's the same size, the typical dealer will be doing twice as many cars this year as last year and that's going be
somewhere around 110/120 cars per site. For some of those dealers, it is hundreds, for some it's less than a hundred, but the average would be about 120.
"That starts to become a serious proposal for people, particularly with ZS, which is 56% of our sales, and the profit margin, which seems to be very good. Dealers are able to sell that car, because the demand is so high it's outstripping supply. Dealers are able to retain good profitability in ZS."
Gregorious said MG sees Motability as an important channel for expansion: "You have a customer who is buying a car. They're going to hold it for three years, so from an RV point of view, there's no negative impact for us. For the dealer, that's three years of servicing, so it's really good business for them. A typical dealer can make substantial money over the lifetime of the car with Motability and then at the end of the scheme they get a chance to buy the car as a used car – a car they know and the people who've been driving it for three years, and dealers like that part of the scheme, too. We like Motability. We're going to stick with Motability and make sure that we're always competitive in the market."
Moving towards PCP
MG is also happy with its finance penetration – almost 80% of the brand's registrations to the end of October were in retail, and more than 75% of those are on finance. Gregorious said its five-year, 0% interest package is popular with buyers, so there are no plans to change it. However, as the network evolves, he expects more demand for PCP offers from dealers who are used to selling cars that way – a demand he said MG will seek to meet.
"One of the challenges of 0%, of course, is that there's no bonus in there for the network, so that's another reason why the margin in the car is so important. Dealers do a great job of retaining that and that's where PCP can come in, in terms of rewarding the dealers for achieving the penetration of getting the sales to where they need to be."
Gregorious believes MG's heritage gives it a tangible amount of brand goodwill among British consumers, which could give dealers a secret weapon in their interactions with the public.
"It's really amazing. People see the cars at a shopping centre and they say things like 'Where have you been?' and 'I didn't know you were still making cars'," he said.
"We were at the MG Live event . The enthusiasm people have for the brand is amazing, I can't think of another brand like it. The MG Car Club, which runs the event, is the biggest single-marque car club in the world. We've got another one as well, the Owner's Club, which does similar things.
"We really are lucky to have that kind of support behind us and those people are very enthusiastic and very supportive of what we're doing.
"People who see the new cars start asking where the cars are built and we're very clear about that. The cars are designed and engineered in Longbridge and Shanghai, and they're built in China. And people say: 'Oh OK. Built in China. I get that' – particularly when we start talking about our seven-year warranty. That's a reassurance of quality and build robustness that people get from us. The seven-year warranty is really important."
MG is not the only Chinese-backed carmaker enjoying something of a resurgence. If Geely-owned Volvo's current run of form is an indication of what Chinese investment can do for western car brands, Gregorious is confident that the same help in developing new models and new technology will help MG's expansion plans.
"We have a huge organisation behind us that gives us plenty of resource for research and development, and for developing technology. When it comes to things like autonomous, electric and connected cars, we're right up there with the biggest manufacturers in the world.
"But in the UK we're small, so we have the benefit of that big organisation behind us and in the UK we can be very nimble. That's our challenge – to combine that nimble, quick, small organisation in the UK with the great, big organisation we have behind us and that's how a small manufacturer like us comes alive.
"We don't intend to be small forever in the UK, we intend to grow, doubling volume this year, moving up to somewhere around 10,000 next year and beyond that 15, 20, 25, 30,000 and, from there, we're into a place where we're not small anymore and we're able to start getting that proper base for our business."
'The Chinese are here'
MG is also starting to make inroads with some of the larger AM100 dealer groups. Arnold Clark, Hendy, Hartwell and Toomeys have all taken on franchises.
"The challenge that my predecessor took on board was that those groups want to be part of the next big thing. Many of those groups have had brands in the past that have gone from being very small to being very big. Kia for example, was part of the Arnold Clark network when it was small and Arnold Clark, being massive already, saw the opportunity and they grew their Kia sites as the brand grew.
"Those dealer groups see the opportunity with MG, to start with somebody that's very small and to grow their local customer base in their local market where they have the brand and to build from there. They want to be part of the next big thing.
"For probably 10 years, people have been saying 'The Chinese are coming, the Chinese are coming', into the UK and European markets. Now the Chinese manufacturers are here with MG and people want to be part of that. They've seen what the Korean manufacturers have been able to do and they want to be a part of the next big, growing franchise."