Outlining his five-year plan for growth, Rob Lindley, the managing director of Mitsubishi Motor UK, described the Japanese brand as "humble but ambitious".
The ambition comes in the form of Lindley's target of 50,000 annual car and LCV registrations (the same target set by his predecessor, Lance Bradley, in 2016 – albeit this time ending in 2022) from 25% more retail sites. There has also been a much-reported drive towards online retail with Rockar – although perhaps not the 12 urban stores claimed at the time – and the introduction of a new corporate identity.
The humility lies in Lindley's pragmatic approach to the plan, conceding that the brand will need "a bit of luck" and "good leadership" if it and its retailers are going to get there.
But he insists the goal is possible and said his thinking is informed by his record of success: "I have some experience of that kind of growth. I was at Mazda from 2001 to 2008 when Mazda went from 17,000 to 28,000 and then to 50,000 in a five-year turnaround. I was marketing director, sales director and managing director in that period."
The 50,000 target is one Mitsubishi has coveted for some time – a quick look at AM's back issues shows it existed as far back as 2004. Back then, Mitsubishi sold 22,573 vehicles from 143 franchised sites. To achieve its 50,000-vehicle target, the brand wants to grow its UK retail network from its current 109 retail sites to 138 by 2022.

But given that Mitsubishi had registered 28,728 vehicles in the first 11 months of 2018 (19,434 cars and 9,294 LCVs), and was down 1.5% (cars and LCVs) for the full year 2017 compared with 2016, that 50,000 target still looks some way off.
"I want to take this brand to somewhere it's never been before. The peak was around about 38,500 so when we go beyond that, that's a really great start," said Lindley.
"Our plan will rely on product, the right dealer network with the capacity and capability to grow, and, thirdly, brand investment."
The advantages of Alliance
That product will come from the strong foundations and greater consistency the Renault-Nissan-Mitsubishi Alliance gives its members, believes Lindley, despite the recent disruption following the removal of Carlos Ghosn as its chairman and chief executive amid allegations of financial misconduct.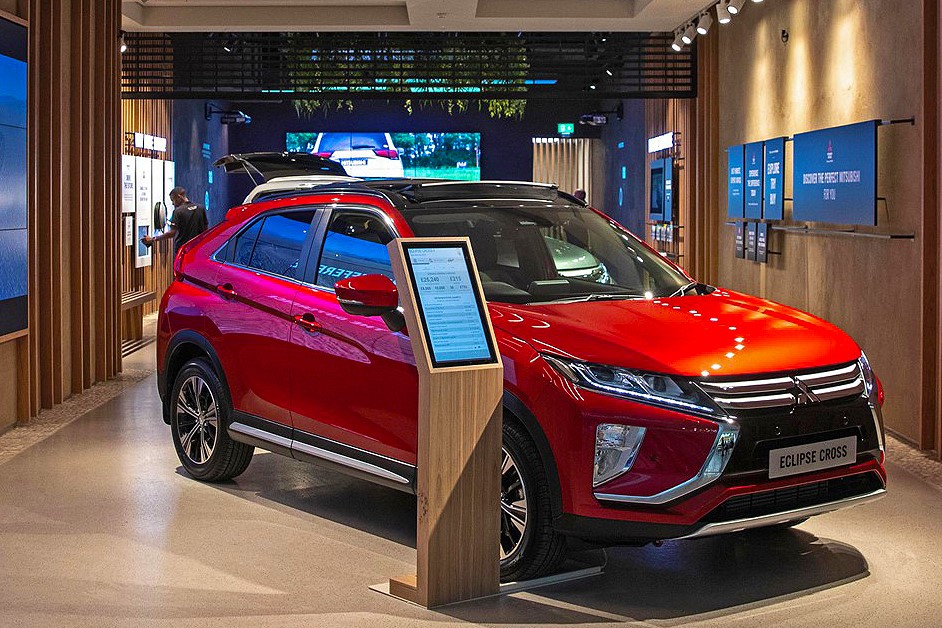 "The big benefit that the alliance brings is the investment plan and the product development in that kind of period," said Lindley.
"Where in the past we might have had a future volume based upon the product plan, there might have been times when Mitsubishi Motor Corporation wasn't able to execute that plan, for various reasons. As a standalone business, it's not always possible to make those huge investments."
Lindley said the alliance gives him the backing of one of the world's largest manufacturing organisations.
"Then you've also got a group of senior leaders coming in who are very ambitious for the brand," he added.
"Trevor Mann , came from the Nissan side and then Guillaume Cartier (senior vice-president of global marketing and sales division at Mitsubishi Motors), who's very ambitious and aggressive in a good way.
"Trevor Mann talks about Mitsubishi as being a 'sleeping giant' and they're clearly on a mission to achieve growth."
Consolidating an expanding network
Growing the network will also be central to Mitsubishi's volume aspirations, said Lindley.
It tasked commercial consultancy CACI with drawing up a new plan for its UK network, taking into account potential developments at one year, three years and five years.
The result was a model based around consolidated territories, operated by the same partner "where strategically possible".
Lindley said the network was currently operated by more than 90 franchisee partners. He acknowledged that the model was "fragmented" and said he intended to consolidate some partners: "It's not a wholesale strategic 'we're going down the groups route'. Some of our very best dealers are small private operations that only have a Mitsubishi dealership. They have nothing to fear from the strategy, but where we are looking to expand and opportunities arise we will be looking at a more consolidated network in the future."
Lindley said the plan envisaged an ideal model with adjacent territories in a contiguous market area (CMA), with three to four dealer locations under one partner.
He said he is talking to dealers about key partnerships with Mitsubishi, with a focus on regional groups rather than PLCs.
In the past year, AM100 retail groups Arnold Clark (September 2017) and Stoneacre (June 2017) have both taken on the franchise for the first time.
Lindley's new strategic plan in the UK coincides with the unveiling of a new corporate identity (CI) for Mitsubishi Motor Corporation globally.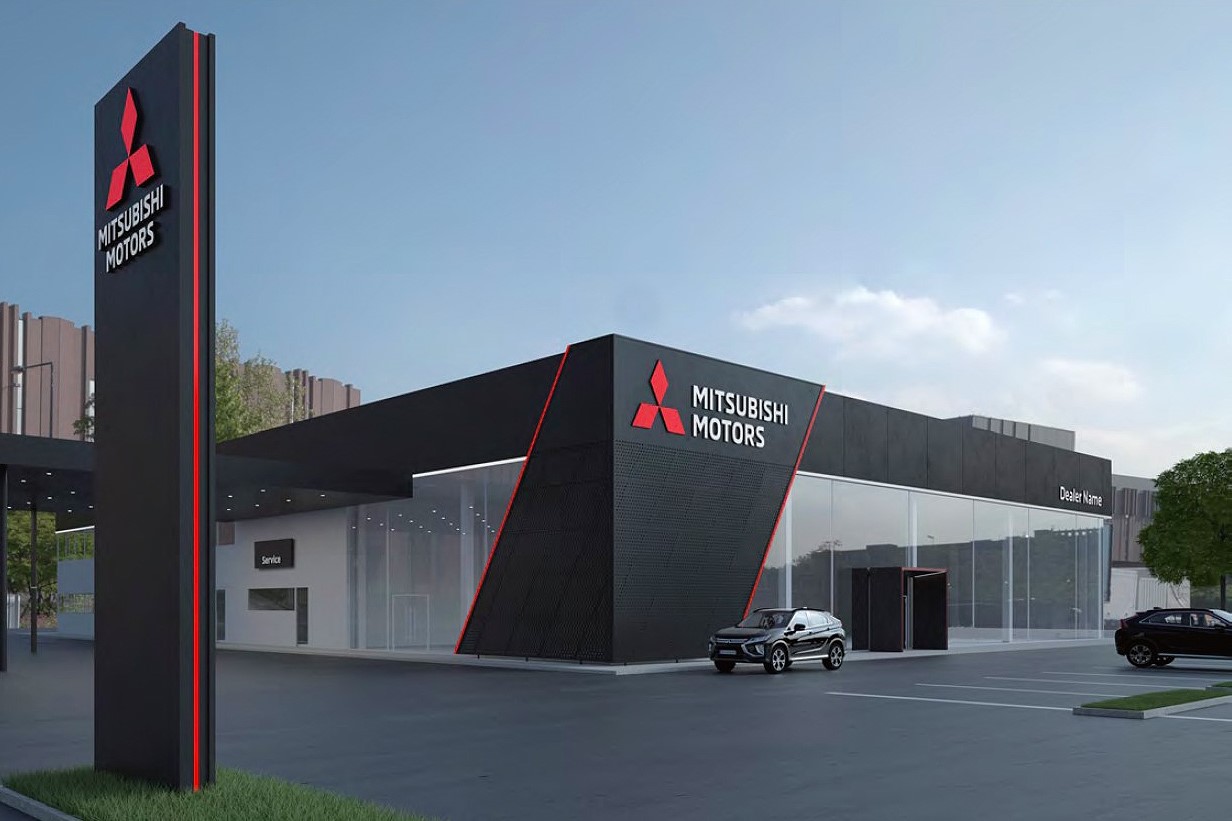 At the time of AM's interview, he said he has yet to learn many of the specifics of the scheme, which will be introduced across 5,000 dealers worldwide, but spoke of the need to invest and the network "looking a bit tired".
Mitsubishi's new CI designs are based on the brand message "drive your ambition". It said recently that it wants to improve customer service and provide a "high-quality retail environment" to strengthen its brand image.
Cartier said: "Our brand is evolving and we need to reflect this in each and every customer touch point.
"We are implementing the new dealer identity to ensure customers can experience a consistent Mitsubishi-ness, including the look and feel and service quality of Mitsubishi Motors wherever they are in the world."
Commenting on his own network plan, Lindley said the brand needed to evolve: "I was recently at Firs Garage, in Hook Norton, a place the owners would concede is in the middle of the middle of nowhere. It is a great garage, with a great profitability and an extremely strong community reputation.
"If you started with a clean piece of paper now, though, you probably wouldn't start with those places and we do have to develop the network now around metropolitan centres, which are proving to be our hard-to-fill open points."
Mitsubishi's current open points include Newcastle, Glasgow, Bolton, Wigan, Rochdale, Solihull, Leicester, Reading, and Oxford.
New vehicle retail
Part of the brand's plan to ensure it accesses customers in locations that are traditionally hard to fill and expensive to operate will be its shift to online retail and an exploration of store facilities.
Mitsubishi announced a partnership with Rockar in November 2017, when it officially launched its Mitsubishi Buy Online new car retail platform.
In June, it opened its first car retail store in the UK, at Intu Lakeside shopping centre, just two months after Rockar managing director, Martin Sewell, told the AM Digitech conference in Milton Keynes that the brand was "planning to open a further 11 stores across the UK".
However, Lindley denied that this is the case. He said Mitsubishi will open a second store, at a key shopping location in the north of England, but no further commitment has been made at this stage.
"The number of 12 basically came from that fact that there are 12 major retail shopping centres in the UK, but I have nothing in my plan that says 'we're going to have 12 by this date'," he said.
Lindley said the two stores would be treated purely as a learning exercise and conceded that the store model "would not stack up" if judged purely in sales terms.
He said each store would cost about £1m to set up, with "around that amount again" in annual running costs.
The UK stores are funded by a subsidiary of the Mitsubishi parent corporation and staffed by employees of its UK head office.
Mitsubishi's existing dealer network has been "positively sceptical" about the project, said Lindley.
Among the key KPIs of the project are footfall (the Lakeside store gets about 1,300 visitors a week); the number of accounts set up in-store through Buy Online to get a part-exchange or a test drive; and vehicle sales.
In-store facial recognition systems will also deliver insight into customer demographics.
Lindley said: "What is trickier to measure is the impact on broader brand awareness, but you can look at an example from the geographic area of where the stores are.
He added: "It's new format retailing and you only have to look at Toys R Us to realise that, if you're not online and working hard on brand experience, you face a very sticky future."
Changing dealer sentiment
A straw poll of Mitsubishi retailers in the run-up to Lindley's appointment suggested he was a popular choice among franchisees long before he was confirmed as the brand's new managing director in February.
According to the results of the National Franchised Dealer Association's (NFDA) Summer 2018 Dealer Attitude Survey, he has done well since.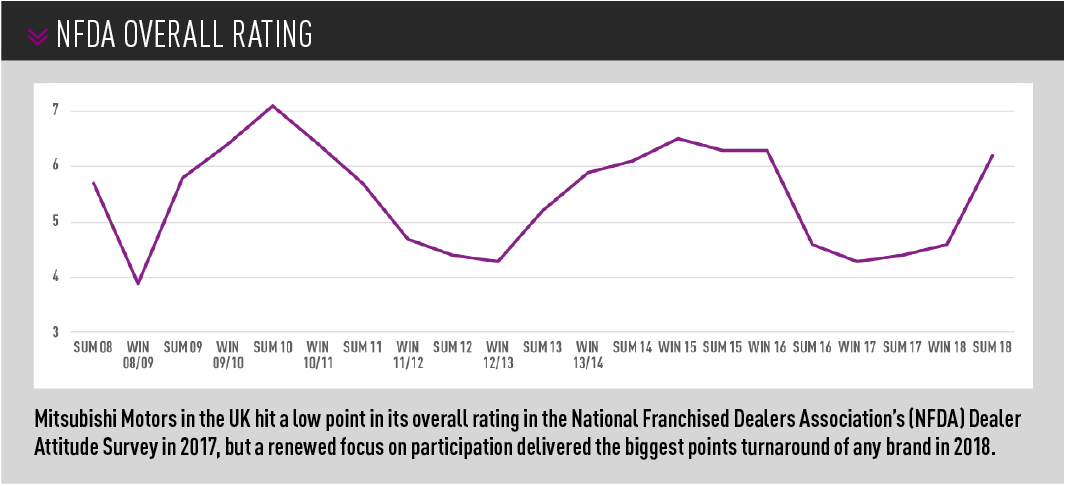 Mitsubishi was the most improved brand in the survey, winning an additional 67.9 points across all questions to rise from an overall rating of 4.3 in the Winter 2017 survey to 6.2 (average: 5.7) – finishing 10th out of 30.
"It was clear to me that the network needed a bit of love," said Lindley.
"We needed to do a better job on communication and listening to what was going on. That was a priority."
Lindley said he worked hard with members of the 11-strong dealer council to boost participation so that he could use the NFDA survey results as a genuine barometer of sentiment among franchisees.
He said: "At the time, around 40% of dealers were filling in the survey, so with a really good effort from the field team and the dealer council we had 98% of our dealers respond.
"We went from being somewhere in the bottom third to being in the top 10. Our target now is to be consistently in the top quartile of the survey."
Lindley said working groups had been set up with the dealer council to help focus on areas where NFDA scores disappointed.
Dealer margin structure and used vehicles are two areas where "tweaks" have been made and Lindley said this had helped to reassure retailers that he is listening to their views and implementing changes.
Profitability lies at the heart of a strong NFDA survey score and Lindley is keen to improve on 2017's network average return-on-sales of 1%.
Official Mitsubishi figures for its current fiscal year reveal that retailers were achieving 1.3% to the end of September, compared with 0.8% at the same point last year.
Lindley rebutted suggestions that some Mitsubishi franchisees may be over-dependent on aftersales. He described a network average overhead absorption of "around 88%" as a "strong foundation for a good franchise business".
Profitability is key to attracting the right calibre of new franchisee to make Lindley's network plan a reality.
He said: "Where we want to be is at an average level of 2% RoS, but more than that we want the average profit per site to go up to help us attract the best quality dealer partners and to retain them.
"We need to be seeing an average £200,000 net profit per site. Then we represent a good return."
The nation's PHEV-orite
Mitsubishi's Motor UK's plans for volume growth are very much at odds with market trends and will rely on a rich influx of alliance-backed new product.
Mitsubishi's focus is now firmly on crossovers, SUVs and alternative fuel vehicles (AFVs), said Lindley, adding that sales of the L200 pick-up remained a core element of the franchise. Currently, the brand's mix of sales is geared 56% towards retail in passenger cars (52% retail with LCVs included) and Lindley said his network has an advantage over brands selling new entrants to the pick-up market.
He said: "Our dealers know the product and the market back-to-front. Added to that is the fact that sales accessories for the L200 are roughly six times greater than any other product in the line-up. The benefits to the dealer are obvious."
Mitsubishi imports its cars into the UK via Portbury, near Bristol, and the brand's PDI centre equips the L200 Barbarian special edition and can fit dealer options to alleviate the demands on franchise workshops.
Additional demands have been placed on the facility – which holds about two months of dealer stock – by the newly launched Shogun Sport, one of three new models introduced in 2018.
The seven-seat off-roader is built in Thailand for the Australian market and must go through a "convoluted" individual vehicle approval (IVA) process before being signed off by the DVSA, which eats into the margin.
Lindley said: "It does give us something else that is offering proper seven-seat, four-wheel-drive capability, which fills that gap in the sub-£40,000 bracket."
The Eclipse Cross also arrived in the market in January and has added 5,418 incremental sales for the brand to the end of November.
Buoyed by strong vehicle supply through the transition to the Worldwide harmonised Light vehicle Test Procedure (WLTP) – volumes were up 22.6% in September – and with the launch of a new derivative for 2018, Lindley was keen to sing the praises of the Outlander PHEV (up 10.5% at 7,502 YTD).
"It has been on sale since July and we're in a particularly strong position because, from a WLTP point of view it's still sub-50 g/CO2, it's still got a 30-mile range, its real-world economy figures are fantastic and we have good availability," he said.
"If you look at the plug-in market, we get 17% share of all plug-in vehicles and 34% of the retail market. It's still clearly seen as the plug-in model of choice."
Mitsubishi will be hoping that the Government makes no further cuts to its plug-in car grants as it chases ongoing AFV success with the new Outlander PHEV.
Lindley described October's confirmation from the Department for Transport (DfT) that the PICG for hybrids will be cut by £1,000 and no longer apply to cars with a zero-emissions range of less than 70 miles, as "extremely disappointing".
In an official statement issued at the time, the brand said the grant had "played a crucial role in establishing the EV and plug-in hybrid markets in the UK".